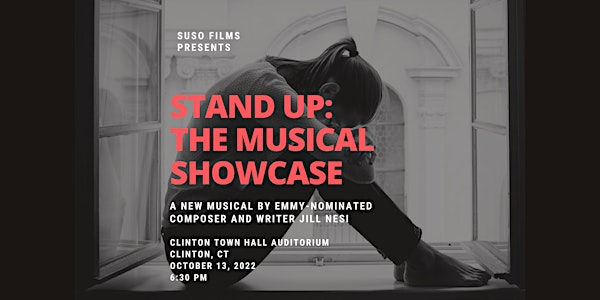 Stand UP, The Musical Showcase
This Anti Bullying Musical Showcase focuses on getting both students & adults to recognize bullying situations and to become UP-Standers!
When and where
Location
Andrews Memorial Theater, Clinton Town Hall 54 East Main Street Clinton, CT 06413
Refund Policy
Contact the organizer to request a refund.
Eventbrite's fee is nonrefundable.
About this event
The musical 13 made history with the first full teenage cast in a Broadway production. Dear Evan Hansen was a musical that touched audiences and brought up important social and mental health issues. Now a new musical written and produced by four-time Emmy nominee, Jill Nesi, Stand UP features a young cast in a powerful show with an important message.
Stand UP (formally known as HER SONG) debuted at the Ivoryton Playhouse in May 2017 with outstanding reviews from educators, adults and students alike. Stand UP will return to the the theater on October 13, 2022 at the Andrews Memorial Theater in the Clinton, CT Town Hall. After a pandemic inspired hiatus we are excited to return to the theater with this live production showcasing inspiring songs and dialogue addressing the topic of bullying and how kindness, empathy and acceptance can counteract poor behaviors.
The Connecticut Commission on Women, Children and Seniors along with Stand Up and Speak Out want to foster empathy and connections through the arts. Far too often, our youth feel excluded and disconnected from their peers, schools and communities, which has led to increased mental health illness and rising suicide rates. This musical will change lives!
Stand UP, Centers around the experience of Stephanie, a shy high school student who returns to her hometown of Rockville where she attended grade school. Rea and Phil are very mean to Stephanie and exclude her. After Stephanie's audition for the Regional Talent show goes awry, Rea and clan end up capturing it on video and post it on social media, which spreads like wildfire. The audience watches Stephanie cry herself to sleep.. Ian, a thoughtful, quirky, whimsical young man who is also the victim of bullying, ends up appearing in her dream to show her the different situations of why people bully and the struggles that they are going through behind the scenes.
The goal of this powerful Musical Showcase, is to get both students and adults to recognize these situations and to get bystanders to be up-standers instead. How can we help? What can we as adults do to model better behavior in our own lives? How can we work together, one voice at a time to STAND UP, SPEAK OUT, AND STOP BULLYING while creating CHAIN REACTION of kindness!
Stand UP and Speak OUT works in partnership with the CT Commission on Women, Children, Seniors, Equity and Opportunity and has 501(c)3 status.
PRODUCER: Jill Nesi (4 time Emmy Nominated Songwriter)
DIRECTOR: Christopher Zullo (Spotlight Stage Co.)
SHOWCASE ADAPTATION: Christopher Zullo (Spotlight Stage Co.)
MUSIC COMPOSED BY: Jill Nesi
Nick Fradiani Sr.
Christopher Zullo
Tickets are limited so it is urgent that you purchase them now!