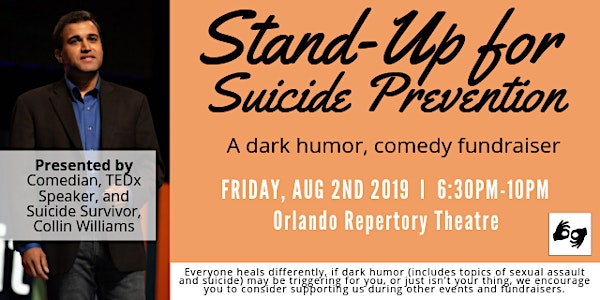 Stand-Up for Suicide Prevention
A reception and dark humor comedy show. 100% of proceeds go towards filling gaps in Central Florida's mental health system.
When and where
Location
Orlando Repertory Theatre 1001 East Princeton Street Orlando, FL 32803
Refund Policy
Contact the organizer to request a refund.
About this event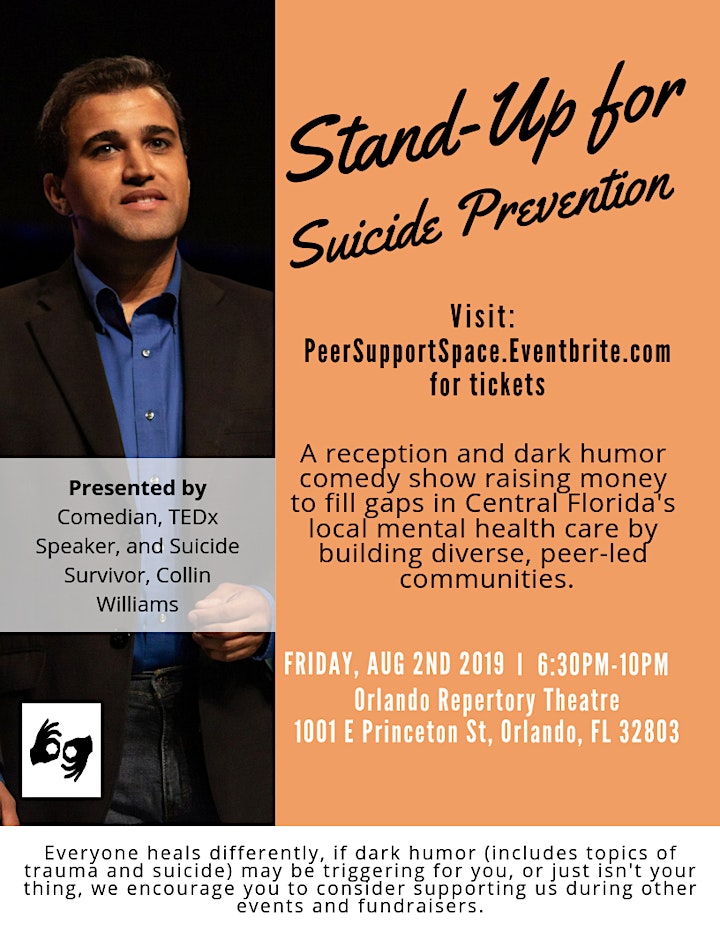 Stand-Up for Suicide Prevention is a reception and comedy show benefiting a new local nonprofit, Peer Support Space, Inc.
Everyone heals in different ways. For those of you that heal through humor, we hope you will enjoy us as TEDx Speaker, comedian, and suicide survivor Collin Williams travels to Orlando from out of state to present his dark humor comedy skit "My Suicide Note". Williams takes his actual note from his attempted suicide, and uses a decade of experience as a standup comedian and storyteller to weave humor in and out of a truly astounding life story that's been described as "honest, heart-wrenching, yet somehow FUNNY!".
100% of event proceeds will go to Peer Support Space, Inc. as they work to fill gaps in our local mental health system by building diverse peer recovery communities and services.
Event Timeline:
6:30PM-8PM Reception
7:45PM-8PM Theatre Doors Open
8PM-8:30PM Pre-Show Opening
8:30PM-10PM "My Suicide Note" with Collin Williams
About Reception: Mix & mingle in theatre lobby with Collin and other mental health heroes while enjoying games, live music, our photo booth, and silent auction.
About Silent Auction: Professional services, art work, and more will be available for silent auction during reception.
About Collin Williams: Collin is a comedian, known for his TEDx talk, "How Comedy Can Save Someone's Life". Collin's humor manages to artfully touch on areas usually considered taboo, letting him cover topics that most are afraid to tackle. Collin Williams is performing a comedy skit he wrote during a psychiatric hospitalization using his suicide note. While society teaches us that it isn't okay to about mental health, definitely not suicide, Collin is hoping to push the norms and not just talk, but laugh, about suicide. "Art is known for pushing norms." Collin explains "Being able to joke and talk about difficult subjects, normalizing them for discussion is incredibly important. Jokes aren't the long term fix with suicide. But finding a way you feel okay to talk, can lead to getting help, potentially saving lives.". Collin explains that in order to start conversations about suicide, humor can be the "light" that makes, otherwise unhad, conversations more approachable. Collin is traveling from Utah, passionate about mental health, to support the development Peer Support Space.
About Peer Support Space: Peer Support Space is a new grassroots nonprofit that has helped over 650 individuals in Central Florida since opening 6 months ago. PSS is bridging gaps in Central Florida's mental health system by providing free, approachable mental health services that are offered 100% by and for those working on their mental wellness. Peer Support Space offers events that destigmatize mental health, peer-led support groups for communities most affected by suicide, and trainings. They are working towards creating Central Florida's first peer-led respite center.
About our Mental Health Heroes: . Peer Support Space will be honoring local individuals doing creative work to destigmatize mental health and provide mental health resources for those that are underserved. If you are able to, we encourage you to further support Peer Support Space, and honor these individuals by sponsoring the ticket of a mental health hero. To nominate a mental health hero, email Yasmin at yasmin@peersupportspace.org
If you are interested in supporting this event by becoming an event sponsor, purchasing Ad space, or by donating items for the silent auction. Please email yasmin@peersupportspace.org
An ASL interpreter will be provided for those that are hard of hearing or deaf. If you are in need of services, please email danielle@peersupportspace.org so we can assure seating you near the interpreter.