Stand Up for Science! comedy show (4/22/17)

Saturday, April 22, 2017 from 7:00 PM to 8:30 PM (EDT)
Event Details
Welcome to a special charity event with some comedians who care about the environment and also appeared on Comedy Central!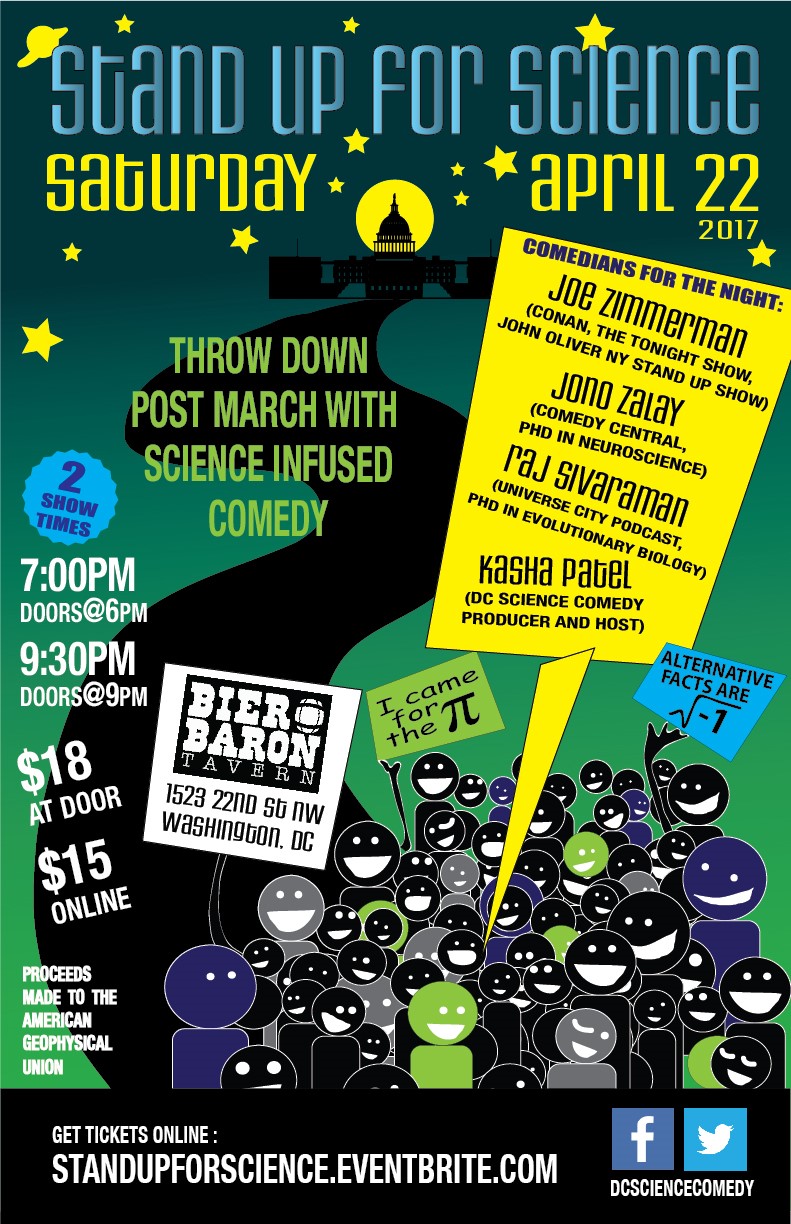 As thousands of scientists gather in DC to march on Earth Day, so do three comedians from NYC who will stand up for some post march comedy relief. Go rogue with them at the Bier Baron on Saturday, April 22, 2017 and laugh with the resistance as they expose the anti-science movement for the joke that it is! After all, laughter is the best medicine, and it soon might it might be the only affordable medicine.
Bier Baron Tavern (

1523 22nd St NW, Washington, DC 20037)

Saturday, April 22, 2017

Shows: First show is at 7pm, doors 6pm. Second show is at 9:30pm, doors 9pm. (Both shows have the same comedians.)
Comedians for the night: 
- Joe Zimmerman (Conan, The Tonight Show, John Oliver NY Stand Up Show)
- Jono Zalay (Comedy Central, PhD in Neuroscience)  
- Raj Sivaraman (Universe City podcast, PhD in Evolutionary Biology)
- Kasha Patel (DC Science Comedy producer and host)
---
Meet your comedians
Joe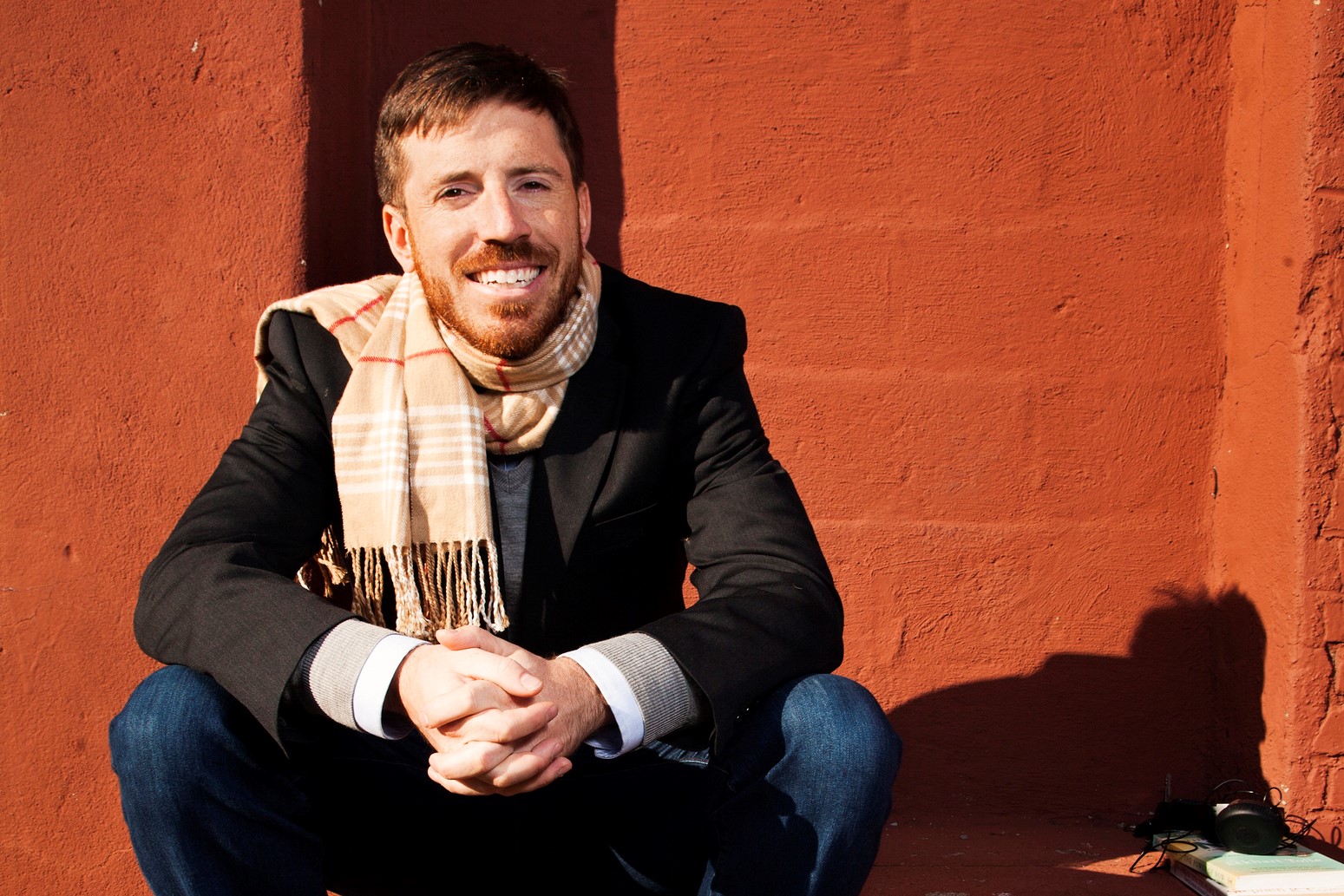 Joe Zimmerman began doing stand-up in North Carolina after graduating from Davidson College, and since moving to New York in 2012 he has appeared on Comedy Central's John Oliver's New York Stand Up Show, Conan, The Late Late Show, Last Comic Standing, and his own Half Hour Special. In March of 2017 he will appear on The Tonight Show. In 2014 he released his debut CD Smiling at Wolves, which reached #2 on the i-Tunes comedy charts. 
Unlike Raj and Jono, Joe does not have a science background, but rather came to science later in life through various Reddit threads and Radio Lab episodes, which lead him to more science-based comedy, The Universe City podcast, and a Comedy Central Snapchat series called "Animlolz."
Raj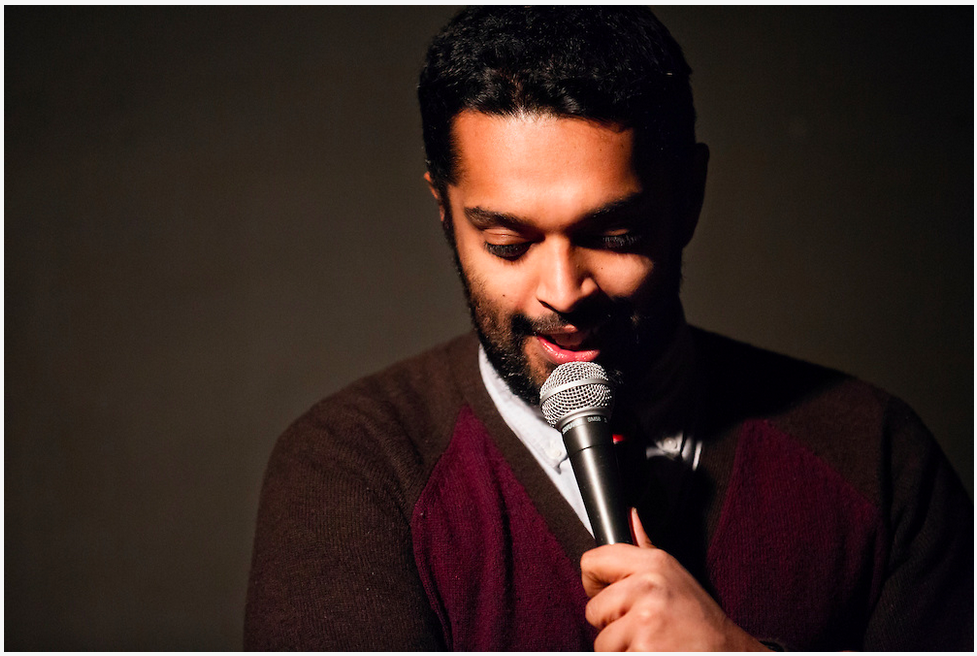 Raj Sivaraman is a writer, comedian, and writer/comedian (Oh! And scientist!). He has performed in several comedy festivals around the country and presented his research at as many international scientific conferences. As a sketch writer, he released an album in 2012 entitled "In Case of Emergency" and was one of the main writers/performers for Boston News Net. Raj has appeared on Jeopardy! Once, during his undergrad at St. Andrews University for biochemistry, he asked out Kate Middleton on a date, and she no-showed. But he's too proud to take her back now.
Jono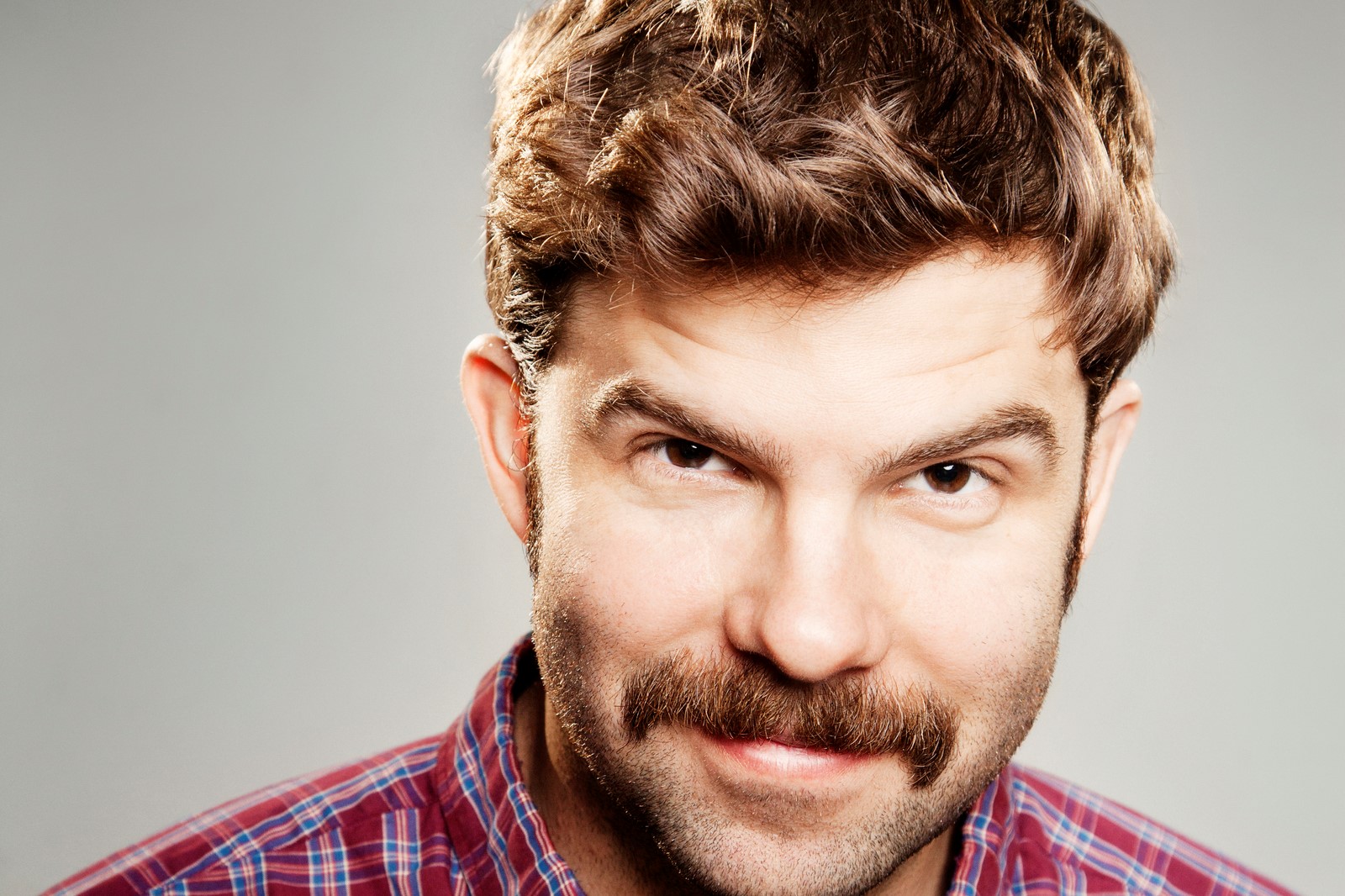 Several years ago Jono Zalay moved from San Diego to Boston to pursue standup. He quickly became a staple in the New England comedy scene, while simultaneously earning his Doctorate in Neuroscience (he gave cocaine to rats). Since dropping his science hobby to pursue stand-up full time, Jono has been named one of Comedy Central's 'Comics to Watch.' Jono now lives in New York City where he has been featured in Time Out New York and over 30 comedy festivals around the country including Bridgetown, Limestone, and New York Comedy Festival.
Kasha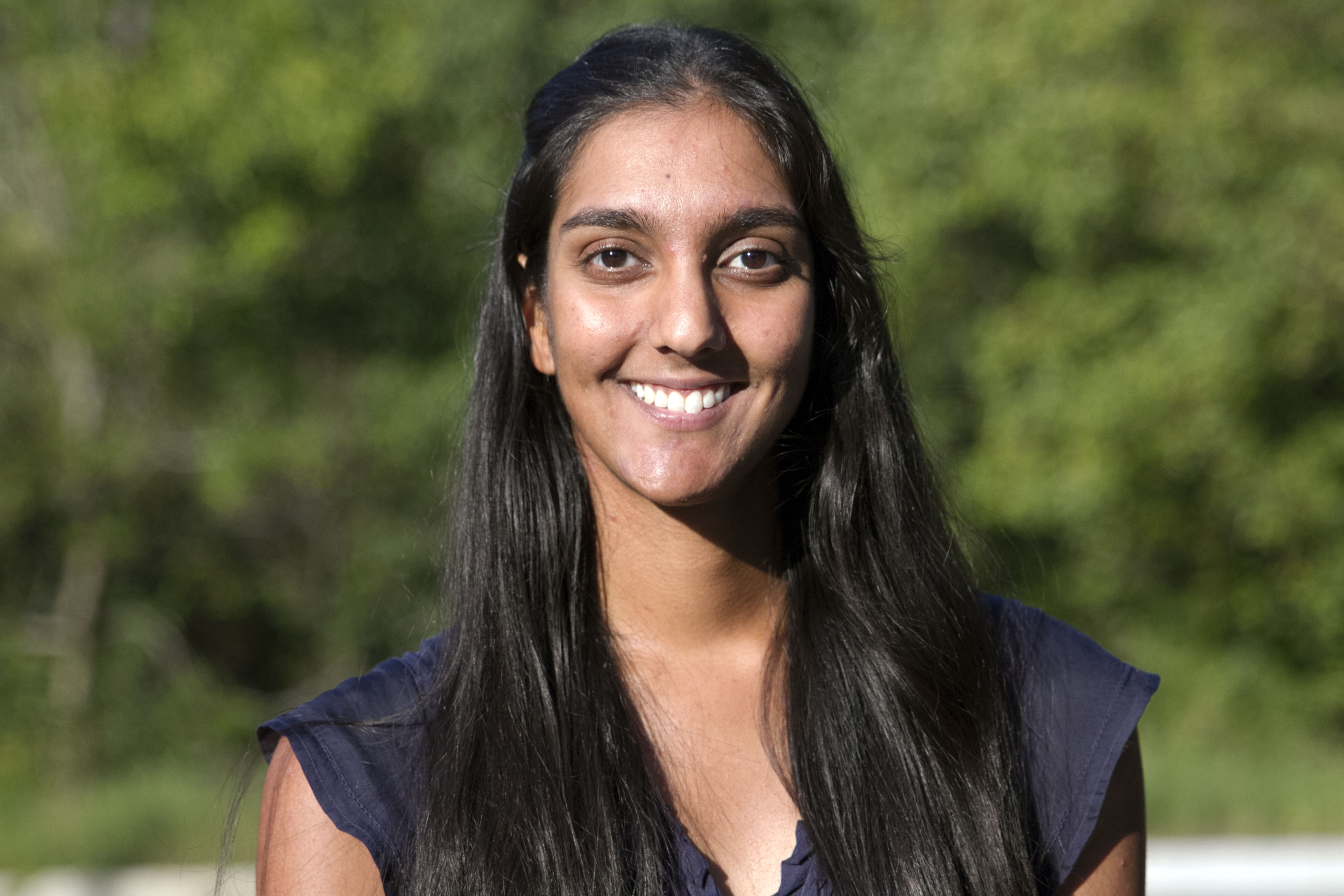 Kasha Patel fulfills the unknown demand of Indian female comics from West Virginia. Born and brought up in the mountainous state, she studied chemistry at Wake Forest University and earned her Masters in Science Journalism at Boston University. Now in Washington, D.C., she is a stand-up comedienne, writer and on-screen personality focusing her jokes on science and her life as an Indian-American in the United States. She hosted a mini series on NASA TV and appeared on the Travel Channel's Mysteries at the Museum in February 2017. She also produces and performs in Science Comedy shows where only science-related jokes, stories, and songs are allowed. Making her debut in Boston, she has performed in clubs, festivals, and Chinese restaurants all around the country.
Organizer
DC Science Comedy
FINALLY- A SCIENCE-THEMED COMEDY NIGHT! 
DC Science Comedy organizes Science Comedy night-- a night where only funny science jokes, stories, and songs are allowed. Each show is unique as some are more science-oriented while others are not as heavily science-y, but you'll definitely walk away laughing. Performers include scientists, veteran storytellers, hilarious local and professional comedians, NYTimes best-selling authors, Pultizer Prize winners, and science writers who usually are all working in the sciences or have a background in math or science. Past show headliners have included comedians on Comedy Central, The Food Network, Fox, The Science Channel, Conan, and Last Comic Standing. 
To view posts and videos from past shows, like our Facebook page.
To keep up to date with science comedy-related activities, join our mailing list. 
Currently the shows are only in Washington, DC, but we are looking to expand. If you would like to have a show in your city or are interested in performing, shoot us an e-mail -- comedy@kashapatel.com
Stand Up for Science! comedy show (4/22/17)