Stand Up for Mental Health Comedy Show
Description
The Power of Stand Up Comedy - Creating Mental Health Awareness and Reducing Stigmas
On Saturday, June 4th, 2016, Spokane Youth 'N Action will host its first ever Stand Up for Mental Health (SUFMH) comedy show at the Modern Theater, 174 S. Howard St., Spokane, WA from 6 - 8:30PM. Youth will share their experience of mental health recovery through comedic performances. Stand Up for Mental Health utilizes humor to provide a sense of control and give youth the courage to take risks. The performance also aims to encourage attendees to re-evaluate their perceptions of and prejudices against people who have mental health challenges. The event will include a resource booth providing community based resources, as well as a gift basket raffle with all funds raised supporting Spokane's local Youth 'N Action program.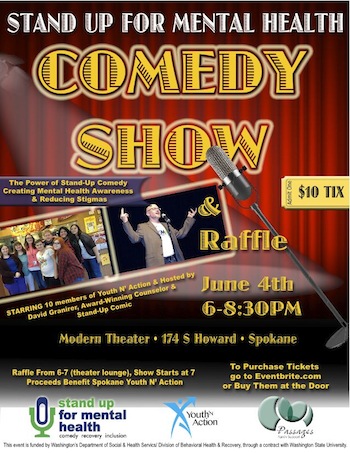 Organizer of Stand Up for Mental Health Comedy Show
Spokane's SUFMH event is being organized by Youth 'N Action, a program of Passages Family Support, and event host, David Granirer.  Passages Family Support is an innovative licensed mental health agency that works with at-risk children and youth.  David Granirer is an award-winning counselor, stand-up comedian, mental health keynote speaker, author, and founder of SUFMH, a nationally recognized comedy act.