Develop creative writing and performance skills while discovering your inner comedic genius!
About this event
This class is for all levels. Whether just looking for self enrichment or you have aspirations of working as a comic in the clubs and beyond, this class will teach you to develop new material from scratch, how to present your writing to its fullest potential and a sneak peak into the comedy club world or getting stage time, and networking.
$125 includes seven classes plus a performance showcase.
To supplement your work we have a series of how-to videos and writing prompt/study guides to help your writing process.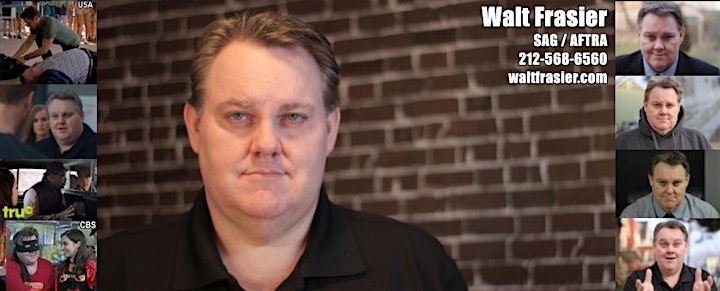 Walt Frasier
Artistic Director Piano, MC, TeacherEIGHT IS NEVER ENOUGH Cast Member since 2002
TV credits: Billions 4.10 (2019 CBS), Friends of the People (TruTV), Blue Bloods (CBS) Royal Pains (USA), Lilyhammer (NETFLIX), Naked Brothers Band (NICK), Fat Pants (Dr. Oz Promo), Late Night with David Letterman (9 eps), Hair Trauma (2 eps, WE), Stankervision (MTV2). International credits in Theater and Music - LMAO Off Broadway (Improv Comedy), Scarlet Pimpernel (2nd Nat'l), Fiddler (gateway Playhouse), Amalfi Opera Festival, NYC Fringe), Fave Roles - Rodolfo (La Boheme), Harold Hill (Music Man), Prince Karl (Student Prince), Frederic (Pirates of Penzance) and dozens more.
Walter is a New Yorker since 1997, but grew up in Maryland, getting his theatrical start in Washington DC area (Montgomery College, Catholic UA and regional theaters). If you have called to book a gig or group sales you most likely talked with this guy. Walter has been performing Improv Comedy for kids & teens since 2003. In 2009 he was named Director of Instruction for the Comedy Hall of Fame, developing their programs for NYC schools. In 2011 he opened his own school. Walter currently works all over the NYC area, including in residencies via Arts Horizon.
Now his students are winning competitions, getting recognized by Kenan Thompson as America's funniest kids. One student even appeared on Aziz Ansari's MASTER OF NONE on Netflix. Brandon Boyd was a student 10 years ago, but now performs and teaches for EIGHT IS NEVER ENOUGH and made his film debut in TED SKATES (Now available on Amazon Prime)
Also a corporate team building specialist, Walter uses improv comedy games to teach Leadership, Team, Sales and Customer Service. Corporate Clients include JP Morgan Chase, UBS, Ernst & Young, Morgan Stanley, NY Life, Coach, Louis Vuitton, HBO, Twitter, Home Depot, Milbank and 100s more.
Beyond the "brag-able" credits, it is Walt Frasier's goal to create laughs and teach other to spread his positive message. Start every day with a smile. Want others to smile at you? LEAD BY EXAMPLE!!!