About this Event
Laff Caraff Presents Seriously Funny People on Sunday, September 29th. Preferred seats will sell out for this hysterical pack of comedians:
Headliner: Arthur Gaus
Feature: Alexandria Love
Host: Natalie Fowzie
Special Guests: Justin Lucas, Jeff Dean, Brooke Heinichen, and Aivy Cordova.
---
COME >>>Grab your seat.
DRINK >>>Order a glass or two and settle in.
EAT >>>Satisfy your munchies with a yummy El Lopo specialty (menu).
LAFF>>>Turn your attention to the stage and let us hear you laff.
TICKETS:
In lieu of a cover charge and minimum order, we kindly suggest a donation amount of $10 per guest which directly compensates the 7 comedians ($1.40 per comedian per guest) who are not paid by the venue for their performance.
Preferred seats can be reserved until sold out, and will be forfeited if you are not present within 10 minutes of the show starting. You are welcome to open seating at that time. All other tickets are for open seating on a first come first serve basis.
Please reserve your spot so that we know to expect you! This allows the venue to plan well and exceed your expectations.
This is event is for persons age 21 and over.
---
El Lopo is the gracious host of this free, monthly, stand-up comedy showcase, occurring on the last Sunday of each month. It's rare to have a chance to see all of these great comedians without a cover charge. So, don't miss it! We'll drink wine, eat great food, and laff enjoyably loud!
Follow El Lopo to stay updated on its busy calendar of events!
IG @elloposf | FB @elloposf | www.elloposf.com
---
Follow Laff Caraff to leave us feedback or be updated on our next show!
IG @laffcaraff | FB @laffcaraff
Laff Caraff is produced by Comedian Natalie Fowzie.
In addition to a pack of hysterical comedians, The Laff Caraff Show periodically features an audience contest called, Laff Pocket. Three pre-registered non-comedians take the stage and test their comedy skills on the Laff Caraff audience while under the pressure of a ticking microwave. The audience picks the contest winner. To learn more or to register for the contest, please visit www.laffpocket.com.
---
Keywords: Wine Lovers, Wine Bar, Spanish Wines, California Wines, Wine Venue, Empanadas, Tapas; Comedy Show; Comedy Showcase; Stand-up Comedy; Free Comedy Show; Standup Comedy; San Francisco Nightlife; Polk Street; Free Show; Comedy; Sunday Night Events; Stand Up Comedian; New Show; Up and Coming Event; SF Events; laughcarafe; laffcarafe; laughcaraff; laffcaraff; Laugh Carafe; Laugh Caraff; Laff Carafe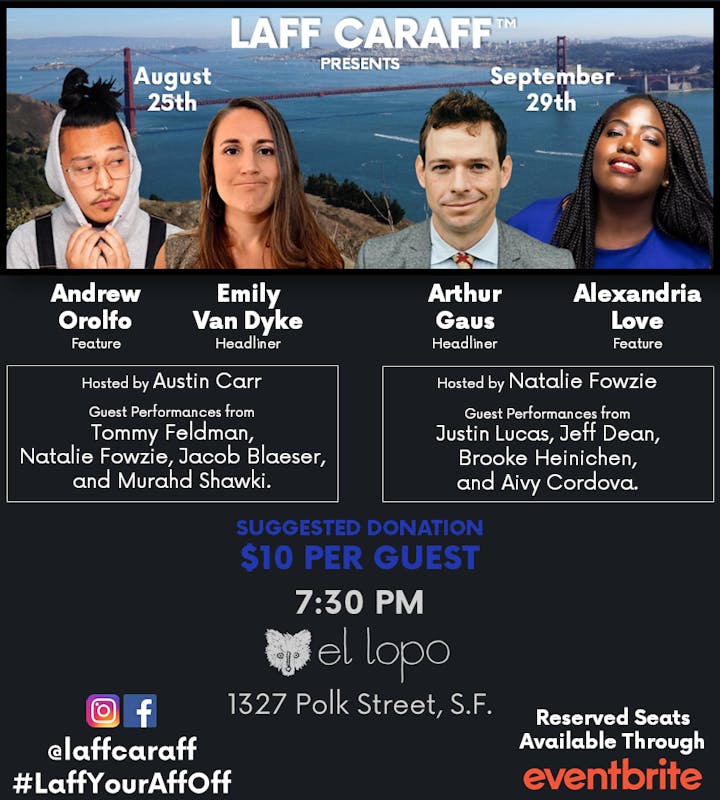 Arthur Gaus is a standup comic based out of San Francisco where he is a popular local fixture at the Punchline and Cobb's. Over the better part of 20 years he has performed at glorious comedy clubs, beautiful theaters, hip underground venues and crappy casinos all over the country. Using his distinctive energetic delivery, he combines observations, stories and biting social commentary while weaving in and out of characters to create a style of comedy that is as whip-smart and unique as it is hilarious. Arthur is also the creator and co-host of the Maniac Bowl alt-comedy show in San Francisco.
--
Alexandria Love is a stand-up comedian and writer from Oakland, California. She's performed at numerous festivals including SF Sketchfest, Comedy Day, and Out of Bounds in Austin. She is also a recurring guest star on the popular podcast Nerd Rage: The Great Debates and the co-producer of several shows such as The Mermaid Show, Jokelandish, Troubled Comedy at Amnesia and the No-Cover Cabaret. You can catch some of her musings at HeresWhyThatsFunny.com
--
Justin Lucas has performed at the legendary Purple Onion, the Punchline, Cobb's, and other popular Bay Area comedy venues. Justin has successfully entered a number of comedy competitions, such as "The Mic Is Hot Comedy Competition" (2013, 1st place winner), and the "San Francisco International Comedy Competition" (2012, semi-finalist), and his awards include the 2015 "Bay Area Reporter" award for Best Male Comedian. After branching out into acting, both stage and television, he appeared in the HBO series, Looking, Season 2, opposite Jonathan Groff. An eclectic entertainer, Justin continues his stand-up comedy career, performs sketch comedy, currently appearing with the San Francisco based group, "Killing My Lobster."
--
Brooke Heinichen is a San Francisco stand-up comedian. She is the winner of the 2019 Rooster T Feather's comedy competition, out of 180+ comics. She has performed at 2018 and 2019 SF Sketchfest, selected as one of Audible's Fresh Faces of Stand-Up (a show highlighted in USA Today), and opened for Janeane Garafolo. She was selected for the 2018 SF International Comedy Competition. She has studied satire writing with The Second City, and her jokes have been featured on the front page of Reddit and as the Joke of the Week at the DNC Speechwriters office. Brooke produces monthly Bay Area showcases Jokelandish, Resistance is Fertile and Brave New Jokes.
--
Jeff Dean is a San Francisco based Comedian and writer by way of Reno, Nevada. Over the last 4 years, Jeff's shameless vulnerability and introspective brand of comedy has made him a staple in the Bay Area comedy scene. He also hosts some of the best weekly comedy showcases in the area, The Premise in San Francisco, and Double Standard Comedy in Oakland.
--
Aivy Cordova began performing stand-up comedy in 2007. After a 7-year hiatus to raise her son, she returned to the mic and has since continued to perform throughout the Bay Area and LA. Aivy has trained at Bindlestiff Studio in San Francisco and the Upright Citizens Brigade Theatre in Los Angeles. More at www.aivycordova.com
--
Natalie Fowzie is a stand-up comedian, voice-over artist, and San Francisco Bay Area native who has performed at clubs throughout the Bay Area, including The Purple Onion, Tommy Ts, Cobb's Comedy Club, and San Jose Improv. Born in the U.S. to immigrant parents from Egypt and raised in Catholic schools, Natalie brings a hysterically truthful and slightly twisted perspective to the stage. Natalie has earned over 20 U.S. patents and somehow missed the marriage and motherhood boat. Her best skill is saying what most people are thinking but don't want to admit out loud. Natalie produces the Laff Caraff Show, which showcases talented comedians at venues throughout the Bay Area.