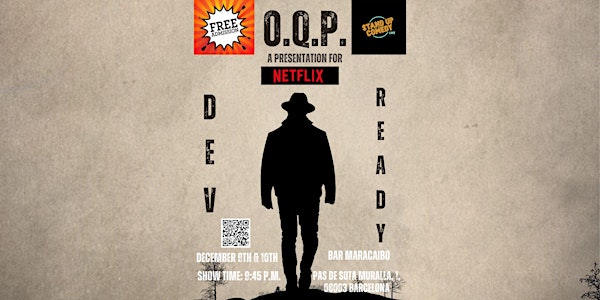 STAND UP COMEDY LIVE TAPING FOR NETFLIX (IN ENGLISH)
O.Q.P. ONE HOUR STAND UP COMEDY SPECIAL WITH DEVINRON READY (IN ENGLISH)
When and where
Location
Bar Maracaibo 1 Pas de Sota Muralla 08003 Barcelona Spain
About this event
Devinron Ready is an LA based standup comedian, writer, producer and director. He received critical and popular success while starring in Off Broadway's TUSKEEGEE AIRMEN, He Featured alongside Ellen Page in Netflix's TALLULAH before going off and featuring next to CHAPPELLE SHOW 'S Wil Sylvince. DEV originally made a name for himself in AUGUST WILSON's KING HEDLEY 2, THE MONSTROUS US FRANCHISE, and THE MAN I FOLLOWED TO HELL.
In a show of unprecedented support from many of the industries finest stars, this will be his 4th Special before a live audience. He has received excellent critical reviews for his works. Earning him the Gold and Remmy award for film excellence. Join him at BAR MARACAIBO for two incredible nights of comedy!
The show is being videotaped for Presentation to NETFLIX at
BAR MARACAIBO Pas de Sota Muralla, 1, 08003 Barcelona. PLEASE BE ON TIME.
. Please do not wear white t-shirts and NO large logos. Please dress in clean "camera friendly clothes. "The dress code is important; Please dress in elegant club attire. Darker colors are preferred. Do not bring outside food or drink into the venue, it is prohibited.
No recording of any kind including -- videotaping, photography and audio recording. PLEASE DO NOT BRING CAMERAS TO THE TAPING. Since the audience is such an important part of this show, we assume that if you RSVP you will attend the show with your entire party. We have a polite reminder. You must turn off your smartphone and any electronic device when you enter the studio. Please respect the performers. Thank you.
THIS EVENT OF "O.Q.P. WITH DEVINRON READY IS BEING FILMED AND VIDEOTAPED FOR FUTURE TELECASTS AT THE PRODUCER'S DISCRETION AND MAY INCLUDE PICTURES OF THE AUDIENCE OR INDIVIDUALS IN THE AUDIENCE. ATTENDANCE AT THIS EVENT SHALL BE DEEMED YOUR CONSENT TO APPEAR IN SUCH TELECASTS, ANY ADVERTISING AND PROMOTION THEREOF, WITHOUT COMPENSATION. We are excited to have you join our audience and we are looking forward to a great evening with DEV READY.
STAND UP COMEDY LIVE TAPING PRESENTATION FOR NETFLIX
We are very happy to be producing the live comedy taping of Dev Ready's hour comedy special O.Q.P. A presentation pitch for NETFLIX.