Description
Want to experience a totally different type of comedy show?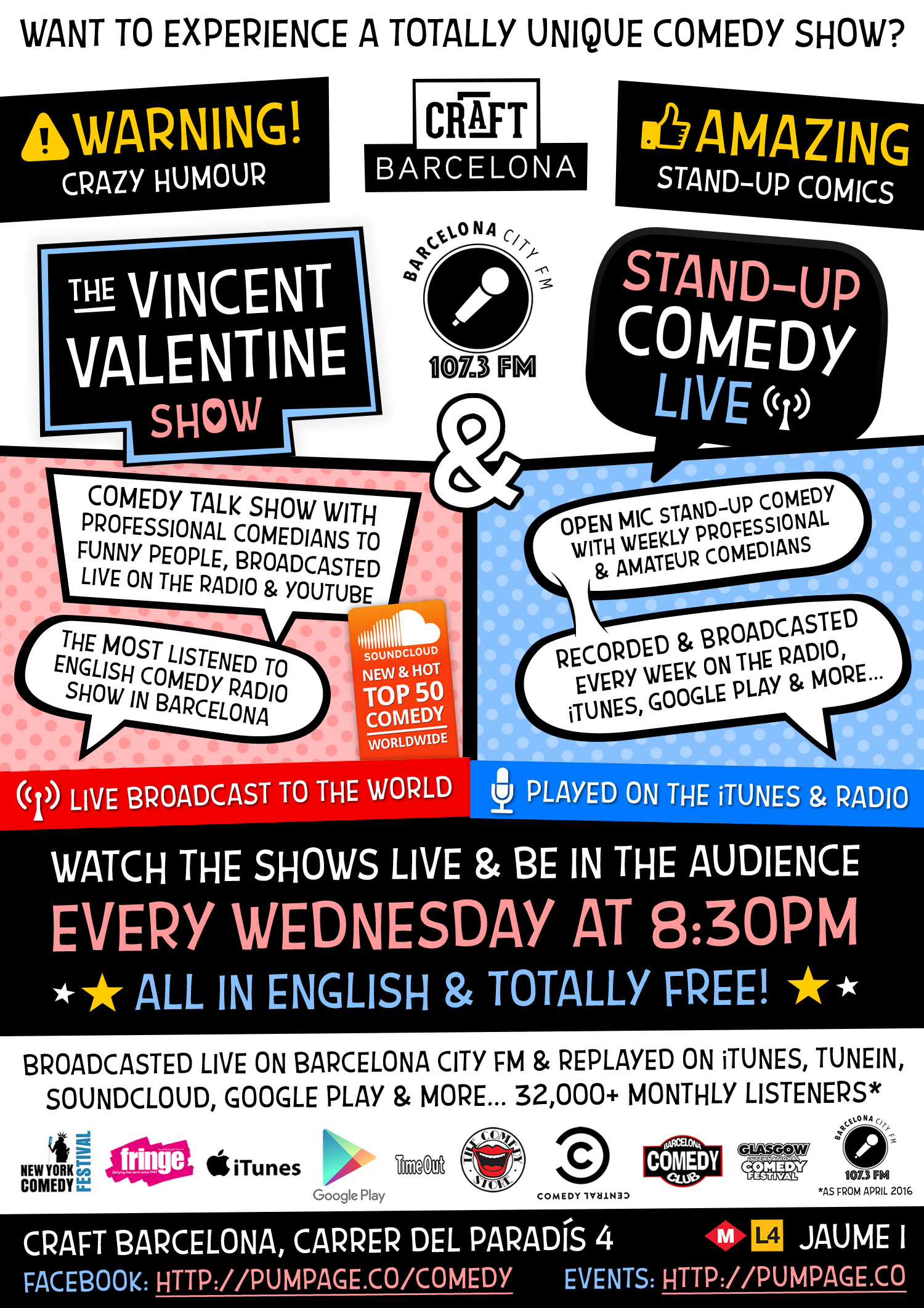 Stand-up Comedy Live!
After the Vincent Valentine Show, we kick off Stand-up Comedy Live. Each week we have a special guest host with Vincent Valentine. We will have some of Barcelona's funniest performers. The show is an open mic comedy show and will have local legends to professional comedians every week. It will be recorded and broadcasted on Barcelona City FM every week. Every week will have totally different comedians and maybe a professional and famous comedian headliner.

FREE?
Sounds to true to be FREE doesn't it? All you have to do is turn up, buy a drink and enjoy the show. We don't charge an entrance fee or pressure you for donations. Its a totally FREE as we love you all.

The Venue
We host this show at the amazing 'Craft Barcelona' venue. Doors open at 8:30pm so don't be late as we start the first broadcast live to the world, shortly after. Craft Barcelona has some really amazing artisan beers & ales to select from. They also serve very tasty tapas at the upstairs bar.

How to find the venue!
Craft Barcelona is only 5 minutes walk from Jaume I Metro (L4 Yellow).
Full Address: Craft Barcelona, Carrer del Paradís, 4, 08002 Barcelona
Like the Facebook Page
Stand-up Comedy Live:
https://www.facebook.com/standupcomedybarcelona/


Love great events like these?
Vincent hosts many events in Barcelona from other comedy shows, language exchanges, bar tours, speed dating and more... he is a very busy boy! For more information please visit: http://pumpage.co/events

Listening to the show... after the show
If you love podcasts, it will be made available on iTunes, TuneIn, Soundcloud and More. So you can re-live the amazing moment over and over... you will be talking about the show to years to come, even to your grand children. ;) Search for 'The Vincent Valentine Show' or 'Stand-up Comedy Live' on iTunes, TuneIn, Sound Cloud, Mix Cloud or Stitcher. If we are not on your podcast client, tell us and we will make it happen.

Be proud that you are attending the show
I would personally dry hump you if you share this event on Facebook, Twitter or other media. Just let me know who you are first as I will probably dry hump the wrong person...

Would you like to take professional photos or film the show?
Please contact Vincent Valentine and ask permission before filming or taking professional photos. I'm sure it will be ok, just message me to be sure.
- You can listen to the Vincent Valentine Show live (Wednesdays 9pm CEST or Repeated Thursdays 10pm CEST & Sundays 11pm CEST)
http://BarcelonaCityFM.com or http://pumpage.co/radio/

- Want to watch a live show and be in the audience? visit: http://pumpage.co/events

- Weekly comedy event in Barcelona: http://pumpage.co/comedyevents