Description

Cool Beans U Grads have appeared on America's Got Talent, Comedy Central, Showtime, Nickelodeon, comedy festivals + clubs across the country, and have been featured on SiriusXM!
Work each and every week with individualized attention and observation from two world-class instructors! Limited to 8 Students. Sunday Zoom sessions + BONUS: Written material reviewed Wednesdays
The world needs laughs more than ever right now. Due to the COVID-19 pandemic, your four lessons will be held online via Skype/Zoom. Each week will commence with individualized and specific writing assignments for students, and the fifth week is a virtual performance!
This is a perfect time to learn about comedy, and for those experienced comics, to hone in on your writing. We will look at structure in week one, comedy ideas and themes in week two, look at your written-out material week three, and review and re-write in week four.
This is an incredible opportunity for anyone looking to build confidence (specifically works wonders with confidence in an audition room), learning comedic timing (joke structure, writing, performing, etc.), and anyone looking to step out of their comfort zone.
Each week is focused on developing the student's personal brand and growing their onstage confidence. All ages and skill levels welcome! With a combined 25+ years of experience, learn the secrets of stand-up and gain the confidence to perform your final set from Cool Beans Comedy producer Corey Craig and co-host Matthew Moore.
Your Teachers: Corey Craig founded Cool Beans Comedy in 2009, and is a producer, director, comic and show-host. Matthew Moore is the other co-host of Cool Beans Comedy, and an experienced stand-up and improv instructor.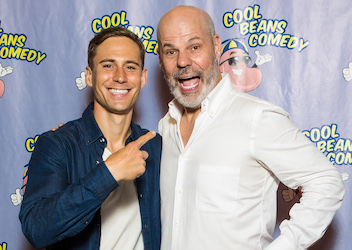 Register Today! Limited to 8 students!
Sundays starting March 29 from 2:00-4:30 PM (March 29, April 5, *Off April 12*, April 19, April 26, and final performance end of April/early May)

For additional information, contact the Registration Office at:
info@CoolBeansComedy.com or (626) 344-9519