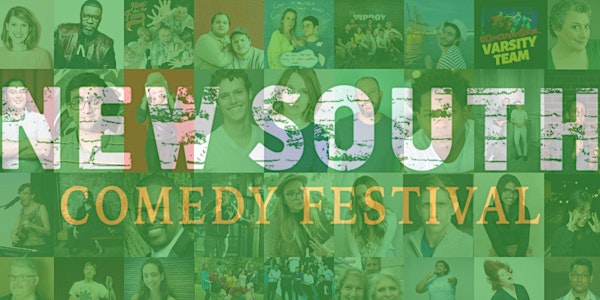 STAND-UP COMEDY from South Carolina, North Carolina, Georgia, and New York
This stand-up comedy show features William Kean, David Goolsby, Will Kelly, J Smiles, Brooke Barry, TLink, and Kenneth Hughes
When and where
Location
Alchemy Comedy Theater at Coffee Underground 1 E Coffee St Greenville, SC 29601
Refund Policy
Contact the organizer to request a refund.
Eventbrite's fee is nonrefundable.
About this event

William Kean has been performing comedy for 23 years. Currently he performs improv weekly with NYC's live Japanese Game Show BATSU! and runs that company's standup program and sister show Laughter Party. If you're interested in watching the comedy process, he streams writer's room with friends from around the country every Tuesday 8:00 PM EST on Twitch: https://www.twitch.tv/williamdoesstreaming
David Goolsby is a standup comedian from Greensboro, North Carolina. Combining his overt self-awareness with a unique perspective on the world, he connects with audiences at clubs, venues and festivals around the country. David has opened for Mo Alexander, Kevin McCaffrey, and Damon Williams. He is also the host of a comedy and philosophy podcast, The Oowap, centered around the perils of young adulthood and the pursuit of happiness.
Will Kelly (or Wee-Yul as he is known in parts of the South) is a stand-up comic in Anderson/Greenville SC. He frequently performs at Greenville's Coffee Underground, The Radio Room, The Comedy Zone, and various spots in Anderson. His jokes range from rants about Canadian Geese, sports, the frightening South Carolina traffic, and the way southerners pronounce his name. Will also does some comedy sketches and drawings. He also happens to be a doctor.
J Smiles, the conscious comic, has performed all over the USA, Italy, South Korea, the Bahamas, on Carnival's Tom Joyner Cruise & on many virtual shows. Parenting Up! Caregiving Adventures with Comedian J Smiles is a global podcast that merges hardship and humor. Also an engineer, product designer, lawyer & caregiver— she turns life's lemons into laughaide™
Brooke Barry is a writer and comedian from South Georgia where she grew up on a farm and was raised by bulldogs. She holds an MFA in Creative Writing from Hollins University and is the recipient of two Academy of American Poets Awards. Brooke's work has received scholarships to the Sewanee Writers' Conference, Looking Glass Rock Writers' Conference, and Writers in Paradise. Her work has appeared or is forthcoming in The Florida Review, Copper Nickel, New South, Salt Hill Journal, Potomac Review, The Southeast Review, Columbia Poetry Review, RHINO Poetry, Artemis and Kestrel. Most recently, she won the Audience Choice Award at the 12th Annual Comedy Battle in Savannah, GA. She lives with two dogs, Jane and Arlo.
Travis Lincoln AKA TLink is a native of Summerville SC. With only 2yrs into Comedy, TLink was recognized as a semi-finalest in The Comedy Zone Greenville's Jokes Out Loud Competition, Selected to perform at The Queen City Comedy Festival, The North Carolina Comedy Festival, and has opened for the likes of Rodney Perry and Guy Tory to name a few.
Kenneth E Hughes is a local, natural born comedian in Greenville SC who began developing his craft at an early age. Coming from a large family with southern roots, family gatherings automatically became Kenneth's stage. Long before puberty, he could garner the attention of his family members, young and old, with his penchant for lifting spirits and evoking laughter. He could simultaneously have soda spewing from a cousin's mouth and an uncle choking on pie with his effortless witticism. Being visually disabled, Kenneth has a uniquely radical brand of comedy and his perspective on life is fascinating and quite compelling.  He heralds himself as the world's first blind sex symbol.  Utilizing the gifts that he was born with and the talents he's honed, Kenneth produces his own shows (current residency at Hoppin' GVL with shows every 4th Sunday) showcasing the talents of other comedians in the Upstate area and throughout the Southeast.
Kenneth lost his vision due to a rare disorder called Retinitis Pigmentosa (RP) that he was diagnosed with in his early 20s.  However, as he slowly lost his vision, he knew neither this disorder nor anything else would not stop him from his enjoyment of life, love, people, and comedy.   Once he was drawn to the stage, he was overwhelmed with nostalgia and a familiar sense of accomplishment (similar to witnessing his uncle choke on pie) there was no looking back... literally. He founded 20/20 Productions in 2017 with the goal of featuring and showcasing local talent and most importantly, entertain you!"
---
The 9th annual New South Comedy Festival will feature 20 stand-up, improv, sketch, political, and musical comedy shows with guests from across the country from November 3-12th!