This one day workshop will teach you how to be a successful stand up comedy show emcee.
About this Event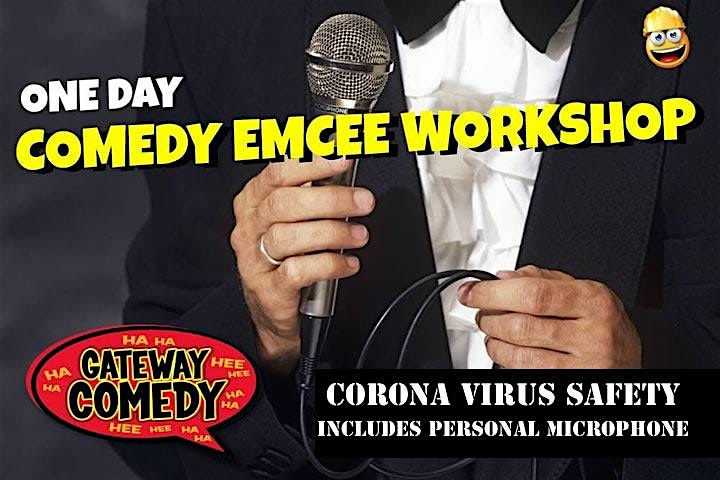 ONE DAY WORKSHOP ONLY $189
Knowing how to professionally emcee (or host) a stand up comedy show is a skill every comedian needs to have in their comedy toolbox. This day long workshop will cover everything you'll need to know about hosting - from how to get intros right to how to get paying gigs even if you're new to comedy.
The emcee job is especially valuable for newer comics because
It gets them valuable stage time.
It helps them develop material.
It gets them paid!
Through lectures, exercises, and stage work on the stages of the Gateway Comedy Club each participant will learn and get to practice the professional way of hosting a comedy show that bookers are expecting to see.
Who'll Be Teaching The Class?
Rob Cioffi has been a stand up comedian for over 13 years and has been a regular opening act for national comedy headliners like Bob Nelson and Al Lubel. He has been the emcee on hundreds of comedy shows and was hand picked as the house emcee by Danny Aiello for his club Danny's Upstairs.
Mike Dillon is a seasoned comedian who has played on many of stand up comedy's most prestigious stages including the Borgota in Atlantic City. Mike is the founder of Gateway Comedy Club and has successfully managed comedians, helping them go on to comedy headlining careers.
Corona Virus Safety
This workshop takes place in a large hotel conference room which will allow for all participants to maintain social distances greater than 6 feet. Participants will be provided masks, gloves and their own personal brand new microphone to take home after the workshop. Temperatures will be taken at the door and government guidance regarding corona virus safety will be followed.
*The workshop will take place at Gateway Comedy Club's Rononkoma, NY location which is less than an hour by train from Penn Station.