Start living the dream! Learn to do stand up comedy and perform on a professional stand up comedy show in weeks.
About this Event
Take Gateway Comedy's Stand Up Comedy Class and start doing stand up comedy in four short weeks.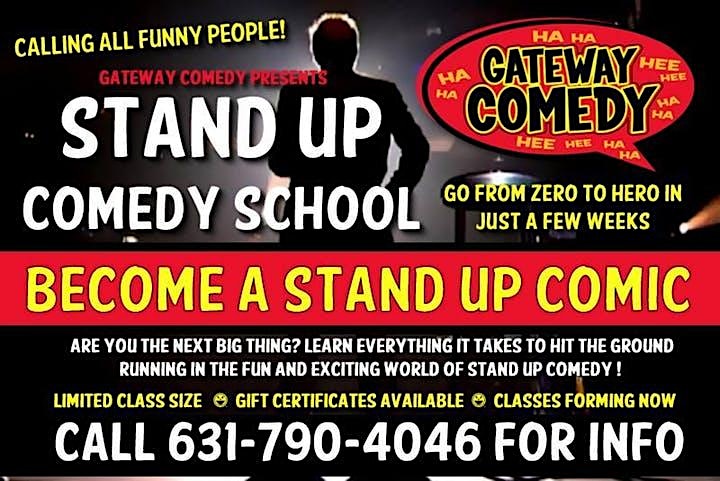 Corona Virus Safety
This class takes place in a large hotel conference room which will allow for all participants to maintain social distances greater than 6 feet. Participants will be provided masks, gloves and disposable microphone covers. Temperatures will be taken at the door and government guidance regarding corona virus safety will be followed.
Gateway Comedy Class Frequently Asked Questions
When does the next class start?
Gateway Comedy's next Stand Up Comedy Class starts on Tuesday May 18th, 2021 and will meet each following Tuesday until June 8th.
How much does it cost?
The cost is $219.
How long is each class?
Each class starts at 7pm and runs for approximately 2 ½ to 3 hours.
Where is the class held?
The class will be held at Gateway Comedy Club's main location inside the Clarion Hotel in Ronkonkoma. The address is 3845 Veterans Memorial Highway, Ronkonkoma, NY 11779.
Who'll be teaching the class?
There will be two main instructors. Mike Dillon is a seasoned comedian who has played on many of stand up comedy's most prestigious stages including the Borgota in Atlantic City. Mike is the founder of Gateway Comedy Club and has successfully managed comedians, helping them go on to comedy headlining careers. Rob Cioffi has been a stand up comedian for over 15 years and has been a regular opening act for national comedy headliners like Bob Nelson and Al Lubel. There may also be additional guest speakers from the world of comedy invited to speak to the class during the course.
Is there homework?
Yes. You'll need to spend several hours a week completing assigned homework in order to successfully complete the class.
Will I get to perform in front of a live audience?
Sometime after the last class you'll perform on a live professional comedy show at the Gateway Comedy Club.
Will I be able to quit my day job to become rich and famous after taking the class?
Maybe someday, after many years of hard work and some amazing luck. For now we suggest you just enjoy the ride and have fun performing your comedy.
Why should I take the class?
Have you ever wanted to be a comedian? Have people ever told you that you're funny? Would you like to try a fun and exciting hobby where you get out and meet all kinds of people? There are lots of reasons for taking our class. We think the most important reason is to have fun learning how to make people laugh.
What sort of things will the class teach me?
Our class will teach you the fundamentals of writing and performing a stand up comedy routine.
Are there any prerequisites required to take the class?
No.
Can I take the class if I've done stand up before?
Absolutely. Our instructors can help you take your current act to the next level, no matter how long you may have been doing stand up.
How can I find out more?
If you have any further questions please call us at 631-790-4046.