Description
In the tradition of comedians who have made the transition from the stage to the screen, such as Richard Pryor, Eddie Murphy and many others, the multi-talented Guy Torry has made the leap stand-up to actor with great success. Guy Torry moved to Los Angeles, CA to join his two older brothers, famed comedian/actor Joe Torry, and now Retired US Army Lt. Colonel Ramon Torry, in 1992. He originally moved to Southern California to finish his education in pursing a degree in marketing. After moving there and being inspired by HBO's Russell Simmons Def Comedy Jam, and his brother Joe, Guy decided, that's the career path he should take.
Guy started hitting the comedy pavement, performing at comedy clubs in Los Angeles, sometimes going up 3 or 4 times a night while taking on odd marketing jobs, some work as an "extra" in music video's, sitcoms, and films as well as a Production Assistant on the hit sitcom "MARTIN". Staying focused and dedicated to stand up, Guy won his first comedy competition while competing with seasoned pros after only six months of doing comedy.
That gave him the confidence to pursue a career in comedy. After only two years in the game, Guy had a chance to audition for the very show inspired him to try stand up. Martin Lawrence the show's host, stepped down, and Guy's brother Joe was named as the new host. Bob Sumner, the show's talent coordinator, gave Guy the green light for his stand up television debut which ended up being his big break.
Guy went on to join the national Def Comedy Jam Tour and play to sold out theaters around the country. He continued to perfect his craft while not on DCJ tour in local clubs and other clubs around the country. After securing a manager and agent, Guy started booking acting jobs, which raised his global profile. In 1995, after seeing a lack of industry coming down to the urban neighborhoods to scout some of the other Black comedians, Guy created, produced and hosted Phat Comedy Tuesdays at the world famous Comedy Store. Guy wanted to bring the "hood" to Hollywood to showcase up and coming Black talent. The show was a hit, and lasted for 10 years.
His acting career would flourish and he went on to guest star in television shows such as "Martin", "Sparks" "NYPD Blue", "The X-Files" and "The Shield" to name a few, but he also landed series regular roles in the sitcom "Good News" and "The Strip". His big screen appearances include such films as, "Pearl Harbor", "The Animal", "Runaway Jury", "Life" and the most critically acclaimed; "American History X". Torry has toured the country and abroad displaying his brand of comedy and bringing laughs to every one. All of this attracted the attention of "The Kings of Comedy " creator Walter Latham, who hired Guy to host the original tour, that with veteran comedians such as Cedric The Entertainer, the late Bernie Mac, and Steve Harvey. After a year of touring with the Kings' , Guy decided to leave the show to pound the comedy pavement again, and work on his craft.
He currently tours the country hitting comedy clubs and theaters putting together the right set for a comedy special. He also is in pre-production with a documentary about "Phat Tuesdays" and has several television, film, and book projects in the works. But he still finds time every Wednesday to help with "My Friend's House" foundation in Los Angeles where they feed, clothe and pray for the homeless on Skid Row.
Please NOTE* the floor chart provided is only a visual reference chart and not to be used for specific seating. The colors indicate the general location of the seats you are purchasing in each section.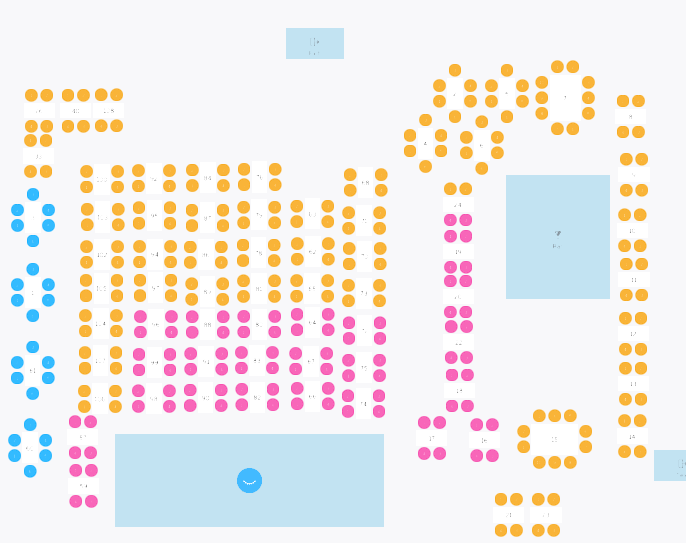 FAQs
Are there ID requirements or an age limit to enter the event?
Yes you must be 18 to attend events with valid photo ID. 21 to drink Alcohol
Where can I contact the organizer with any questions?
You can call the boxoffice anytime at 239-389-6901 or email us directly info@offthehookcomedy.com
Is my registration/ticket transferrable?
ALL ticket are non transferable and Non Refundable please doubel and triple check your ticket purchase
Can I update my registration information?
Yes you can update your information
Do I need to make a seperate dinner reservation?
No all tickets are seated tableside and we offer full dinner and full bar menu before and during the performance.
Sell these tickets on your social media today!
***DO YOU LIKE WHAT YOU SEE AND WANT TO BECOME A TICKET AFFILIATE WHO CAN MAKE MONEY SELLING THESE TICKETS? EMAIL US info@offthehookcomedy.com and you will start earning cash for each sale today! Just a promo code and click away***
TERMS & CONDITIONS
This event is 18 and over. Any Ticket holder unable to present valid identification indicating that they are at least 18 years of age will not be admitted to this event, and will not be eligible for a refund. By purchasing tickets to this event, you are authorizing this charge and acknowledging our terms and conditions below. ALL SALES ARE FINAL, unless an event is cancelled by the artist or venue. There are no refunds, transfers or exchanges. There is a two item minimum purchase per person in the showroom. Any two item combination of food or beverage satisfies the minimum. Unless otherwise stated, there are no food or beverages included with your ticket purchase. We charge three dollars for bottle water and do not offer free ice water in the showroom. All events are 18 years of age or older, unless otherwise stated in the event description. You must have a valid state or government issued photo ID to show proof age. All seating is on a first come first serve basis. For best seating, arrive early. In order to be seated at least half of your party must be present. Under certain circumstances, we may not be able to seat your entire party together. Venue reserves the right to resell tickets of any person/party that has not been seated by scheduled show time. No refunds will be issued. Valid Photo ID and the Credit Card used for the Reservation must be presented to pick up Tickets. Tickets will only be released to the purchaser unless prior arrangements have been made. Venue is a non-smoking property. Vape pens are also prohibited. Management reserves the right to deny and refuse entry or remove parties that may be deemed a distraction to other guests. This includes those that may appear intoxicated or not abiding by venue policies. Dress Code: Guests are asked to wear casual evening attire. Attire shall be deemed appropriate at the sole discretion of management. For security and safety of all patrons, management reserves the right to search all personal items and bags, we may request that personal belongings not be permitted into the venue. Photography, videography, filming or any recording during the show is strictly prohibited. By entering the venue, you acknowledge that the venue and its parent companies, affiliates or subsidiaries, are not responsible for any lost, stolen or damaged property and you are entering at your own risk. All events are 18 and up unless otherwise specified.