Description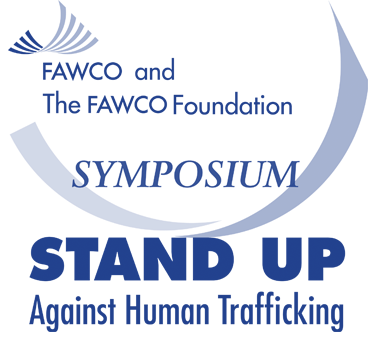 FAWCO and The FAWCO Foundation present a unique Symposium that focuses on tools for sustainable change for sex and labor trafficking survivors. Speakers from a wide range of organizations will address the critical success factors of social reintegration, economic independence and personal empowerment for trafficked persons. Learn how public and private sectors are forming partnerships to work together for positive social change. Learn how to become a conscientious consumer. Become an Everyday Hero.
We have the tools that you need to start today to STAND UP Against Human Trafficking. For more information about the speakers, agenda, and Symposium, please visit us at https://www.fawco.org/symposium

Are you interested in becoming a Sponsor? Please contact: symposium@fawco.org.
Read our blog and find out more about everyday heroes.
FAWCO and The FAWCO Foundation are proud to partner with CoMensha as our Symposium partner to support the upcoming European Day Against Trafficking in Persons.

September 22, 2016 is the European Day against Trafficking in Persons. In The Netherlands, NGO's have combined their efforts to establish the "Platform Stop Moderne Slavernij" and will publish a magazine on Human Trafficking. 
FAQs
What is the refund policy?
Cancellation Policy: Refunds (less administrative fees of 15%) until August 27, 2016. 
Can I take photos at this event?
You can not take photographs without the express consent of the presenters.