Description
How to differentiate yourself from other applicants to top US and UK universities.
(Clue: It's all about Extracurriculars + Leadership)
Thanks for all your support. All tickets are sold out for this event. If you will like to be informed of our upcoming events, please sign up here.
Please kindly note that only ticket holders will be allowed to enter the event. Please do not turn up for the event if you are not registered.
Thank you and we hope to see you soon!

Crimson is excited to host two of our own students who were just admitted to Stanford and Oxford, and UChicago and Cambridge respectively! Come hear them share about their own journeys and how to prepare a successful application.
Applying to a good university in the US or UK is no longer just about your grades.
You've heard this a lot, but no, you haven't really understood it. Going to school in Singapore makes it feel like grades are the only thing that matter. Everyone tells you to get straight As or all 7s on your IB and then you'll be set! And so you spend all your waking hours doing homework and practising to ace exams. Sadly, many students find out that they've fallen into this tunnel vision trap when it's too late.
Top universities aren't just interested in straight As.
Take MIT, for example, one of the top 5 universities in the US, which admitted only 13% of applicants who scored above 1500 in the SAT. What happened to the remaining 87% who are clearly high academic achievers with SAT scores of 1500+? The short answer is that they did not have a compelling enough extracurricular and leadership profile. Without this, universities cannot differentiate you from tens of thousands of other academically strong applicants.
Good grades will only get you a foot in the door.
So, what are some of these extracurricular and leadership activities that universities look for? Do you have to cure cancer, win gold at the International Math Olympiad, be the best speaker at Model United Nations, and run your own clean energy initiative before top universities will accept you? No.
The good news is that universities look out for all sorts of extracurricular activities. The (somewhat) bad news is that you have to pursue those interests to a high enough level of commitment or achievement to be of interest. Your activities speak volumes about you and it is your holistic profile that universities are assessing. You don't have to be a hyper-motivated overachiever to get into a great school, but you do need to be the best version of yourself.
To do that, you need to use your time wisely and effectively, pursuing projects and activities that will stand out to the admissions officers reading your application. You need to show that you have what it takes to be a leader on campus, that you are someone who boldly follows your passions and that you aren't afraid to dive in and get your hands dirty.
At this point, you may be starting to worry again. Don't!
With decades of collective experience and hundreds of admits to the world's top schools under our belts, Crimson's talented staff of mentors, advisors and counsellors is here to help! We know what it takes to build a profile of extracurricular activities and leadership skills that will get admissions officers excited.
Want to find out how to design your unique profile to stand out from the crowd? Draw inspiration from successful applicants who have gone before you! Join Crimson on January 27, 2018 for the Stand Out from the Crowd seminar.
In this exciting and information packed talk, you will:
Find out how universities in the US and the UK use your extracurricular profile to judge your application

Hear from a former admissions staff member at a top university as he discusses what sets a good profile apart from a bad one

Listen to and ask questions of a panel of students admitted to top universities as they discuss how they rode on their interests and built up their impressive roster of extracurricular activities and leadership experiences


Don't miss out on this rare opportunity to get deep insights and think through the specifics of your journey into the best universities! Register now, while tickets last.


EVENT DETAILS:
Date: 27th January 2018
Time: 1:00pm - 3:00pm
Venue: Hilton Hotel, 581 Orchard Road, Level 5, Malaysia Room
Seats are free but limited. Reserve yours now!
---
Profiles of Featured Speakers: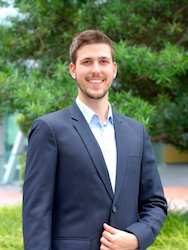 Ian Cash - Johns Hopkins University, SOAS University of London, former admissions consultant and standardised test prep expert

Originally from Princeton, New Jersey, Ian skipped out on going to the famous university in his town in favour of Johns Hopkins University where he graduated with departmental honours in history. He then went on to finish his Master's from SOAS in London. Ian has over 6 years of experience in admissions consulting and preparing students for standardised admissions tests.
Panel Discussion Speakers:
1. Stanford University and University of Oxford Admit

Student Council President

Top student in high school (4 consecutive years)

Organised inaugural TEDx at school

ICAS Science Medal (Top Score)
2. University of Chicago and University of Cambridge Admit

Lee Kuan Yew Science & Math Award

Defense Science Technology Agency Scholarship

Center for Quantum Technologies Research

Published 2 Independent Research Papers