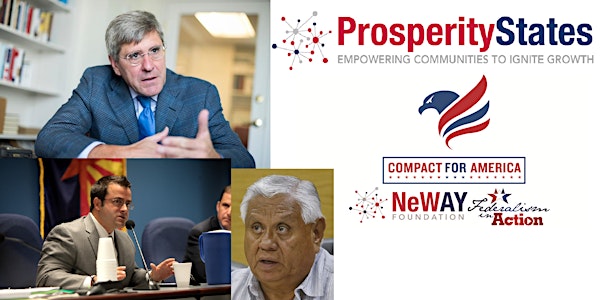 Stand for Prosperity with Steve Moore, Mayor Paul Diaz & Nick Dranias!
When and where
Location
Arizona State Capitol 1700 West Washington Street Senate Building Hearing Room 1 Phoenix, AZ 85007
Description
Help Arizona Grow, Prosper and Thrive: Join Us Dec. 14 at the Capitol in Phoenix
It's time to think big in America -- to restore the level playing field, crony-free opportunity and jobs-producing growth that once characterized our nation. We're starting in Arizona, and we'd like your help Dec. 14.
Many of you already know about the Prosperity States initiative -- a package of reforms that rolls back decades of regulation and special-interest carve-outs to deliver regulatory reform, fiscal best practices and a level playing field to any community that wants it. Learn more: www.ProsperityStates.org
President-Elect Trump's Economic Advisory Council Member and Compact for America's National Spokesman Steve Moore is coming to Phoenix to make the case for the deep regulatory and fiscal reforms of the ProsperityStates.org Compact before the Arizona State Legislature in Phoenix on Dec. 14 at 10 a.m.
In a show of bi-partisan support, South Tucson Former Mayor Paul Diaz Will Testify Too!
South Tucson Former Mayor Paul Diaz is a lifelong resident of Pima County and South Tucson. He has been a public servant for 20 years, serving as a Precinct Committeeman and Democratic Legislative District #2 Chair Person as well as a union steward and president of the Communications Workers of America (CWA) Local 7050 for 47 years. Diaz has intimate knowledge of his community's need for a fair shot at economic growth -- come hear what he has to say about the Prosperity States Initiative.
Finally, Compact for America President Nick Dranias will address the arguments made by the powerful interests that have expressed opposition to these important reforms. He will show that the reform effort advances prosperity responsibly.
Join us in this crucial fight for your right to prosper!
Bus service and free T-shirts will be available from Tucson! Email Jeff.Utsch@CompactforAmerica-Action.org for the details.