Description
ON THURSDAY, APRIL 26, YWCA Brooklyn and the NYC Department of Health and Mental Hygiene (DOHMH) are both taking a STAND Against Racism through civic engagement and advocacy. Please join us for an interactive panel discussion about racial equity and public health, with guest speaker Dr. Nadia Lopez.
People who have the opportunity to engage in their communities through voting, volunteering or activism often have better health and economic outcomes than those who don't have engagement opportunities. This is one pathway through which structural and institutional racism impacts the outcomes of some communities to access resources to achieve their best health.
Our confirmed speakers include:
Silvia Beltran, Maternal, Infant, & Reproductive Health of the Family and Child Health Division

Takeesha White, Director of Networks & Coalitions, Thrive NYC

Meredith Johnson-White, Deputy Director of Evidence-Based Programs, NYC Teens Connection, of Bronx Health Action Center at the Center for Health Equity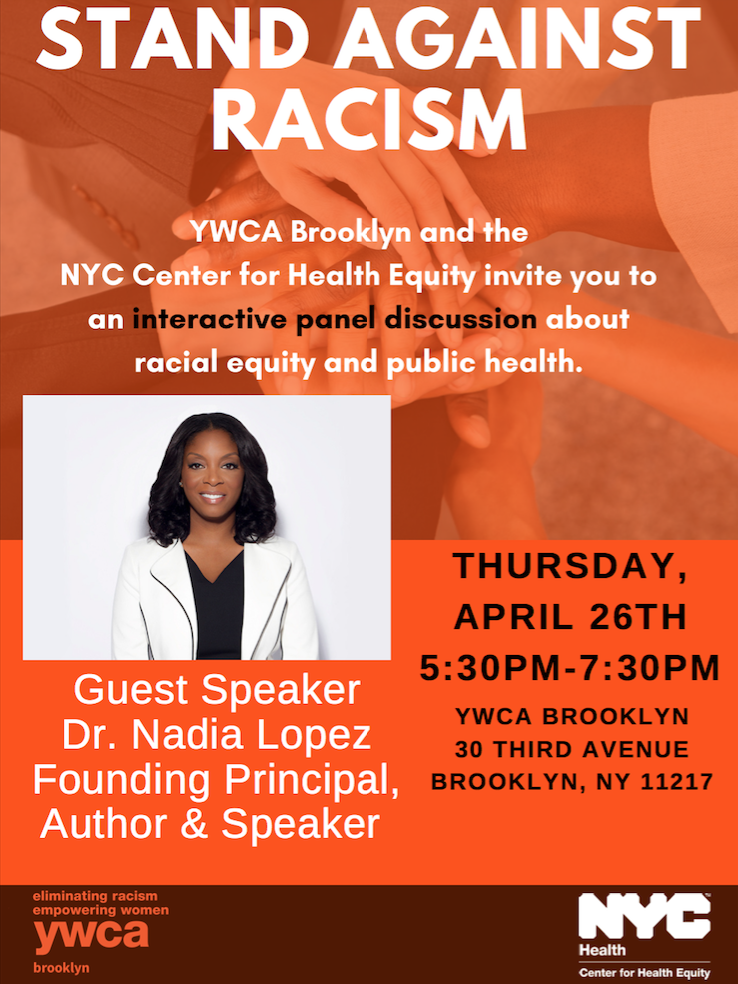 YWCA BROOKLYN IS DEDICATED TO ELIMINATING RACISM, EMPOWERING WOMEN, AND PROMOTING PEACE, JUSTICE, FREEDOM, AND DIGNITY FOR ALL.
ABOUT OUR PARTNER: The New York City Department of Health and Mental Hygiene is one of the largest public health agencies in the world and one of the nation's oldest public health agencies, with more than 200 years of leadership in the field. Every day, we protect and promote the health of 8 million diverse New Yorkers. Our work is broad-ranging and our studies shape policy decisions and the City's health agenda. We work to address enduring gaps in health between white New Yorkers and communities of color. Structural racism is at the root of these health inequities, which is why the Department has made racial justice a priority.
Read more: https://www1.nyc.gov/site/doh/index.page
ABOUT STAND AGAINST RACISM: Stand Against Racism is a signature campaign of YWCA USA to build community among those who work for racial justice and to raise awareness about the negative impact of institutional and structural racism in our communities. This campaign is one part of our larger national strategy to fulfill our mission of eliminating racism.
Read more: http://standagainstracism.org/