Location
Grand Central Post Office
6444 San Fernando Road
Glendale, CA 91201
Description
For the 2nd year, CALE Now is joining the effort to end hunger. Last year we had 20 volunteers, which was the largest group at our site, and we made a huge impact. We collected and boxed food, then loaded the boxes on trucks that were taken to the Salvation Army food bank for distribution to those in need. Let's do it again this year!
Bring your families and friends along to help out. Younger children are welcome.
Wanna CARPOOL? Let us know at info@calenow.org or 818.428.1028.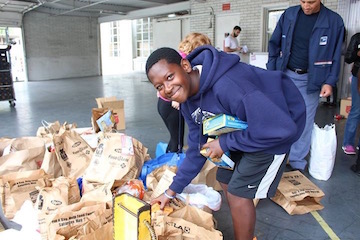 ---
Every year The Salvation Army teams with the National Association of Letter Carriers to "Stamp Out Hunger." The local letter carriers collect food from homes in the Glendale area that they donate to the Salvation Army food bank.
CALE Now 2015 Volunteers