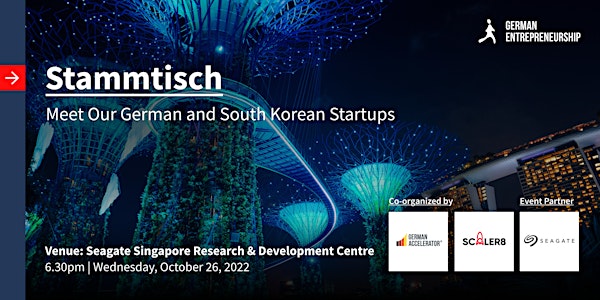 Stammtisch
A special edition of Stammtisch as we feature startups from Germany and South Korea
When and where
Location
Seagate Singapore Research & Development Centre 26 Ayer Rajah Crescent Singapore, 139944 Singapore
About this event
Join us at this special edition of Stammtisch, as we introduce the German startups from our German Accelerator's Singapore Market Discovery (AI) program and the South Korean startups in our Scaler8 program.
Learn about their exciting plans in pushing forward with their expansion to Southeast Asia.
Enjoy a night of networking with the partners, mentors and friends of German Entrepreneurship Asia.
Date: Wednesday 26 October 2022
Time: 6:30 PM – 9:30 PM SGT
Venue: Seagate Singapore Research & Development Centre, 26 Ayer Rajah Crescent, S139944
Link to map.
Agenda
6:30 PM - 7.00 PM Guest registration and welcome drink
7:00 PM - 7:10 PM Welcome speeches
7:10 PM - 7:40PM Startup pitches and Q&A
7:40 PM - 7:50 PM Signing of Memorandum of Understanding
7:50 PM - 8:10 PM Startup pitches and Q&A
8:10 PM - 9:30 PM Networking & dinner
Our German Startups
BizTapp latest AI technology and data security are the foundation for their innovative match-making solution which allows their customers to gain insights and leverage the entire skillset of their employees.
Future Demand predicts sales for events, concerts and games years in advance. They help event organizers to increase sales for low-demand events or slow selling products and enable personalization of customer touch points.
GoodBytz develops robotic kitchens enabling professional chefs to effortlessly amplify their capabilities. By providing worldwide food creators access to robotics, AI, and data, GoodBytz hopes to lead societies towards a more sustainable production and preparation of food.
HealthCaters is a personal health platform that allows users to perform health screenings without a doctor or a nurse. Their risk-assessment engine guides users through their long-term health risks and recommends appropriate lifestyle changes through their API-partner platform.
Peeriot provides a software interface for simplified data exchange between devices, allowing devices to be able to communicate autonomously and receive new next-level functions. Peeriot also aims to strengthen the sovereignty of the data owner and increase data protection.
Divizend enables private investors worldwide to reclaim their taxes through a cloud-based, wealth-tax platform that automates the tax refund process. Divizend offers high dividend earnings by providing relevant insights, research, analytics and tax services.
Our South Korean Startups
Nayoull is a green raw material e-commerce startup that aims to create a more accessible fabric distribution system that can help foreign buyers locate relevant supplies and reduce excess inventory of fabric suppliers. They also aim to increase sales of eco-friendly and upcycled fabrics.
Peter's Lab is a MedTech startup that aims to help pet owners decrease expenses for medical treatment and care of pets by predicting possible diseases with their breakthrough technology, the Pet Bio Care Platform.
Seal Booster is a product developed by Serve Technology. Their ground-breaking hands-free Wearable Personal Underwater Propulsion System is a culmination of intensive research and development, is designed for skin divers, free-divers, snorkelers, and other water sports adventurers.
SeoHong Tech is the MedTech startup behind Medi Pressura, a smart mattress that analyses sleep patterns to reduce bedsores and pressure ulcers in elderly and disabled patients. The complementary mobile application provides data and alerts users and caregivers in real-time, simultaneously enabling personalized care management for multiple patients.
More interesting info on our South Korean startups here.
Want to Connect with the Startups?
Click here to let us know which of the startups you would like an introduction with, and we will facilitate the introductions.
This event is organised by German Entrepreneurship Asia, in partnership with SEAGATE.
Please note: By participating in the event, you consent to the capture of still images, moving images and audio recordings. You accept that the subsequent use may be in a number of media, including but not limited to print, digital and electronic use by German Entrepreneurship Asia and/or by agents authorized by German Entrepreneurship Asia.