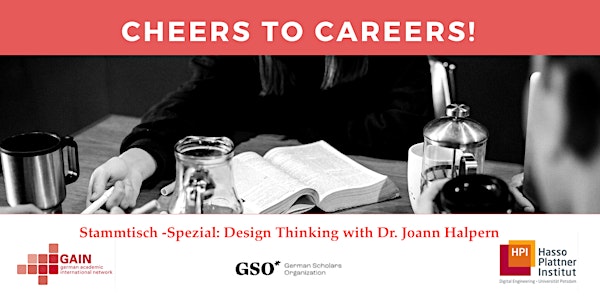 Stammtisch-Spezial: Design Thinking - An Introduction
Introduction to Design Thinking with Dr. Joann Halpern, Director of the Hasso Plattner Institute, New York.
By German Academic International Network (GAIN)
Date and time
Thursday, June 3, 2021 · 12 - 1pm EDT
About this event
Design Thinking: An Introduction
Design Thinking, a human-centric, solution-based problem-solving framework has been adopted by universities, hospitals, governments, start-ups, and large corporations, to name a few. It is ideal for solving ill-defined problems and can also be utilized to address challenges associated with your own career. This presentation will introduce you to the different stages of the Design Thinking process and help you understand how to integrate it into your daily work and your life. The speaker will also provide examples of Design Thinking in action in order to help you understand the framework as well as its innovative potential.
Online presentation with Q&A.
Please register by June 3rd 2021 at 8:00 AM (EST).
After registration you will receive the link on the day of the event.
Bio
Dr. Joann Halpern is the director of the Hasso Plattner Institute, New York and an adjunct professor of International Education in the Department of Applied Statistics, Social Science and Humanities at New York University. From 2009-2017 she was the director of the German Center for Research and Innovation (DWIH), which was created as a cornerstone of the German government's initiative to internationalize science and research. In addition to teaching and administrative assignments at universities in the United States and Germany, Dr. Halpern co-founded Knowledge Transfer Beyond Boundaries, an NGO with projects in Cameroon, Nigeria, Yemen, and Antigua. She received her B.A. from Dartmouth College, her M.A. from Harvard University, and her Ph.D. from New York University. She is a recipient of the Harvard University Award for Distinction in Teaching as well as scholarships and fellowships from the German Academic Exchange Service, Fulbright Association, Robert Bosch Foundation, and the National Endowment for the Humanities. Dr. Halpern serves on the advisory boards of the German Center for Research and Innovation, Technical University of Dortmund, Charité Entrepreneurship Summit, University Alliance Ruhr, Research Academy Ruhr, and the External Advisory Board of the Tandon Institute for Invention, Innovation, and Entrepreneurship.
About the organizer
Das German Academic International Network (GAIN) ist das Netzwerk für deutsche Wissenschaftlerinnen und Wissenschaftler, die in Nordamerika tätig sind.
GAIN ist eine Gemeinschaftsinitiative der Alexander von Humboldt-Stiftung, des Deutschen Akademischen Austauschdienstes und der Deutschen Forschungsgemeinschaft und wird durch das Bundesministerium für Bildung und Forschung gefördert.