Get ready for a night of laughs in downtown Stamford!
About this event
Stamford Comedy Club presents:
A Night Of Stand Up Comedy Featuring:
Headliner: Moody McCarthy (Conan, Kimmel and Letterman)
Damon Millard (SiriusXM)
Michelle Slonim (Comedy Central, Late Night with Seth Meyers)
Ben Rosenfeld (Comedy Special on Amazon Prime, #1 comedy album on iTunes)
The show is located on the 2nd floor of
Quattro Pazzi - 269 Bedford Street
(Enter at 255 Bedford Street)
*In addition to the ticket price, there is a $15 food/drink minimum per person during the show
PERFORMER BIOS
Moody McCarthy
Moody McCarthy is a stand-up comedian who has performed on Jimmy Kimmel Live, Conan, and the Letterman Show. He lives in New York City with his wife and two wee lasses.
Moody has performed at the best clubs in the land and can be heard on SiriusXM. He's also been featured on America's Got Talent and Last Comic Standing, but gets asked more about his "House Hunters" episode.
Moody was born "Matthew" into a big Irish family where - by law - someone gets a nickname. He began doing comedy in Upstate New York in the 1900s, and covered sports on Syracuse's top radio show before moving to New York City.
Moody's material is described as original but universal, and smart without being trite. Couple that with a disarming stage presence & in-the-moment chops, you'll see why he's earned the admiration of his peers for his ability to "go up cold". Corporate outings, fundraisers, private parties – you name it, this versatile performer will brighten any event.
Damon Millard
Damon Millard asks some of the biggest questions: why are we here, what does it mean to exist, and why am I getting fat? From his humble poverty-stricken roots, to the insanity of modern life in New York City, Damon hits all the stops on the roller coaster of his life. His performance is a fearless, high-energy retelling of run ins with the law, failed relationships, and other struggles. Sometimes brilliant, sometimes crude, but never superficial; Damon is a powerful comedic voice who actually has something to say.
Damon is currently based out of New York City but spends most of his time traveling and performing all over the country. Damon began performing comedy in Milwaukee, Wisconsin in 2009 and he recently returned there to record his debut, full-length album, Shame, Pain, And Love. The album was signed to a major comedy label, Comedy Dynamics and is now available on iTunes, Google Play, Amazon Prime, and streaming on Spotify and Sirius XM. He created and hosts a wildly popular web series, The Low-Budget Show.
Michelle Slonim
Two days after Michelle Slonim gave birth to a baby girl, Michelle received an email saying she was cast in a sketch for Late Night With Seth Meyers. Michelle had gone on tons of auditions: once in a chicken costume, another time in a bikini while eight months pregnant, and she never got the part. Now a week after her baby was welcomed into the world, Michelle's in hair, makeup and wardrobe, on set for a major network television show. She plans to have a second child so she can make an appearance on Conan.
Michelle has appeared on web-shows for Comedy Central and HBO and on SiriusXM Radio. You can see her performing stand up comedy in most clubs and bar shows in New York City. Michelle trained at the University of Michigan and the Williamstown Theater Festival, as an apprentice to Lewis Black. She is a seasoned producer having worked on 24 Hour Celebrity Plays on Broadway and produced shows at Webster Hall and Le Poisson Rouge. Special guest performers on her shows have included Dave Attell and Greer Barnes from the Chapelle Show. Though happily married now, for her Anti Valentine's Day Comedy Show, she was prominently featured in The Wall Street Journal, although as her mother pointed out, it was only on page two in the print edition. Michelle's side hustle is putting on comedy shows in people's living rooms – check out LivingRoomLaughs.com
Ben Rosenfeld
Ben Rosenfeld is a quirky immigrant whose comedy can be best described as "playfully dark, seriously smart." Ben's comedy blends his family's experience as Russian Jewish immigrants in America with his philosophical beliefs, political observations and unique characters.
Ben has been seen on BuzzFeedVideo and is slightly "TikTok famous" with over 200,000 followers and 9,000,000 likes. Ben has four streaming comedy albums, two illustrated humor books and a special on Amazon Prime Video. He's also appeared on FOX's Laughs, Travel Channel's Mysteries At The Museum, CBS This Morning, Nat Geo's Brain Games, Netflix's Brainchild, NPR's Weekend Edition, SiriusXM Radio, The New York Post and been featured as TimeOut New York's Joke of the Week. He has twice headlined at Caroline's on Broadway, hosted at the Lincoln Center and performs nightly in New York City.
*In addition to the ticket price, there is a $15 food/drink minimum per person during the show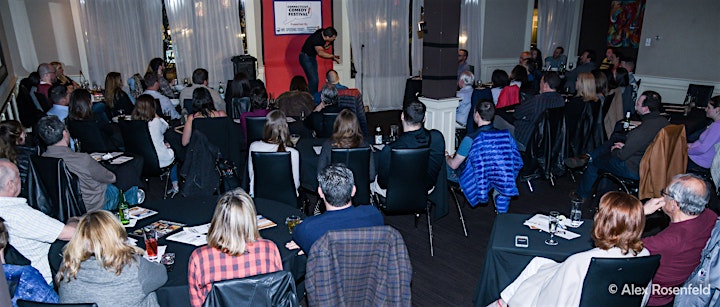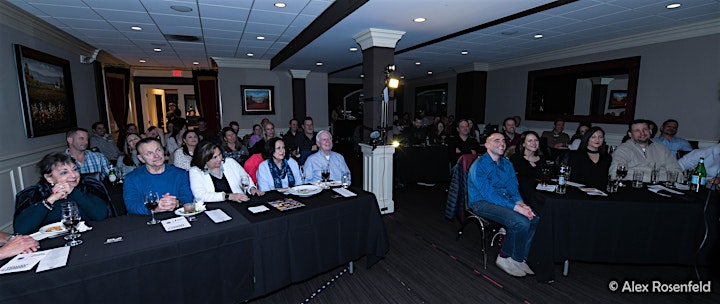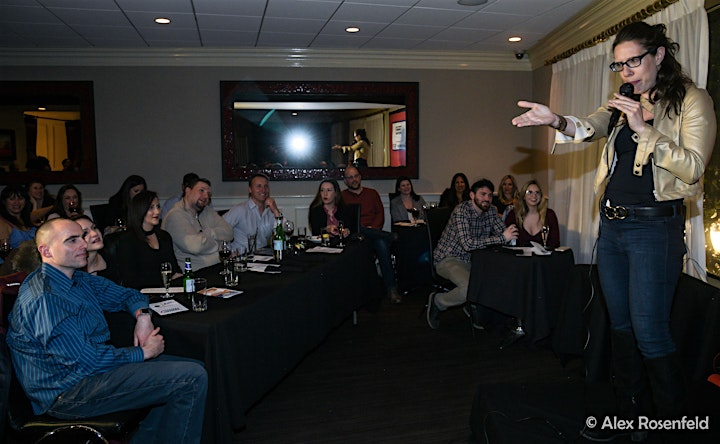 Organizer of Stamford Stand Up Comedy Night with Moody McCarthy And Friends