Get ready for a night of laughs in downtown Stamford!
About this event
Stamford Comedy Club presents:
A Night Of Stand Up Comedy Featuring:
Headliner: Joe DeVito (The Late Late Show, Comedy Central, Last Comic Standing)
Cody Marino (The Basement Comedy Club)
Michelle Slonim (Comedy Central, Late Night with Seth Meyers)
Ben Rosenfeld (SiriusXM, #1 comedy album on iTunes, FOX's Laughs)
The show is located on the 2nd floor of
Quattro Pazzi - 269 Bedford Street
(Enter at 255 Bedford Street)
*In addition to the ticket price, there is a $15 food/drink minimum per person during the show
PERFORMER BIOS
Joe DeVito
Whether taking on relationships, his Italian-American family, or current events, Joe DeVito's dead-on timing, unexpected twists and sheer flights of lunacy make him a favorite at clubs and colleges across the USA, and at the top venues in New York City.
After spending a decade as a journalist and advertising writer, Joe gave into his coworker's demands to try performing so he could find fame, while they finally got some work done. Since then he's appeared on television more than 150 times, including Comedy Central, The Late Late Show (CBS), Last Comic Standing (NBC), AXS-tv's Gotham Comedy Live, Comics Unleashed, E! Network, CNN, Animal Planet, Discovery Channel, and more. He's also been a regular panelist on FOX News Channel's Red Eye, Kennedy, and The Greg Gutfeld Show, discussing current events with a satirical bent.
As a writer, Joe has contributed to Maxim Magazine, MTV, and the award-winning film Super Size Me. In 2006, he was invited to the prestigious Just for Laughs Festival in Canada, where the Montreal Gazette rated his performance "9.5 out of 10."
Joe's debut album "First Date with Joe DeVito" is in regular rotation on Spotify and Sirius XM satellite radio.
Cody Marino
Cody Marino is a favorite all over Fairfield County and New York City. His live performances are hilarious and not to be missed.
Michelle Slonim
Two days after Michelle Slonim gave birth to a baby girl, Michelle received an email saying she was cast in a sketch for Late Night With Seth Meyers. Michelle had gone on tons of auditions: once in a chicken costume, another time in a bikini while eight months pregnant, and she never got the part. Now a week after her baby was welcomed into the world, Michelle's in hair, makeup and wardrobe, on set for a major network television show. She plans to have a second child so she can make an appearance on Conan.
Michelle has appeared on web-shows for Comedy Central and HBO and on SiriusXM Radio. You can see her performing stand up comedy in most clubs and bar shows in New York City. Michelle trained at the University of Michigan and the Williamstown Theater Festival, as an apprentice to Lewis Black. She is a seasoned producer having worked on 24 Hour Celebrity Plays on Broadway and produced shows at Webster Hall and Le Poisson Rouge. Special guest performers on her shows have included Dave Attell and Greer Barnes from the Chapelle Show. Though happily married now, for her Anti Valentine's Day Comedy Show, she was prominently featured in The Wall Street Journal, although as her mother pointed out, it was only on page two in the print edition. Michelle's side hustle is putting on comedy shows in people's living rooms – check out LivingRoomLaughs.com
Ben Rosenfeld
Ben Rosenfeld is a quirky immigrant whose comedy can be best described as "playfully dark, seriously smartass." Ben has appeared on FOX's Laughs, Travel Channel's Mysteries At The Museum, CBS This Morning, Nat Geo's Brain Games, Netflix's Brainchild, NPR's Weekend Edition, SiriusXM Radio, The New York Post and been featured as TimeOut New York's Joke of the Week. He has twice headlined at Caroline's on Broadway, hosted at the Lincoln Center and performs nightly in New York City.
*In addition to the ticket price, there is a $15 food/drink minimum per person during the show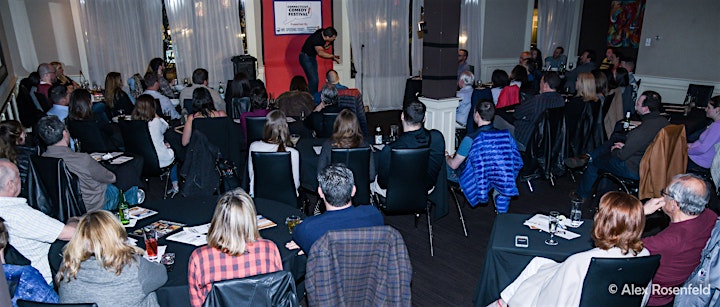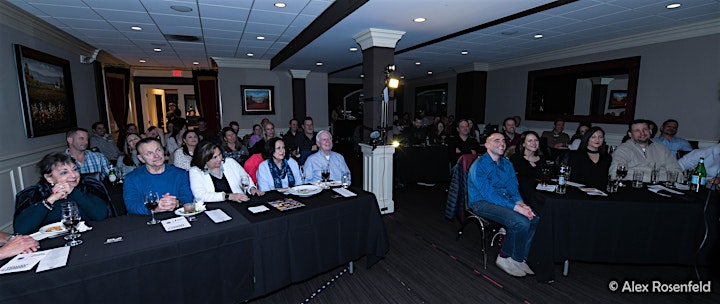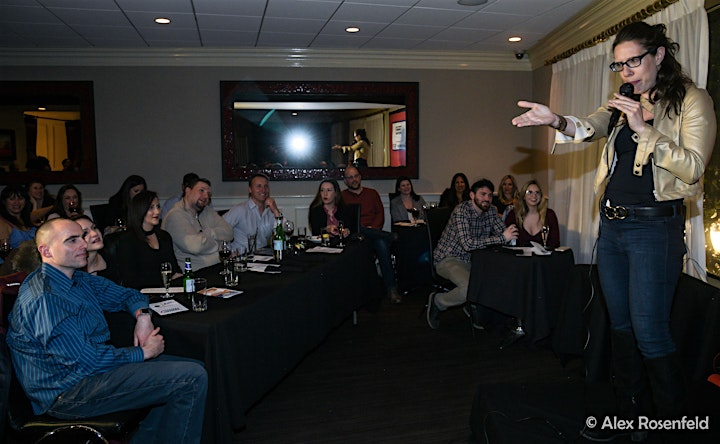 Organizer of Stamford Stand Up Comedy Night with Joe DeVito And Friends