Description
After selling out in Chicago, Stalley is LIVE in Miami for the 1st Time!
This is an 18+ Event
Presented by MMG, Dope Ent, Ashley Outrageous, and DailyChiefers.com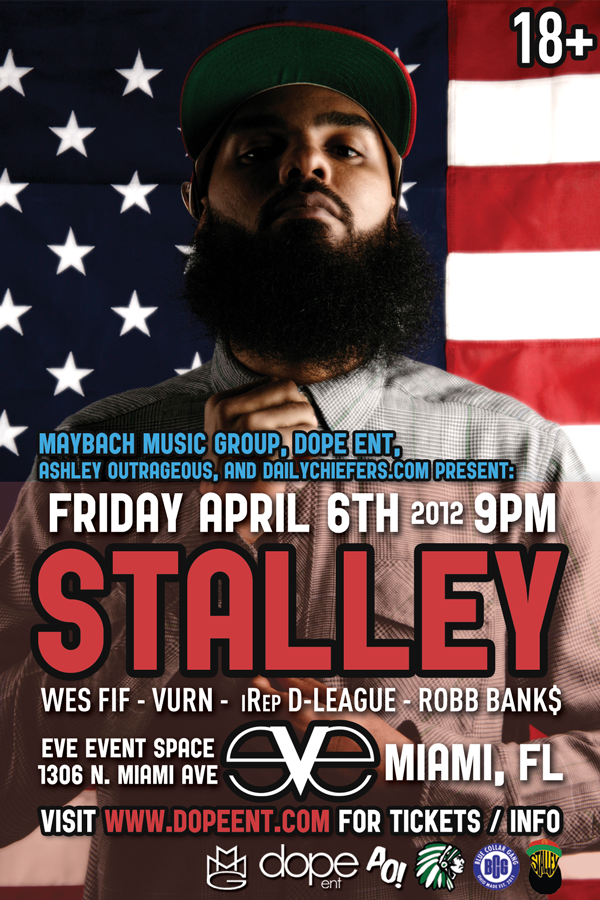 For all questions/concerns E-mail shows@dopeent.com
Whenever this Massillon, Ohio-bred Emcee is not touring or recording, he is cultivating his classic, clean style. Influenced by the blue-collar, steel worker aesthetic that typifies his Midwestern birthplace. Musically, Stalley has released The Autobiography, a critically acclaimed, Madlib-inspired project and now Lincoln Way Nights (ITM). His music videos "Slapp", "S.T.A.L.L.E.Y.", "Babblin'", "Address" and "Do It Big" have been in rotation on BET, MTV Jams and MTVu. Now signed to Maybach Music Group, and with his new project Savage Journey to the American Dream due out March 30, Stalley's career is blowing up! Catch him LIVE at Eve on Friday, April 6, 2012. Meet and Greet packages are available and come with a signed copy of Savage Journey to the American dream. Here are some visuals from Stalley and the other artists on the bill (who are all very talented and up-and-coming Florida MC's) to hold you over until the show...