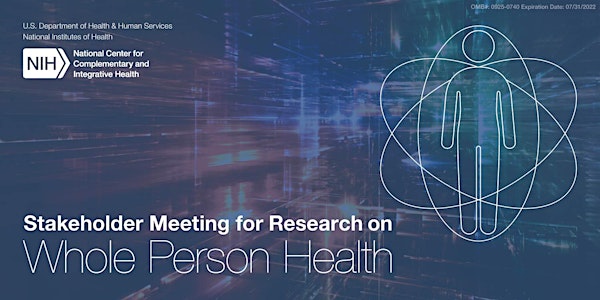 Stakeholder Meeting for Research on Whole Person Health
Stakeholder Meeting for Research on Whole Person Health
About this event
NCCIH will be holding a Stakeholder Meeting for Research on Whole Person Health on October 17 to 18, 2022. We are inviting representatives of organizations to attend and voice their research interests in whole person health. Only those who are invited (or their designees) may register; please do not forward the registration link to others. Please feel free to contact us if you would like us to invite other organizations.
On the second day of the meeting, there will be limited time for organizations to provide public comment. Each organization will be limited to 2 minutes.
Please register to participate and indicate your interest in providing public comment during the meeting. We will try to group speakers according to the topic/theme indicated.
We encourage you to register ASAP since time will be limited. If the speaking slots are full, organizations are welcome to submit written public comments to NCCIH.
Draft Agenda
Monday, October 17, 2022
1:00–2:00 p.m. | Welcome and Opening Address
(Time for Q&A)
2:00–3:00 p.m. | Breakout Groups—Gaps and Opportunities in Research
Clinical Trials/Clinical Research
Basic Research
Implementation Science and Dissemination Research
Capacity Building/Training
3:00–3:15 p.m. | Break
3:15–4:15 p.m. | Breakout Groups—What is needed to implement whole person health in real world settings from the perspective of...
Individuals/Consumers
Clinicians/Practitioners/Community Health Workers
Policymakers
Insurers
Researchers
Businesses/Innovators/Entrepreneurs
4:15–4:30 p.m. | Closing Remarks
Tuesday, October 18, 2022
1:00–3:00 p.m. | Report Out From Breakout Groups and Discussion
3:00–4:30 p.m. | Open Comment Period
Individuals register before meeting and will be notified of time allowance.
4:30–5:00 p.m. | Closing Remarks and Next Steps
Dr. Helene M. Langevin
Dr. David Shurtleff
Dr. Emmeline Edwards
Reasonable Accommodation
Sign language interpreting services are available upon request. Individuals who need interpreting services and/or other reasonable accommodations to participate in this event should contact the NCCIH Clearinghouse at info@nccih.nih.gov or 1-888-644-6226 by Friday, October 7, 2022.
OMB#: 0925-0740
Expiration Date: 09/2025
Public reporting burden for this collection of information is estimated to average 10 minutes per response, including the time for reviewing instructions, searching existing data sources, gathering and maintaining the data needed, and completing and reviewing the collection of information. An agency may not conduct or sponsor, and a person is not required to respond to, a collection of information unless it displays a currently valid OMB control number. Send comments regarding this burden estimate or any other aspect of this collection of information, including suggestions for reducing this burden to: NIH, Project Clearance Branch, 6705 Rockledge Drive, MSC 7974, Bethesda, MD 20892-7974, ATTN: PRA (0925-0740). Do not return the completed form to this address.