Description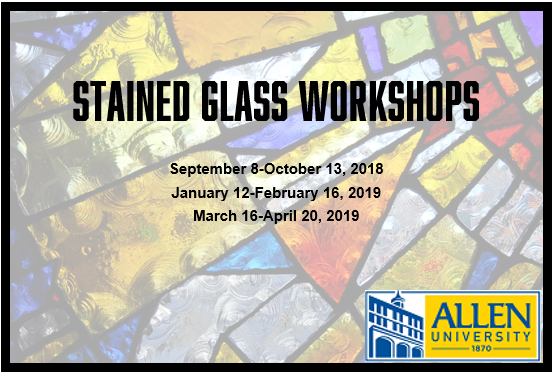 These workshops are part of Allen University's Religious Arts as a Vehicle for Standing in the Need of Prayer Program, made possible through a Vital Worship Grant from the Calvin Institute of Christian Worship, Grand Rapids, Michigan, with funds provided by Lily Endowment Inc.
All workshops consist of six 2-hour sessions completed during a 6 week period for a total of 12 hours. Sessions are suitable for beginners who are interested in the art of stained glass in creating sacred spaces.
Available Workshops:
September 8-October 13, 2018, 10 am-12 pm

September 8-October 13, 2018, 2 pm-4 pm

January 12-February 16, 2019, 10 am-12 pm

January 12-February 16, 2019, 2 pm-4 pm

March 16-April 20, 2019, 10 am-12 pm

March 16-April 20, 2019, 2 pm- 4 pm
*Attendees must commit to and attend all 6 sessions of the registered workshop.
Patricia Formo Stone, owner of Glassie Ladies, will lead each workshop. Patricia is an artist in stained glass and graphite drawings. Utilizing a background of art, she is inspired to design original pieces of stained glass art. The qualities of being a musician (voice, guitar, and piano) and participating in her church choir have enhanced the artist's imagination. Having lived in Europe and many locations in the United States, she has settled in South Carolina with a plethora of experiences to draw from for her original creations. In specialized instructional classes through the Glassie Ladies studio, she shares techniques gleaned from instructors, fellow artists, and personal experiences.
---
FAQs
How much does a workshop cost?
Each workshop is free of charge and includes all glass, supplies and use of tools for the project.
How do I register for a workshop?
Due to the limited number of slots for each workshop, participants will be randomly selected by drawing. Registrants must complete the registration form on Eventbrite and provide a 75-word essay stating their reasons for and benefits of attending a Stain Glass Workshop. Selected participants will be notified via email.
Can anyone attend a workshop?
Workshops are open to anyone aged 18 years and above.