Staglin Family Vineyard 4-Course Wine Dinner
About this event
Toscana Italian Chophouse & Wine Bar is excited to welcome Amber Mihna from Staglin Family Vineyard for a multi-course dinner, each carefully paired with heritage estate vineyards world-class wine.
Menu:
1: Salus Chardonnay
Vanilla Scented Risotto and Seared Scallop, Fennel, Yellow Tomato Jus
2: Staglin Estate Chardonnay
Wood Grilled Swordfish Medallion, Sweet Potato Crocchette, Tuscan Kale, Peach-almond Burro Fuso
3: Salus Cabernet
Dry Aged Pork Sirloin, Crispy Polenta, Shaved Brussles, Cardamom-fig Glaze
Intermezzo: Lemon-prosecco Granita
4: Staglin Estate Cabernet
Dry Aged Prime Burger Sliders, Smoked Cheddar, Heirloom Tomato, Buttermilk Onion Strings
Dolci : Affogato & Italian Digestive of the Day
Espresso Cake Truffles
Staglin Family Vineyard:
We are a small, family owned and operated winery that produces varietal wines of distinction from our Rutherford estate, including Cabernet Sauvignon and Chardonnay. Very limited and small quantities and are all estate grown off our 66-acre property on the Rutherford Bench.
In addition to the flagship Staglin Family Vineyard label, we also produce a Cabernet Sauvignon and a Chardonnay under the Salus label. Named after the Roman goddess of health and wellbeing, we donate 100% of the proceeds from the sales of these wines toward fundraising for mental and brain health research, a cause that is very near and dear to our hearts. Over the last 30 years, we have raised over $485 million dollars for this charity.
Chardonnay: We inhibit Malolactic Fermentation but barrel ferment the wine for 10 months in 600 liter barriques with only 42% new oak. Barrel fermentation adds texture and volume. Native Yeast Fermentation.
SALUS: American Clones
STAGLIN: French Clones
Cabernet Sauvignon: We use heritage and modern clones (Spottswoode and Martha's Vineyard clones) and make final blends off certain blocks. Salus is meant to be an approachable wine at release with intentions to drink now. Staglin Family Vineyard you can surely drink now or hold in your cellar for decades.
Winemakers: Celia Welch, Cathy Corison and Andy Erickson paved the way for our current winemaker, Fredrik Johannson, celebrating his 15th anniversary. He worked closely with Thomas Rivers Brown making Schrader and Outpost wines.
Neighboring Vineyards: Scarecrow, To Kalon, Joseph Phelps Insignia, Rubicon and Bella Oaks.
Vineyard Manager: David Abreu and his crew have been farming the land organically since 1985; we are also 100% solar run. Michel Roland has been consulting with us since 2000.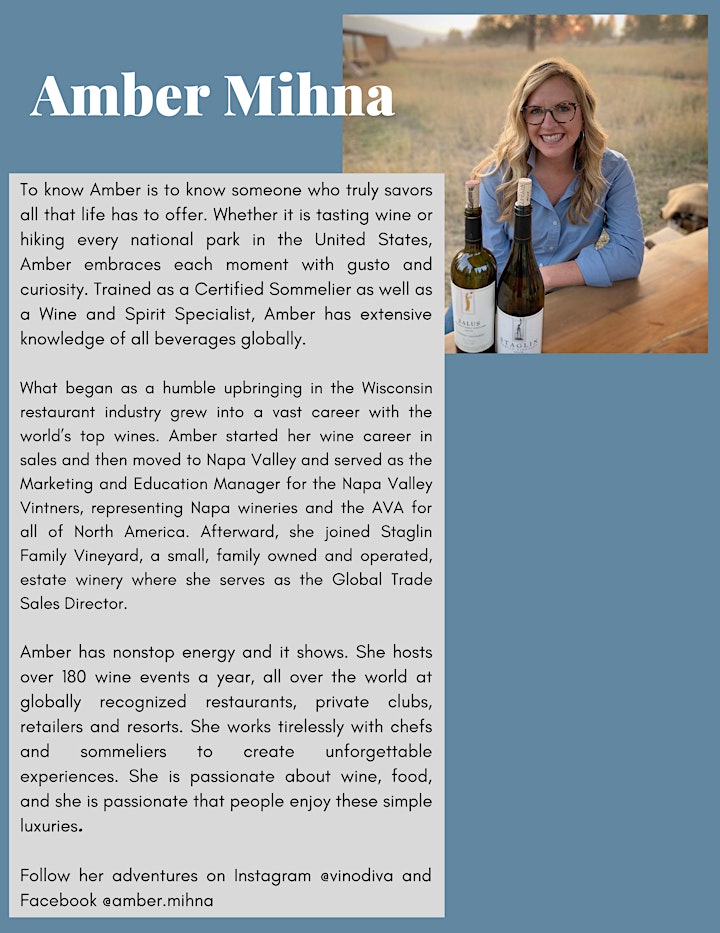 Organizer of Staglin Family Vineyard Dinner & Paring Experience