STAGLIENO CEMETERY- GENOA'S MAGNIFICENT, NEGLECTED SCULPTURE MUSEUM

Tuesday, April 25, 2017 from 6:00 PM to 8:00 PM (CDT)
Event Details
Registration for non members begins on April 11
 STAGLIENO CEMETERY
Genoa's magnificent, neglected sculpture museum
a lecture by 
Author, Sculptor and Marble Carver Walter S. Arnold
April 25th at 6pm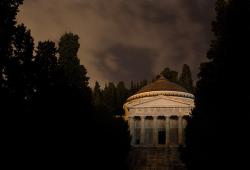 Italian Cultural Institute
500 N Michigan Avenue, Suite 1450
Genoa is not on the "grand tour"of Italy- everyone focuses on Rome, Florence and Venice. Very little attention is given to Genoa, and even less to a cemetery on the edge of town. Yet, this monumental cemetery, Staglieno, is the most extraordinary outdoor sculpture museum in Europe and one of its most hidden and unlikely treasures. Mark Twain, Hemingway and Evelyn Waugh wrote rave reviews of Staglieno, with good reason. If any of the thousands of magnificent 19th and 20th century Italian marble sculptures housed here were in a museum, it would be a centerpiece of the collection, but instead they remain almost unknown. Neglect, pollution, and weather are rapidly taking their toll. Join author, sculptor and marble carver Walter S. Arnold and journey through the galleries of Staglieno for an insider's look at these exquisite works of art. He will explain the tools and techniques used by marble carvers to transform massive blocks of stone into these dramatic and symbolic memorials, and show the progress of restoration efforts as he works with the city of Genoa to save these works of art.


Walter S. Arnold, a Chicago native, began sculpting in stone at the age of 12. At 20, he traveled to Tuscany, Italy, to apprentice with master marble carvers there, and then worked for five years on the National Cathedral in Washington, D.C. Since 1985 he has worked in Chicago and Italy, creating architectural sculpture and ornament in limestone, marble, and bronze. His book, Staglieno: The Art of the Marble Carver, introduces readers to the virtuoso yet highly neglected work of this Italian sculpture museum/cemetery, and documents previously unrecorded information about the traditions and techniques of stone carving. He is the founder and president of American Friends of Italian Monumental Sculpture. This American non-profit organization is working with the city of Genoa, Italy to restore and preserve the sculptural treasures of Staglieno Cemetery.

You can learn more about Staglieno at http://staglieno.com
View Walter Arnold's sculpture at http://www.stonecarver.com.

Free and open to the public.
When & Where

Italian Cultural Institute
500 N Michigan Ave
Suite 1450
Chicago, IL


Tuesday, April 25, 2017 from 6:00 PM to 8:00 PM (CDT)
Add to my calendar
Organizer
Italian Cultural Institute of Chicago
500 N Michigan Ave., Suite 1450
Chicago, IL 60611
Currently active in all the major cities of the five continents, the ninety Italian Cultural Institutes serve as an ideal meeting place for intellectuals, artists, and cultural operatives, as well as for ordinary citizens, both Italian and foreign, who wish to establish or maintain a relationship with our country. By acting not only as a showcase and source of current information on Italy, but also as a driving force behind initiatives and projects of cultural cooperation, the Italian Cultural Institute has become a focal point for both the Italian communities abroad and the growing demand for Italian culture throughout the world.

By extending the role of Embassies and Consulates, the Italian Cultural Institutes offer the most effective tools for promoting a worldwide image of Italy as a center of production, preservation, and dissemination of culture from the Classical Age until today. Along with organizing cultural events in a vast array of areas, including art, music, cinema, theatre, dance, fashion, design, and photography, the Italian Cultural Institutes:


Offer the opportunity to learn Italian language and culture through the organization of courses, the management of libraries and the preparation of educational and editorial materials;
Provide the networks and the premises to facilitate the integration of Italian operators in the process of cultural exchange and production at an international level;
Provide information and logistic support to public and private cultural operators, both Italian and foreign;
Continuously support initiatives aimed at promoting an intercultural dialogue based on the principles of democracy and international solidarity.