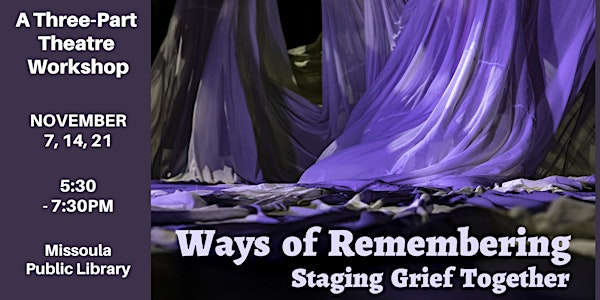 Staging Grief Together: Ways of Remembering
Join Dr. Bernadette Sweeney for this 3-part theatre workshop brought to you by UM's Humanities Institute.
When and where
Location
Missoula Public Library 455 E. Main St. Missoula, MT 59802
About this event
As part of the ongoing series Re-Imagining Death: Conversations about Dying, Loss, and Grief, in partnership with UM's Humanities Institute, join UM Professor of Theatre Dr. Bernadette Sweeney for this three-part theatre workshop at the library on November 7, 14, and 21 from 5:30-7:30 PM. Participants will engage tangibly with exciting theatre practices to explore themes of ritual, remembering, ghosting, and preparing. The group will get hands-on with script extracts (including Abi Morgan's Lovesong, Sarah Ruhl's To Peter Pan on Her 70th Birthday, and Mary Zimmerman's Metamorphoses) that stage ritual, grief, and loss in various ways around the four themes. Extant scripts and new dramatic writing from the group will explore how theatre allows us to be playful with our representations and understandings of death, absence and embodiment, and memory. Space is limited and registration is required. Registrants are asked to attend all three sessions. Registering for the November 7 session will register you for the following sessions on November 14 and 21.
Bernadette Sweeney holds a Ph.D. in theatre from Trinity College Dublin and is Professor of Theatre and Head of the Performance and Practice Program at the School of Theatre and Dance, University of Montana. She serves as co-editor of the Routledge Performance Practitioners Series, and has recently published The Routledge Companion to Studio Performance Practice, The Routledge Companion to Performance Practitioners Volumes 1 and 2 with Franc Chamberlain and has co-authored Roy Hart and the Early Roy Hart Theatre with Kevin Crawford.
Other publications and areas of research interest are books Performing the Body in Irish Theatre, and The Theatre of Tom Mac Intyre, and many published articles, chapters and conference papers on Irish theatre and ritual, and on performance practice. She has directed many productions including Cabaret [Oct 2022], Machinal, Twelfth Night, Everyman, and Translations for The School of Theatre and Dance, Lovesong for Bare Bait Dance, and The Miracle Worker for the Montana Repertory Theatre.
She is a member of professional organizations including the International Federation for Theatre Research and the Irish Society for Theatre Research and was a founder of The Gathering: Collected Oral Histories of the Irish in Montana.