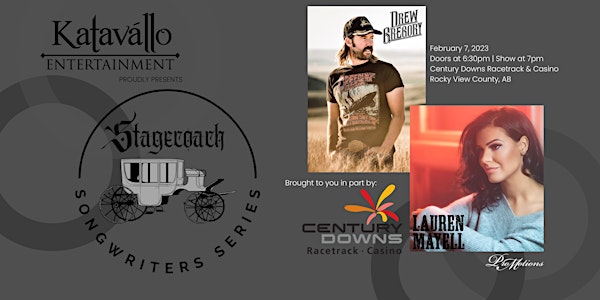 Stagecoach Songwriters Series Vol. 1
An intimate and up-close experience with the artists and songwriters behind the music. Hear the stories from the writers themselves.
When and where
Location
Century Downs Racetrack and Casino 260 Century Downs Drive Rocky View County, AB T4A 0V5 Canada
About this event
Katavállo Entertainment is pleased to announce that we have partnered with Century Downs Racetrack and Casino (Homestretch Room), to bring to life the long-awaited Stagecoach Songwriters Series.
An intimate and up-close experience with the artists and songwriters behind the music. Hear the stories from the writers themselves, of how your favorite song was written and brought to life. Sit back, enjoy a cocktail with friends while soaking in the experience of the Stagecoach Songwriters Series.
Volume 1 Featuring
Drew Gregory:
Drew Gregory has been a staple of the western Canadian music scene for several years; his hard-won fan base, as well as the commercial success, was earned through a deep-rooted honesty and authenticity in both the songs that Gregory writes and sings.Gregory has the natural ability to light up any stage, connect with his audience and deliver a show-stopping performance, whether it's an intimate gathering or for thousands of people.Gregory is a three-time Country Music Alberta Horizon Male and the inaugural YYC Male Artist of the Year, Song of the Year (Better in a Bar), and Album of the Year (I Was There). Recently Drew Gregory took home 50,000.00 from Project Wild to help advance his career.With new songs in the works, and an album expected soon, there is a bubbling excitement and anticipation within the music scene for what just may be Gregory's most confident, vibrant, and exciting creative outpouring.
Lauren Mayell:
With a "VOICE AS RICH AS AGED BOURBON AND SMOOTH AS VANILLA", Lauren Mayell has a dynamic stage presence and a voice that absolutely soars. Her performances give every audience a glimpse of a genuine talent. Even by country music standards, where outsized charisma is a basic job requirement the Calgary-based singer/songwriter is a showstopper with a long list of achievements under her shiny "Pure Country" belt buckle, a legacy gift from her very influential musician grandfather.Lauren is the 2018 ACMA Female Artist of the Year. In 2017 She was named Country 105's Rising Star and joined Kane Brown on a Western Canadian Tour that same year. As well in 2016 she won the Country Thunder Music Festival Cowboys Star Concert Series. Lauren has shared marquee stages with everyone from Pam Tillis, Lorrie Morgan, Dean Brody, Brett Kissel, Emerson Drive, to the Washboard Union and more. She has performed across Canada and the US at Country Thunder, Craven, Rockin' River fest, Sunfest and Big Valley Jamboree to name a few.Lauren has the drive and work ethic of a competitive athlete (former Downhill Ski Racer), A MEMORABLE VOICE THAT IS UNIQUE AND POWERFUL, AND INCREDIBLE SKILLS AS A PERFORMER WHO CAN ENTERTAIN ANY CROWD. She has made remarkable strides as a result of her unwavering determination, her desire to be better every day, and her work crafting her artistry.With undeniable passion and mesmerizing presence, Lauren Mayell captivates everyone in her path. She truly puts her heart and soul into everything she does, leaving a trail of hope and a desire behind her to persevere. After the sudden and recent passing of her father, Larry Mayell (2019 ACMA Industry Person of the Year), who Lauren proudly affirms is her first hero in life, she is motivated now more than ever to achieve the dreams that she and her father shared together in her musical journey. With a final gesture, Larry indicated that Lauren should never give up, and so she never will.