Founders Over 40 Unconference - Learn from and interact with successful founders while making the business connections you want.
About this event
The first online conference dedicated to Gen X and Baby Boomer founders and aspiring founders over 40 is coming to you this October!
Join the Stage2Startups community for the premier program designed for anyone over 40, 50 , 60 or 70 who is considering or has already left their career path to successfully found and grow their own business or nonprofit. Whether you are a Baby Boomer or a Gen X founder or aspiring founder, you will be able to learn from and interact with other successful founders while making the business connections you want.
Along with our partners and sponsors we are proud to present this inaugural conference.
Join us Wednesday, October 6, 13, 20 and 27 for Inspiration, Learning & Networking
See the Possibilities! (Scroll below Sponsors and Strategic Partner Logos for the full Schedule.)
Streamed online every Wednesday over four weeks this October, you will be able to explore the different paths you can take as a "second stage" founder launching your own business. Successful entrepreneurs share how they started their business from a great idea, by buying a business, by building a business around their personal brand or by starting a nonprofit. See our program and exciting line-up of speakers below. For more information about the speakers visit FoundersOver40Unconference.
October 27's featured speaker is AARP Purpose Fellow Ngozi Okaro, founder of Custom Collaborative in New York, which helps immigrant and low-income women become fashion entrepreneurs. She will be introduced by Emily Allen, SVP, Programs, AARP Foundation.
Following the keynote will be panel 1, focusing on social impact founders Amy Wu (From Farms to Incubators) and Rajiv Jadhav (Bright Now), moderated by Mike Caslin, founder of the Global Center for Social Entrepreneurship Network Foundation. In panel 2 is Carol Teten, founder of Dance Through Time and DanceTime Publications and founder Caroline Anderson of BloomAgainBklyn. George Mannes of AARP moderates.
Each program afternoon will end with networking sessions, where founders can visit any of the four virtual networking rooms to find potential partners or co-founders or meet members of the founders community. Thank you to our partner Kumospace! Note that networking has been switched to Zoom Rooms for sessions on October 20 and Oct. 27 and we have added a BONUS "MAKE FRIENDS" session for attendees of the Founders Over 40 Unconference ONLY on November 3 between 5-6:30pm.
You can register for one, two, three or all four sessions. Signed up and then can't attend? No problem! You will have access to the recorded sessions you signed up for after the event.
It's a Community!
There's more! The Unconference is a Conference "plus" because programming continues after October with curated offerings such as workshops and business networking opportunities through the rest of the year that will give you the knowledge you need to succeed in your new life as an entrepreneur.
As an additional BONUS, we are compiling a list of attendees and their companies so you can find each other to purchase each other's products and services. By joining the list, the Founders Over 40 Unconference will be totally tax deductible as it is a promotional tool for your business. We hope that you will give us permission to share your information.
Join the community of founders who have forged a new life path after working for others! Live your passion today!
Register today!
Betty Wong & Emelie Calbick, Co-Founders
& the Stage2Startups Team
For more information about our mission and ongoing programming, visit Stage2Startups.org.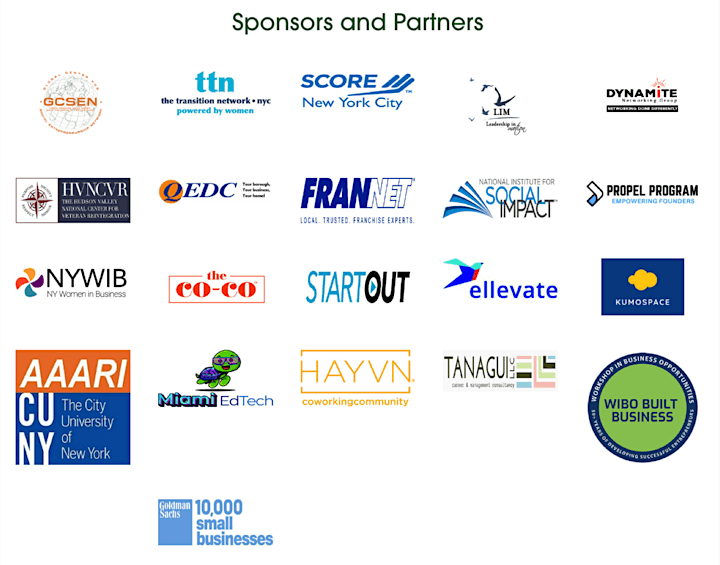 4-Day Program(join any or all days)
Wednesday, October 6, 2021, 12 noon - 3 pm EDT
From Concept to Market – Starting a Business from Scratch
Welcome by Emelie Calbick & Betty Wong, Co-Founders Stage2Startups
Keynote - The Time of the "Older" Entrepreneur has Come
Professor Edward Rogoff, Long Island University
Elizabeth Isele, Founder – Global Institute for Experienced Entrepreneurship
Panel 1 - How to Find your Business Inspiration
Deb Boulanger, Founder – The Launch Lab
James Rousseau, Founder – The Corelink Solution
Moderated by: Judy Messina, Journalist & Fellow, Center for an Urban Future
Panel 2 - Navigating from Idea to Marketplace Success
Jeanne Pinder, Founder - Clear Health Costs
Tanya Van Court, Founder - Goalsetter
Moderated by: Geri Stengel, Journalist, Forbes Women
Networking
Wednesday, October 13, 2021, 12 noon - 3 pm EDT
When Buying a Business is the Right Option
Introduction by Betty Wong & Emelie Calbick
Keynote - From Corporate to Business Owner
Katherine Ann Rowlands, Owner, Bay City News
Moderated by: Richard Eisenberg, Next Avenue Managing Editor
Panel 1 - What about Going the Franchise Route?
Mary Ann Cordiano, Owner - CMIT Solutions (Cleveland)
Jose Jimenez, CEO - Alpha Graphics (Atlanta)
Moderated by: Leslie Kuban, FranNet Market President
Panel 2 - Is Buying a Business the Right Move for You?
Salvatore Rizzo, CEO - DeGustibus Cooking School
Richard Russo, CEO - Endomedix
Networking
Wednesday, October 20, 2021, 12 noon - 3 pm EDT
The Rise of the Brandpreneur - Going Solo
Introduction by Emelie Calbick & Betty Wong
Keynote - Risks & Rewards of Being the Face of the Business
Panel 1 - Embarking on a New Direction & the Art of Re-invention
Marcelo Salup, Founder - Your Grey Matters & iffective Marketing
Betty Ng, Founder - Inspiring Diversity, Author & Diversity Coach
Moderated by: Debra Albert, Lean-In NY
Panel 2 - Can Being the Face of the Company Hinder your Company's Growth?
Amy Radin, Founder - Pragmatic Innovation Partners
Gary Portuesi, Founder – Authentic Explorations
Networking
Wednesday, October 27, 2021, 12 noon - 3 pm EDT
When Passion Becomes a Social Impact Organization
Introduction by Betty Wong & Emelie Calbick
Keynote - Building Bridges to Create Opportunity and Access
Ngozi Okaro, Founder – Custom Collaborative
Panel 1 - Founding a Nonprofit as a Way to Drive Social Change
Amy Wu, Founder - From Farm to Incubators
Rajiv Jadhav, Founder – Bright Now
Moderated by: Mike Caslin, Founder - Global Center for Social Entrepreneurship Network
Panel 2 - How I Turned my Passion into a Nonprofit
Carol Teten, Founder – Dance Through Time & DanceTime Publications
Caroline Anderson, Founder – BloomAgainBklyn
Moderated by George Mannes, AARP Editor
Networking
Note, by participating in this event, you may be recorded and you provide your permission to be recorded for the purposes of future promotion by Stage2Startups. If you do not wish to be video-taped, you can elect not to show your image during the event.
startup | entrepreneur | founder | business networking | entrepreneur conference | entrepreneur bootcamp | startup training | business networking | startup networking | solopreneur | women entrepreneur | nonprofit | franchise | experienced entrepreneur | boomer | gen x | ageworks | intergenerational workplace |
Date and time
Location
Refund policy
Organizer of Stage2Startups Founders Over 40 UnConference - October 6, 13, 20, 27 2021
Stage2Startups is an organization focused on helping working or retired professionals become entrepreneurs or nonprofit founders and we are also dedicated to supporting current entrepreneurs. We are especially interested in helping women, veterans and people of color. We are creating a community where entrepreneurs and potential entrepreneurs can find partners, staff, advisors, mentors and vendors and gain access to resources, education, support and encouragement to follow their dreams.