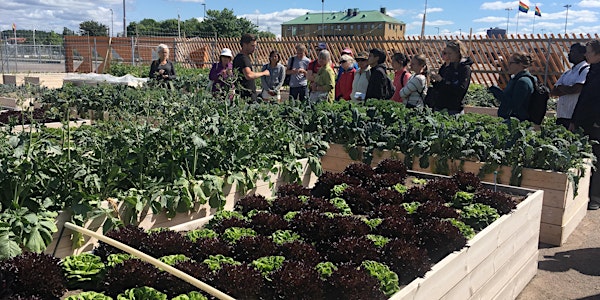 Stadsodlingssafari GBG - Citysafari #2
By Grow Gothenburg / The Foodprint LAB
Date and time
Wednesday, August 24, 2016 · 6 - 8pm CEST
Location
Happy M Kitchen Vasagatan 24 Göteborg Sweden
Refund Policy
Contact the organizer to request a refund.
Description
The Foodprint LAB invites you to two Urban Farming Safaris in central Gothenburg in the end of August. This is a part of the warm up for the Global Picnic Food Festival 5 year aniversary!

On this second safari we visit a restaurant farm in the city center as well as a commercial urban farm, a community garden and an educational garden by the harbour in Frihamnen. We will be guided by Emma Naqvi from Miljöförvaltningen, who is responsible for the educational school garden project in the city, and Kajodlingen will tell the story of their commercial urban farm who also sell their urban produce in place at the farm. Food couldn't be more fresh!
More info about the visits will come further on.

Place & time?
We meet at Kanaltorget at 6pm and end the safari at Frihamnen around 8pm.

Price?
If you buy your ticket in advance (before August 21st), you only pay 190kr/person. If you want to pay in place at the event the price is 250kr/person. For this you will get an unforgettable 2 hour guided tour through 3-4 urban farms in the middle of Gothenburg, with practical tips and inspiration and a unique overview of the urban farms in town. You also get a goodiebag with some taste of the produce from the places we visit.

Limited amount of places, so be quick to register!
There is another safari on monday the same week, the 22th of august.
Read more about both safaris here:
https://www.facebook.com/events/1725416407710682/
https://www.facebook.com/events/1573292986298730/
------------
The Foodprint LAB bjuder på två stadsodlingssafaris i centrala Göteborg nu i slutet på Augusti, som en del av att Global Picnic Food Festival fyller fem år!

På den andra av dessa två safaris besöker vi alltifrån en restaurangodling i stan till odlingsföreningar, pedagogiska odlingsträdgårdar och kommersiella odlingar i Frihamnen. Vi blir bl.a. guidade runt Johannebergskolans odling av Emma Naqvi på Miljöförvaltningen som har hand om pedagogiska odlingsträdgårdar och Kajodlingen berättar om sin kommersiella stadsodling och säljer även stadsodlade grönsaker på plats. Som safarideltagare kommer du kunna få ett smakprov på deras stadsodlade godsaker.

Mer detaljerat schema med alla besök kommer längre fram.

Var & När?
Vi möts på Kanaltorget (vid Älvrummet) kl.18 och avslutar vid Frihamnen runt kl.20.


Pris?
Köper du din biljett online innan söndag den 21:e augusti, så betalar du endast 190kr/pers. Vill du köpa din biljett senare eller på plats är priset 250kr/person. För detta får ni en 2 timmars guidad rundtur genom 3-4 stadsodlingar, praktiska tips och inspiration samt en unik överblick över stadsodlingsrörelsen i Göteborg. Det bjuds även på en goodiebag med ätbara överaskningar och smakprov från safarins olika besöksmål.

Begränsat antal biljetter, först till kvarn!

---
Kan du inte komma på denna safari så är den andra safarin på onsdagen den 24:e aug.
Läs mer om båda safaris här:
https://www.facebook.com/events/1725416407710682/
https://www.facebook.com/events/1573292986298730/
About the organizer
Grow Gothenburg is a digital platform and community aiming to promote urban agriculture in Gothenburg. The initiative was started in 2016 by The Foodprint Lab architects in cooperation with The City of Gothenburg. The Foodprint Lab is a team of architects, designers & biologists who are specialized in designing our future food systems. With a mission to facilitate inhabitants initiatives around sustainable food & greening the city and we have arranged Urban farming safaris (Stadsodlingssafari®) since 2011 in Gothenburg and are the organisation behind the Grow Gothenburg platform.

The Foodprint LAB, is an architecture team with a mission to facilitate inhabitants initiatives around sustainable food & greening the city. The Foodprint LAB has arranged Urban Farming Safaris® in Gothenburg for six consecutive years and studied the mapping of urban agriculture movement in place like New York City. In 2016 they mapped the urban farming movement for the City of Gothenburg, and created an interactive map of the urban farms of the city. A project that later evolved into the Grow Gothenburg digital platform.