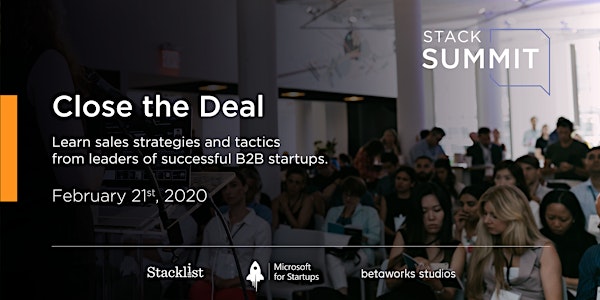 StackSummit: Close the Deal
Learn sales from leaders at B2B startups at StackSummit: Close the Deal, hosted by Stacklist, Microsoft for Startups, & Betaworks Studios.
When and where
Location
Betaworks Studios 29 Little W 12th St New York, NY 10014
About this event
Everyone at an early-stage company needs to sell. Sales are the lifeblood of any growing startup. But few of us have a salesperson's skillset, confidence, experience or DNA. That's why we decided to focus our first StackSummit of 2020 on sales.
Join us on February 21st for StackSummit: Close the Deal, a day for early-stage startups who are selling into enterprise and other businesses.
Stacklist & Microsoft for Startups, in partnership with Betaworks Studios, are providing a full day of panels and lessons that will equip you with the best tips, tactics, and tools for closing deals. You'll hear from founders and experts from some of the most successful B2B startups in NYC that have grown to multi-million dollars in revenue.
You'll learn best practices on:
Pricing
Developing a funnel
Hiring a sales team
Negotiating
Understanding the enterprise client
Space is limited to 200 attendees, so grab your ticket now, if not yesterday.
8:30 AM - Registration, Breakfast, and Networking
Doors open at 8:30 AM.
9:00 AM - Introductions & Kickoff
A warm welcome from us and our partners
Amanda Moskowitz, Founder & CEO of Stacklist
Frank Denbow, Startup Advocate at Microsoft for Startups
Ben Scheim, Executive Director, Betaworks Studios
9:15 AM - Keynote: My First 10 Sales
The story of your first 10 sales is markedly different from the story of getting your first 100 or 1000 sales. Hustle, grit, innovation, creativity and customization play an outsize role during those early days. Join us for a fireside chat with Kathryn Minshew, as we discuss her earliest deals.
Kathryn Minshew, Co-founder & CEO of The Muse
9:45 AM - Building a Brand Customers Love
Founders in the early days may be overlooking a critical component that would help them with their sales: brand. Lauren Perkins and Frank Denbow will discuss how B2B startups can build a brand customers love through storytelling and smart positioning.
Lauren Perkins, Serial Entrepreneur & Startup CMO
Frank Denbow, Startup Advocate at Microsoft for Startups
10:10 AM - Science of the Close
Frank Williams will take us through how you can construct your first sales process, Some of the common pitfalls founders have in sales, and how you can work around them.
Franklin Williams, Lead Consultant at Skaled
10:35 AM - Early-stage Lead Gen for Founders
Founders in the early days wear many hats... builder, seller, and marketer. But, before you have your own marketer, how do you source leads? What resources and tactics (or hacks) are critical when you're just starting out? Karson Humiston will share some advice to fellow founders about how you can find some of your earliest clients, and what she's done to build Vangst.
Karson Humiston, Founder & CEO of Vangst
11:00 AM - Sales-Driven Marketing for B2B Startups
As your company grows and you build out your sales and marketing teams, it becomes critical to make sure everyone is on the same page. How should your marketing and sales team work together? What are some marketing tactics you can use to source B2B leads at scale? Amanda Sibley will share why (and how) to align your marketing and sales, and how your marketers and sales reps should think about sourcing B2B leads.
Amanda Sibley, Global Marketing Director of HubSpot for Startups
11:25 AM - The Sales Stack (Panel)
Finding the right sales tools is an important step in building an efficient, and scalable sales process. In this panel we'll go over some of the marketing and sales tools these experts use, tools they love, and tools they've hated.
Michael Manne, CRO of Reonomy
James Allgrove, Head of Revenue and Growth US East Coast at Stripe
12:10 PM - Lunch & Networking
1:00 PM - Outbound Sales + Advice on Cold Outreach (Workshop)
Cold outreach, by email or call, is the most daunting aspect of sales - but, for many startups, it's a most essential part of the process. Shane Hegde will cover some tactics you can use to equip you in your cold messaging endeavors, and share with you some tips as he's built out Air's first 100 clients that include Sweetgreen, The Infatuation, and GLAMSQUAD.
Shane Hegde, Co-founder & CEO of Air
1:45 PM - Building & Managing Your Sales Team (Panel)
Great companies hire great people. They also have to know how to manage and lead those new team members. This panel will answer some of the questions founders and sales leaders have as they start hiring for their team. When should I hire a salesperson? What qualities do I look for? How do I manage them and what kind of goals should we be setting? We'll discuss this and more with our panel of experts that have built sales teams from 1, to 10, to 100+.
Catie Ivey, RVP Sales at Demandbase
Scott Britton, Co-founder & CRO at Troops
Jason Lalk, VP of Sales at CloserIQ
2:35 PM - Creating Your Sales Comp Plan
Compensation for sales teams is often more complex than other salaried workers. Team leaders want to create an environment where salespeople feel driven to close deals and feel rewarded when they do so. A thoughtful incentive structure for your sales team is foundational to your company's success. You want incentives that yield not only big deals but also good clients that are successful, profitable and long-lasting. Sanj Sanampudi will cover what you should be doing to build a sales comp plan that's competitive, and motivating for your sales team.
Sanj Sanampudi, Co-founder & CEO of Concert
3:00 PM - Pricing Your Product + Negotiating Advice
Pricing is a powerful tool that influences how consumers value your product and helps your company maximize profit. With thoughtful pricing, you can gain huge advantages over your competitors. Particularly during the early days of B2B sales at a startup, pricing is more art than science, as is negotiating.
Stephen Steers, Founder, The Keysan Group, Inc.
3:25 PM - What Happens after the Sale?
Closing a sale is a big deal, but the work doesn't stop there. Now you need to make sure your new client is onboarded, engaged and happy with your product. Customer success is a critical part of the sales process and often the main driver of ongoing revenue from clients. Edward Chiu will share his advice on customer success from his time leading CS at Digital Ocean, and now how he helps his customers at Catalyst.
Edward Chiu, Co-founder & CEO of Catalyst
3:50 PM - Selling to the Enterprise (Panel)
Enterprise companies are the holy grail for many B2B startups: stunningly valuable and equally elusive. On this panel, we'll discuss the key challenges of selling into enterprise businesses, like lengthy sales cycles, pricing large deals, navigating procurement procedures and finding the right decision-makers.
Jeremy Seltzer, SVP Global Sales at Movable Ink
Jinny Uppal, frmr. VP Next-Gen Stores at Bed Bath & Beyond
4:35 PM - How I Did It: Anatomy of a Deal
Karan peels back the curtain on a recent deal he made to show you how it's actually done. No pictures or video is allowed during this session.
Karan Kunjur, Head of Growth at Text IQ
4:55 PM - Goodbyes
5:00 PM - Drinks and Networking
What do entrepreneurs say about StackSummit?

Stacklist hosts startup events in NYC to help entrepreneurs learn from successful founders & experts. Previous speakers have included the founders of Greenhouse, Movable Ink, x.ai, and Techstars. You can find all of our past events and speakers here!
If you have any questions, please email me at danny@stacklist.com.

Microsoft for Startups is a comprehensive global program designed to support startups as they build and scale their companies. The program delivers access to technology, go-to-market strategies and community support that helps startups grow their customer and revenue base. By providing startups with innovative technologies, go-to-market resources, and access to a vast network of enterprise customers and partners, we are committed to accelerating the growth of startups around the world.

Betaworks Studios is a new membership club for individuals looking to make a dent in the universe. Supported by innovative technology, this space is designed for connectivity within a curated community. Studios is your space to meet, scheme, get advice, collaborate, do a little bit of work, attend events, and host events. For 10 years betaworks has been working and networking—building companies, running accelerators, investing in talent—and now we've opened our doors. Find out more at betaworks-studios.com.
Disclaimers
Audio transcripts, videos and photos will be taken at the event. As an attendee, you acknowledge that such recordings, videos and photos may be used for promotional or marketing purposes.