Description
Stacking Growth is excited to return our top marketing summits. At the summit we will be having 10+ tactical sessions that relate to marketing, facebook ads, influencer marketing, building your brand, and many more.

Want to level up your marketing with the best growth marketers?
Join us on at our 6th Growth Marketing summit.

This is a full day conference where you the latest in marketing & growth traction channels to help elevate your business. We will check people in at 9:30AM and the event will go on until 8PM.

We are curating the best in traction channel talks include:
- Chatbots
- Viral Referral Growth
- WorldZ Panel
- Influencer Marketing
- Ecommerce
- Paid Traffic
- Content Marketing / Branding
& more.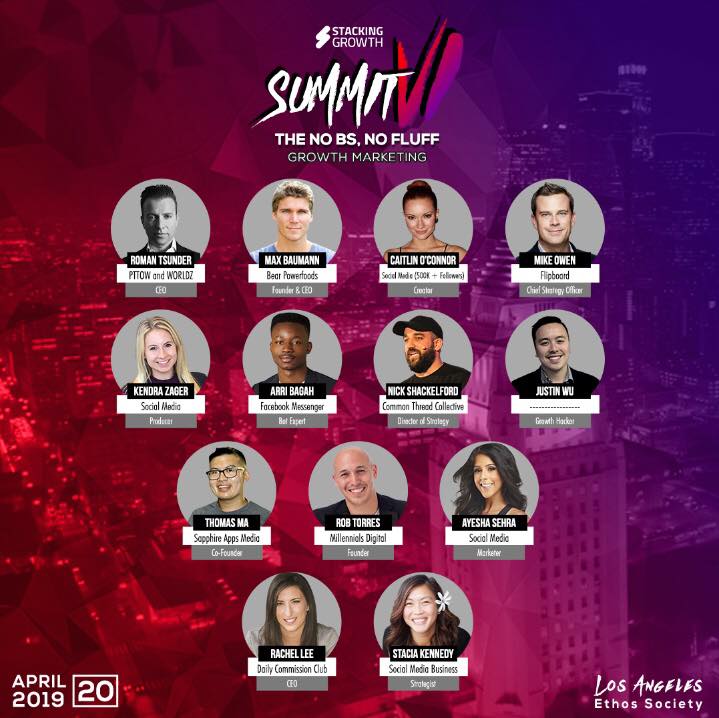 Confirmed Speakers:
Roman Tsunder, CEO of PTTOW! and WORLDZ. Roman has built a power house network that connects top executives from fortune 500 companeis.
Arri Bagah, CEO of ROAS. ROAS is a top fb messenger agency for 7 figure ecom brands.
Arri Bagah is on a mission to grow revenue for 1,000 e-commerce brands. He is the founder and CEO at ROAS Positive. For the past four years, Arri and his team focused on growing revenue for e-commerce brands using paid advertising and messaging.Arri recently spoke at Traffic & Conversions Summit and Conversations conference, the biggest Messenger marketing conference in the world.

Kristen Hancher, Social Media Influencer with over 20M followers on TikTok and 5M+ on Instagarm.
Justin Wu, top growth hacker who has worked on numeorous projects such as a kickstarter that generated over 3M in 30 days.
Thomas Ma, co-founder of Sapphire Apps Media. His agency has managed over 7 figures in the influencer marketing space. Thomas's company has worked with Zoho, TikTok, GUESS, and many of the leading companies.
Sayda Word: Sayda Word creates viral content. Sayda invented the Hot Potato Challenge, which reached 60+ million views worldwide. She writes and directs viral videos/social media skits for herself (@saydaword), influencers like Ray Diaz (3M+), and several companies with a combined net reach of over 10 million.
Sayda has shot for Worldstar (22M+), Jake Paul (11M+), Rudy Mancuso (8M+), Julius Dean (6M+), Sexyjefo and BoxBoy (5M+), Blake Webber (1M+), and several other talented influencers. She has modeled for brands like Lancôme, Dior, Amazon, etc... and is the Top US streamer on a Live Streaming app. Through hard work, creativity, social media savvy, and an energetic personality, Sayda was able to grow her social media following. Sayda recently used her social media influence to win Hollywood & NYC Times Square billboards, influencer trips, and was the first ever petite model to walk the runway during London fashion week.
Matt Dugan, Founder of Team Dugan. Matt Dugan is a Hollywood Mogul in the making. Dugan runs a talent management company, production company, record label and a consultancy firm. He made this website so fans can get exclusive content and updates on his talent like nowhere else seen on the net.
His team currently manages Kristen Hancher (20M+ TikTok Followers), Dani Cohn (11M + TikTok Followers), Piper Rockelle, and other top social media influencers.
Kendra Zager, Social Media Expert. Kendra Zager is a freelance social media producer for MTV, Buzzfeed's Facebook Watch, among others. At Playboy Enterprises, she worked as Audience Development Manager where she launched, grew and managed over 25 million followers cross platform, as well as developed social media for Playmates and talent.

Kendra then consulted for The Wonderful Company on their analytics platform Sprinklr & managed their Facebook and Instagram ads. The digital entertainment start-up, Arsenic, recruited her as Digital Director & Producer. Currently, she offers an online course "Master Your Brand On Instagram", consults with talent, live-streams on the app Live AF (launch partner with Arsenic), and runs her own Hollywood Lifestyle Instagram @KendraZager.
& Many more speakers.
----
Our event brings in top people from across the digital marketing space. We've had guest from companies such as Nike, Under Armour, Disney, Fox Sports, Adidas, NBA, Brooklyn Nets, GUESS, ABC, and many more.
We have been featured by INC as one of top 10 events to attend.

Full Agenda/Info: www.stackinggrowthconf.com
There will be catered lunch and dinner.

Less than 50 tickets remaing. Expecting over 150 of the top marketers and creators in attendance.