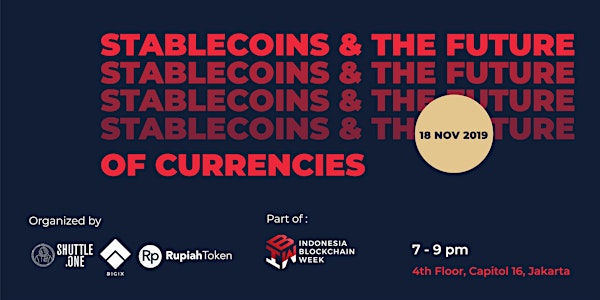 Stablecoins & the Future of Currencies
Differentiate on stablecoin and how you gain the benefit from that.
When and where
Location
Capitol 16 16 Jalan Prajurit KKO Usman dan Harun Kec. Senen, Daerah Khusus Ibukota Jakarta 10410 Indonesia
About this event
What exacting is a stablecoin? A stablecoin is a new class of crypto assets that attempts to offer price stability and are backed by a reserve asset. Stablecoins have gained traction as they attempt to offer the best of both world's—the instant processing and security or privacy of payments of cryptocurrencies, and the volatility-free stable valuations of fiat currencies.
There are various types of stable coins available in the market, Commodity backed, Fiat backed and Cryptocurrency backed. Each of them offers various benefits to everyone in the community, they help to smoothern frictions between digital assets and local currencies. During this event, we have invited reknown speakers from leading global and local stablecoin companies to give insights on what are the difference on the various stablecoins and how everyone can use stablecoins to their own benefits. Sign-up and join us for this exciting event!