Montuno Productions presents, the St. Valentine's Day Concert, part of the Bay Area Latin Jazz Festival concert series.
About this event
ONLINE SALES STOPPED. TICKETS WILL BE SOLD AT THE DOOR.
After a very successful First Annual Bay Area Latin Jazz Festival (held on August 17, 2019 at Rowell Ranch in Castro Valley), Montuno Productions is happy to announce a new festival-related concert series, starting with our upcoming St. Valentine's Day Concert, a celebration of love and friendship.
[ONLINE SALES WILL STOP ON FRIDAY, FEBRUARY 14TH AT 3PM. Tickets will be sold at the door, cash or credit card.]
The event, planned as a classy dance concert reminiscent of Old San Juan's Casa de España concerts in the '70s and '80s, will feature three great salsa bands, including Edgardo & Candela, Latin Rhythm Boys, and Montuno Productions All-Stars Salsa Orchestra (with multiple Grammy Award recipients having won over 20 awards among them for past projects). Radio personality, Luis Medina, will be the show's DJ and MC.
And what better place for a concert like this than the majestic 7,500 square-foot California Ballroom, featuring high gold leaf ceiling, a large stage with curtains and spotlights, and a sizable and smooth dance floor. "An invitation to this impressive Art Deco landmark — just a few blocks from picturesque Lake Merritt — is an occasion to look forward to."
Attendees will also be able to order Puerto Rican food, including pernil, arroz con gandules, pollo, y ensalada.
Admission:
General Admission - $25.00
Reserved Seating: $45.00
Online sales will stop on Friday, February 14th at 3:00pm. Tickets will be sold at the door.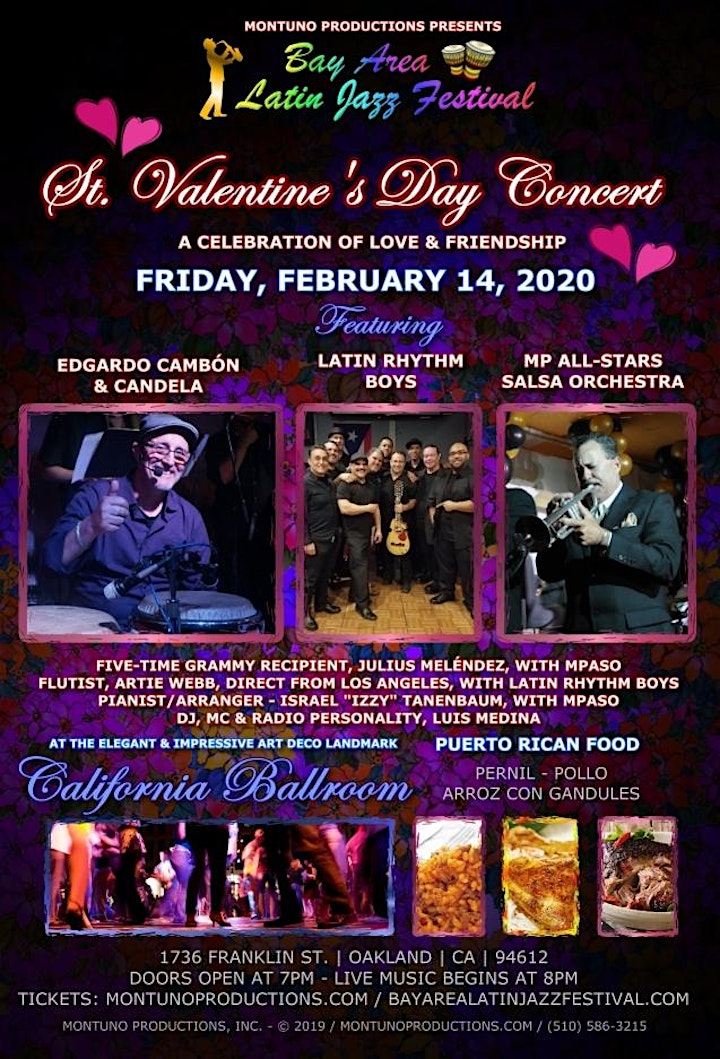 Organizer of St. Valentine's Day Concert at the California Ballroom
Montuno Productions, Inc. (MP), based in the San Francisco Bay Area, provides live  music entertainment-related services, including concert production, and artist management and booking. Founded in 2004 by Luis R. Mendoza, MP also offers technology consulting (focused on the entertainment industry), advertising and marketing services. MP was incorporated as a California Benefit Corporation in August, 2014.
MP has been involved in the production of dozens of live  music events in the San Francisco Bay Area and beyond, including concerts and festivals.
As a California Benefit Corporation, in addition to its core mission of promoting live music entertainment, Montuno Productions' purpose is to create a general public benefit including, but not limited to, the specific public benefit of promoting the arts, sciences, civics, and the advancement of knowledge.