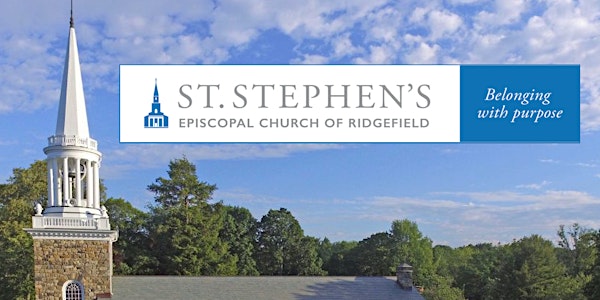 St. Stephen's In-Person Choral Evensong
All those planning to attend this event in person - either indoors or outdoors - must register here.
When and where
Location
St Stephen's Episcopal Church 353 Main Street Ridgefield, CT 06877
About this event
St. Stephen's Episcopal Church will hold our Choral Evensong service on Sunday, May 23rd at 5:00 PM. If you will be attending in-person, please register here. This event will also be live-streamed via Facebook Live. No need to register for the live-stream.
This Evensong will feature the Saint Stephen's Choir and our Minister of Music, Dr. Alcee Chriss III. This beautiful evening service of prayers and music is a staple of our Anglican heritage and will celebrate the gift of the Holy Spirit on Pentecost Sunday. In addition to beautiful hymns and anthems, the sanctuary organ will offer exciting voluntaries at the beginning and end of service.
The featured canticles will be the Magnificat and Nunc Dimittis of Charles Villiers Stanford. The Anthems will be "Seek Him That Maketh the Seven Stars" by Jonathan Dove and "I Will Sing the Spirit" by John Rutter.
There will be a 25-minute organ recital immediately following the Choral Evensong.
One Eventbrite registration per family. There will be strict rules for safe distancing -- please carefully read the rules and policies below and/or in your ticket confirmation regarding safety precautions.
While we are in a red zone county, registration is required to attend in-person, either indoors or outdoors. If you forget, we will ask you to register when you arrive.
There is no need to register if you will be viewing the live stream.
Please continue reading for information regarding:
- Live Stream
- Attending In-Person
- COVID-19 Informed Consent
IMPORTANT INFORMATION REGARDING LIVE STREAM:
- The live stream URL will be in the "Live" section of the St. Stephen's Facebook page: https://facebook.com/ststephensridgefield/live
IMPORTANT INFORMATION FOR THOSE ATTENDING IN-PERSON:
- Please JOIN US ONLINE ONLY if anyone in your household has exhibited symptoms of COVID-19 within the last month.
- Keep your ticket handy, either in the Eventbrite app or print them out and bring them with you.
- CHECK-IN at least 15 minutes prior to worship to confirm your attendance. Please enter via the main driveway next to the Church.
- WEAR A MASK covering your nose and mouth while on the church grounds, especially indoors.
- Seating inside the sanctuary will be assigned. Please wait to be seated. If the sanctuary seating has been filled, you will be asked to sit outdoors. Chairs will be provided.
- MAINTAIN A PHYSICAL DISTANCE of at least 6 feet from anyone who's not in your immediate household.
- Please READ AND AGREE to the following "Informed Consent" below.
INFORMED CONSENT:
COVID-19 is a serious and highly communicable disease. According to the Centers for Disease Control and Prevention, senior citizens and individuals with underlying medical conditions are especially vulnerable. An inherent risk of exposure to COVID-19 exists in any public place where people are present. Although St. Stephen's Church asks all attendees to observe certain precautions, there is no assurance of protection from exposure to COVID-19 at St. Stephen's worship services. The risk of exposure to COVID-19 is voluntarily assumed by all attendees.
*Please let us know if you are NOT planning to attend in-person.