Description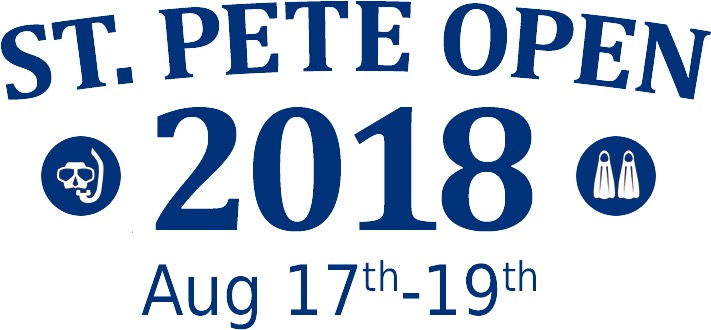 August 18th, 2018 The "53rd Annual St. Pete Open Spearfishing Tournament" Hosted by the St. Petersburg Underwater Club, Located at the Magnuson Hotel Marina Cove 6800 Sunshine Skyway Ln. S. St. Petersburg, Fl. 33711
---
Kick Off Party - August 1st. WingHouse 7:00 P.M. 7790 US Hwy 19 Pinellas Park Florida 33718. Come out and have a few beers on us and register for the upcoming 53rd Annual St. Pete Open.
Captain's Meeting - August 17th. at Magnuson Hotel Marina Cove, starts promptly at 8:00 P.M.
Shooting starts at 12:00 A.M. and ends at 7:30 P.M. on Saturday Aug. 18th, 2018.
Weighin Line Opens at 6:00 P.M. Line Cutoff is 7:30 P.M. Weighin runs till 10:00 P.M.
Awards Ceremony - Sunday Aug. 19th, at 10:00 A.M. Magnuson Hotel
SPO 2018 Rules
Tournament Rules & Regulations
Last Minute Rule Changes May Be Instituted at the Captain's Meeting Starting at 8:00P.M. 8/17/18
Tournament Cap – The St. Pete Open will accept 300 public registrations. Early registration will be available and it is highly recommended that each shooter register as early as possible to ensure entry. Registration will end once 300 public entries have been received. Only those who have completed the on-line Registration and Waiver forms, or paper registration and waiver forms, are considered registered and may participate. If you did not Pre Register early, there is no guarantee that you will receive the proper sized shooter shirt you want, though it is SPUC's best intentions to have enough available. Early pre-registration ends 7/18/18.
One tournament participant must be present from his/her boat/crew/team at the Captain's Meeting which follows the late registration on Friday night. Attending tournament participant may pick up 5 additional shooter bags for others shooting on the same boat only. No boats are permitted to leave port prior to Captain's Meeting. Failure to check in and claim shooter bags may result in disqualification. There will be no reimbursements for the tournament fees once paid by the participant. Sorry, no exceptions.
Tournament Harvest Times: This tournament is a one day tournament only and is open for spearfishing and lobstering on Saturday at 12:00 A.M. and is closed at the weigh-in line on Saturday at 7:30 PM. (19-1/2hrs.) No eligible species may be harvested prior to Saturday 12:00 A.M. (the day of the tournament) and may not be in the possession of the participant (on the boat, cooler or any other location where the participant is or has been before the tournament) and must be presented in a manner that is consistent with a fish harvested on the same day of the tournament. There are no boundaries for this tournament.
Methods of Harvest
This is strictly a spearfishing tournament. Both tank and free diving are permissible. In order to be eligible, fish must have been caught by the participant using a spear loaded or propelled by his/her own muscle power. Lobster may be grabbed, snared, or netted per Florida Law Enforcement and Federal regulations. This Tournament is for Honor, Respect, Camaraderie, and for Fun! If You have to cheat to win, you are cheating yourself of your own Honor and respect. "Powerheads" are not allowed to obtain any eligible species, if it is suspected, the fish shall be inspected by the weigh crew, and atleast one current SPUC Officer, or past club President, and the shooter shall be disqualified if it is determined powerheaded. NO EXCEPTIONS!
Eligible fish sizes are based on Gulf of Mexico Federal Rules, all lengths are minimum required:
1. Black Grouper – 24″ minimum overall
2. Grouper – 20" minimum Red, Yellowfin, and Yellowmouth. 24" Gag. 16"minimum Scamp (20" Atlantic), (NO warsaw, yellow edge, coney's or hinds).
3. Snapper – 16" minimum overall for Mutton. 12" all other snapper overall. Gray (Mangrove), Cubera, Dog, Schoolmaster, Yellowtail. (NO lanes, beeliners, mahogany, queen .)
4. Pelagic – fork length minimums, Greater Amberjack (No lesser) - 34" If season permits. Kingfish – 24". African Pompano – 24". Dolphin (Mahi) – (20″ Atlantic) No size limit in Gulf of Mexico. Permit – 11". Wahoo – No size limit, Blackfin Tuna – No size limit, Almaco Jack – No size limit. Rainbow Runner - No size limit. (NO bonito, Spanish macs)
5. Hogfish – 14" minimum to fork.
6. Cobia and Barracuda – Cobia 33" min to fork, Barracuda – min 28" overall.
7. Spiny/Shovel Lobster – 3" minimum on carapace for spiny. No weighing of broken off parts, no holes in any part of lobster. (No Spanish)
8. Sheepshead – 12" minimum overall.
All Fish underlined listed above may be eligible, any fish not listed will not be counted for eligibility for tournament. One fish per category will be weighed towards your final points score.
All local, Florida & Federal rules, size limits, license requirements, and bag limits apply. Federal Rules supersede local or State Rules. There are no boundaries.
A Group Category Ticket will be given for each group category when one species from that category is weighed, this category ticket will be added to a raffle for that category's major Category Prize. Be sure to keep these tickets as the prize is a major prize and anyone who weights a fish in each category has an equal chance to win.
Three (3) Mystery Tickets will be given to each participant at the Captains Meeting and additional Mystery Tickets CAN NOT BE purchased. Only registered tournament participants are permitted to pick prizes.
Order of prize pick is governed by the above species order. One prize pick per diver, except holders of mystery tickets and group category tickets.
Prize winners will be judged on largest remaining fish in each category, after previous winner's entries are deleted
Primary Trophies are awarded for 1st, 2nd & 3rd place in all eight (8) categories. Women's, Junior's & Freedive scoring includes all categories. The aggregate score for all divisions is 1 point per pound, with a maximum 20 points per fish. Junior is 17 or under. Women's, Junior's, & Freedive divisions include all species included in the tournament list. A trophy will also be presented to the diver with the largest lionfish.
Each participant is responsible for their own safety, at a minimum it is requested that participants wear an inflatable rescue device and all safety equipment that is standard for the sport and local conditions.
No boat may approach under power, without permission, within 150 feet of an anchored boat flying a diver's down or Alpha flag.
No participant may receive assistance with any fish until he/she has one hand on the boat. Participants may help each other net lobster.
Weighing of Fish
Weigh Scales will be open for weighing fish at 6:00 PM. Participants must have their gutted fish and lobster in the weigh-in line by 7:30 PM or they will be disqualified. Fish must be brought to the weigh-in line on ice and in a proper container. ALL FISH MUST BE PROPERLY GUTTED, CLEAN OF DIRT AND DEBRIS AND PROPERLY ICED DOWN. If any fish does not look fresh and/or the catch looks like it was taken with an explosive device, that catch and the participant will be disqualified. Fish must be weighed by at least one participant from the same boat/crew/team.
All fish and lobster weighed from any one participant must be weighed at one time. No two fish of the same species will be weighed to see which is heavier. Only one fish per category, per participant can be weighed in. Tournament record fish must be re-weighed and verified before it can become a tournament record.
All lionfish will be counted and weighted by members and volunteers from Reef Monitoring, Inc.,. All lionfish will be in a separate container and will not be presented at the category weigh stations. The lionfish booth will be located under the pavilion prior to the category weigh stations. Lionfish do not have to be gutted. Reef Monitoring will be the official recorders and have the final report as to the winning size and numbers. All lionfish must be presented to Reef Monitoring officials on ice and in a "fresh caught" condition. Any warm or obviously fish not caught on tournament day will be disqualified and must be removed from the property by the shooter. The disposal of any fish on the property or the waters surrounding the property will result in the disqualification of the shooter from the tournament. All processed lionfish will become the property of Reef Monitoring, LLC. For the first lionfish donated to Reef Monitoring, shooters will receive a raffle ticket for a chance to win a special prize. The largest Lionfish will receive a trophy. For Every 5 Lionfish donated, there will be one (1) raffle ticket given to the shooter for the special Lionfish Raffle Drawing. There is no limit to the number of lionfish that may be submitted. All lionfish must be well iced and in edible condition as determined by Reef Monitoring to qualify for raffle tickets.
It is the participant's responsibility to VERIFY his/her catches and weights with the weigh masters recording AND pick up the Category Tickets for each species weighed in. Once the participant signs the weigh-in slip, he/she cannot challenge or protest his/her recorded weights. The Category Ticket/recording area is located at the end of the weigh-in stage. It is the shooter's responsibility to obtain their Category tickets at this time. Category tickets will not be re-issued for lost or unclaimed tickets.
In the event a boat becomes disabled, all participants catch may be brought into the weigh-in area by at least one of the participants from the same boat/crew/team. This person is responsible for weight verification & Category Ticket pickup.
Each participant entering this tournament has given implied and expressed consent for the St. Petersburg Underwater Club to use his/her name and/or likeness to promote the efforts of the St. Petersburg Underwater Club, the St. Pete Open and/or spearfishing.
Disqualification: A tournament participant can be disqualified from all aspects of this tournament and from any future St. Pete Open Tournaments for any of the following: 1) Infraction of tournament rules. 2) Rough play, unsafe or careless behavior. 3) Unsportsmanlike conduct during any of the tournament activities. 4) Failure to comply with any protest investigation 5) Failure to abide by the final decision of the Tournament Rules Committee. Immediate disqualification will be in effect if any participant is uncooperative with an investigation of potential rules violations. This may include but not limited to, at request of the tournament rules committee, submitting to a polygraph test, the presentation of dive computer data and/or GPS route information from the tournament day and prior days. (6) The St. Pete Underwater Club reserves the right to exclude any individual from any aspect of the St. Pete Open and/or reject the registration from any individual whom the SPUC or tournament committee considers a liability, safety hazard or distraction.
Decisions and interpretations of all these rules by the Tournament Rules Committee shall be final. All rules violations and protests will be decided by a majority rule of the Tournament Rules Committee. This committee shall consist of: the current SPUC President, the current SPUC Vice-President; the current SPUC Secretary. If any member of this Tournament Rules Committee is involved in the dispute, then that member will be replaced by the current SPUC Treasurer or Last Year's SPUC President or other SPUC past presidents.
Shooter's Fish and Prize Table
The scoring for the St. Pete Open places emphasis on big fish (single fish weight), however the scoring also utilizes aggregate scores (overall weight of all fish weighed in) for division winners and tie-breakers. Each shooter enters their largest fish for each of the 8 categories; Black Grouper, grouper, snapper, pelagic, hogfish, cobia/cuda, lobster, and sheepshead. The shooter's score, or placement within the tournament is strictly based on the single fish/category that places him the best (highest) within the tournament.
If a shooter has an 80 lb grouper and an 85 lb pelagic and that grouper is the largest grouper weighed in for the tournament then that shooter would take 1st place grouper and would have first pick from the prize table. The 85 lb pelagic would be eliminated from the pelagic category scoring.
The prize pick is a cyclical order (grouper, snapper, pelagic, hogfish, cobia/cuda, lobster, and sheepshead) and participant's pick from the prize table is determined by the weight of the fish and which category the fish is in.
The first 8 picks from the prize table are the number 1 place holders for Black Grouper, grouper, snapper, pelagic, hogfish, cobia/cuda, lobster, and sheepshead. The following round of prize picks goes to the winners of the 2nd largest fish/lobster for each of the 8 categories. The 3rd largest is the same and all with trophies. Then the Mystery Tickets are introduced between each cyclical round.
Prior to the Sunday Awards Ceremony results will be publicly posted in the side room for viewing. During the Sunday Awards Ceremony your name will be called for your pick off the prize table for the fish that placed you highest within the tournament.
The scoring system also takes in account of tie breakers. For example, if two people weigh in a snapper of the exact same weight (it happens!!) then the person who has the higher aggregate score would win the tie break. The aggregate score points are also used to determine the winners within the Freedive, Womans, and Juniors divisions.
Mystery Tickets & Prizes
Among other freebies and their tournament shooter shirt, every registered shooter receives 3 free Mystery Tickets with the Shooter Bag at the Friday night Captain's Meeting; The Mystery Tickets are drawn after 1st, 2nd, and 3rd place winners get their prizes so there are usually around 35 Mystery Ticket winners every year depending on the number of shooters that weigh fish. We also use the mystery tickets at the end of the award ceremony to distribute all the leftover prizes on the table. You can go to the prize table for all of your mystery tickets if they are called!!!
Category Tickets & Prizes
After you weigh in your fish you will also receive a "Category" Prize ticket for each of the eight (8) categories that you weighed in a fish. Example; you weighed in a snapper, grouper, hogfish, and a cuda therefore you will receive a Category Prize ticket for each of those "category" fish, a total of four Category Prize tickets. Weigh in a fish/lobster for each of the 8 categories and you get 8 Category Prize tickets. At the end of the awards ceremony we will pick one ticket for each Category Prize. Each Category Prize is valued at a high dollar amount. You can win more than one category prize!
Grand Category Prize
After all the Category Prizes are handed out then ALL tournament category tickets are combined and a single ticket is pulled for the Grand Category prize which goes to one lucky shooter!!
Last Place Prize
A special Award goes to the very last placement shooter that weighed fish for the St. Pete Open.
All Rules are subject to change at last minute of Captains Meeting, as to why all shooters should attend.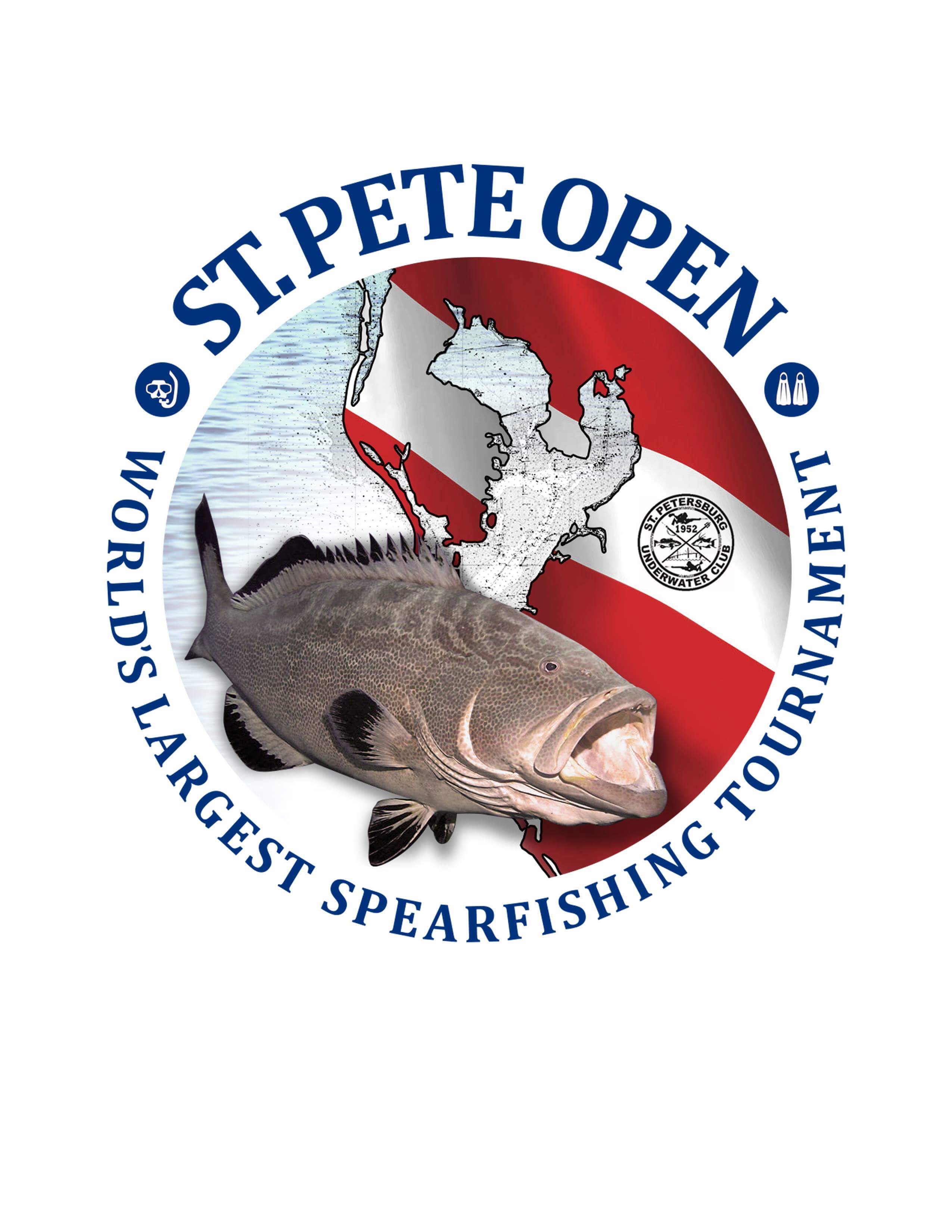 FAQs
Q: Are Spectactors FREE to attend the event?
A: Yes! Spectators, friends, family, children, all are welcomed to attend the event FREE!
Q: How do I register if I have a Gift Certificate Entry for 2018 SPO?
A: Contact the 2018 SPUC President, call or text (727) 422-2750 or email to SPUCPresident@gmail.com
Q: What's the refund policy?
A: Sorry, there are no Refunds.

Q: How can I contact the organizer with any questions?
A: Email: SPUCPresident@gmail.com
Q: Is my registration fee or ticket transferrable?
A: No, registrations are not transferrable.