Refresh and Be Well, St. Pete. 50+ Psychics and Presenters, 20+ Holistic Vendors, organic food, crystals, jewelry, aromatherapy and more.
About this event
Refresh and be well, St. Pete! This is a FREE Event! On the First Unity Spiritual Campus in St. Pete!
TREAT YOURSELF – MIND BODY AND SPIRIT – TO AN ALL-STAR LINE UP OF PSYCHICS AND MEDIUMS, INCLUDING THE LATEST ALTERNATIVE HEALTH MODALITIES AT THIS FREE EXPO. Enjoy a peek in the video below.
Join the First Unity Spiritual Campus CommUNITY for a full day of exploring Mindfulness, Happiness, and Healthy Balance of full body through wellness and spiritual development. Seminars offered FREE of charge, Individual Sessions available at 15 min/ $25 and 30 min/$35.
This free event will include Seminars on Creating Calm during Chaos with Meditation, Numerology, Chakras with the Angels, Reclaiming Psychic: Intuition and your connection to the Divine and more. A Living Green Market with vendors for Healthy Living including essential oils, Spiritual Jewelry, Crystals, Organic foods, Aromatherapy Spa Products, Native American Medicine Bags, Nikken and more.
SPEAKERS ON THE MAIN STAGE ARE:
10:15am Rev. Kimberley Harrell - Welcome
10:30am Mary Lee Kerrins - So… you will never get out of a bed again….I am sorry!
11:00am Karen Rose - What is Your Body Trying To Tell You?
11:30am Dr. Debbie Roche DC MS -  Intuitive YOU
12:00pm Natasha A. Pierre- Ignite Your Passion, Discover Your Purpose
12:30pm Sari Klett - Present Moment Practice and Benefits
1:00pm   Bob Linde, Traditions School of Herbal Studies -The Role of Herbalism in Health Care
1:30pm   Cathy Bersier, Breath Well / Sleep Well - How can I overcome the debilitating effects of too little sleep and live a normal life?
2:00pm   Arielle Giordano - Celebrate the Dance of the Goddess
2:30pm   Kristin Geeslin - Cool Tools for Conscious Compassion
3:00pm   Cynde Meyer - Feng Shui for Greater Wealth and Prosperity
3:30pm   Rev. Kimberley Harrell - Living a Mind Body Spirit Life
Vendors and Speakers who encourage a true Mind Body Spirit approach to whole wellness.
50+ Presenters- Individual sessions are available from many vendors with15 min sessions for $25. Including: psychics, angel readers, tea leaf readings, tarot card readings, Past Life readings, Astrology, Shamanic journey, channeled readings, energy healing, reiki practitioners, chiropractors, acupuncture, plant based nutrition coaching, chakra clearing, crystal bed, sound healing therapy, empowerment coaching and more. As vendors/readers/healers/speakers register, find them at http://www.firstunity.org/expo
St. Pete Mind, Body and Spirit Expo is open to the public and hosted by the First Unity Spiritual CommUnity, "boldly building consciousness and community". The expo will promote collective consciousness, commUnity and mental, physical, and spiritual health and wellness.
To register to be a vendor or presenter at the St. Pete Mind Body Spirit Expo, click http://www.firstunity.org/expo and use the registration form.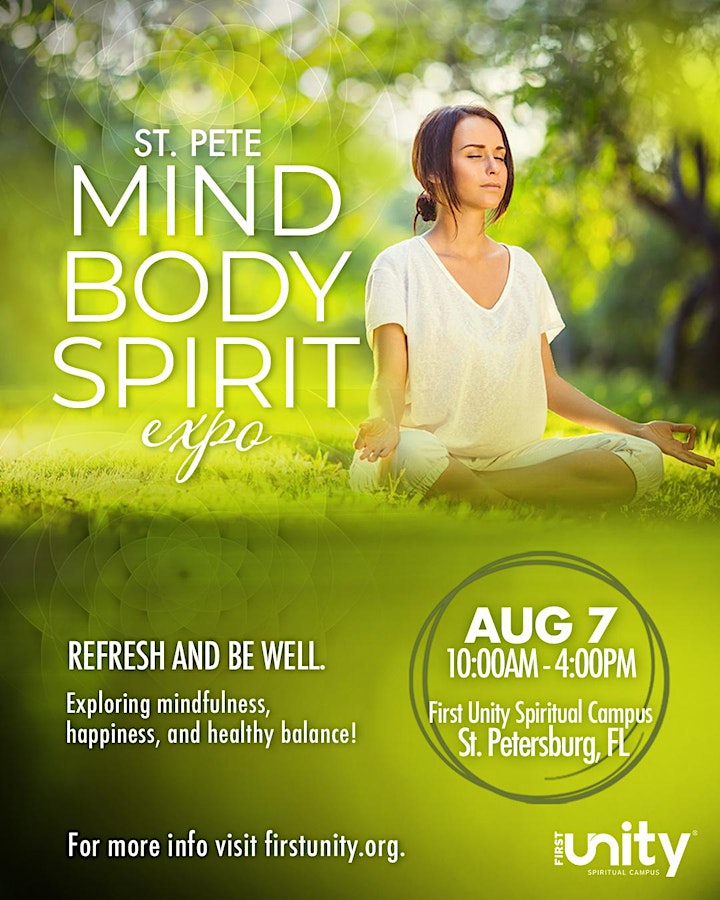 Organizer of St. Pete Mind Body Spirit Expo at First Unity Spiritual Campus
We are a vibrant and inclusive community of seekers, artists, healers, and spiritual social activists we welcome all. We teach a positive, practical, and progressive approach to spirituality. Our spiritual campus features a spiritual education program, a prayer ministry, a bookstore, support groups and a variety of events, activities, and classes throughout the week.