About this Event
Join us in St. Pete October 9-13! The St. Pete Couples Retreat is built to be the ultimate vacation for couples looking to have fun, try new things and build a stronger relationship in paradise. After all, it's well established that trying new things and creating new experiences is one of the best ways to keep the spark alive, and help your relationship flourish.
Each day will be full of fun adventures with plenty of time to relax as well. Retreat activities include daily relationship exercises, pedal pub art mural tour, beach day, sunset cruise, professional soccer game, museum tour, yoga, brunch, couples massage, romantic meals and more!
Of course, we will be right there with you, strengthening our relationship through the same great activities. The St. Petersburg Couples Retreat is the perfect way to connect with your partner, meet other couples working to make their relationship amazing and enjoy a vacation in paradise.

Just like in most aspects of life, we get stuck in old habits in our relationships. When that happens, things start to get a bit boring.
Research suggests there's one key way to maintain the spark: Try new things together.
Couples who try new things on a regular basis have happier and stronger relationships.
This also means just having fun together. Research from The University of Denver shows that couples who make time for fun activities tend to stay together longer.
We all know this, but here's a reminder: Relationships take work. You have to make a deliberate effort to keep the rainbows and butterflies flowing after the honeymoon phase ends.
"The more you invest in fun and friendship and being there for your partner, the happier the relationship will get over time," says Howard Markman, a psychologist who co-directs the university's Center for Marital and Family Studies. "The correlation between fun and marital happiness is high and significant."
Research has found that one reason couples struggle when it comes to maintaining the spark is men and women have different takes on fun and bonding.
"Intimacy and friendship for a man is built on shared activity, but for women, shared activity is a backdrop for a great conversation. What she wants on date night is a time of intimacy and friendship. He's disappointed because she'll never go to a game or golfing, and it's during shared activities that his spirit is most likely to open up," says Les Parrott, a psychology professor at Seattle Pacific University and co-author of relationship books.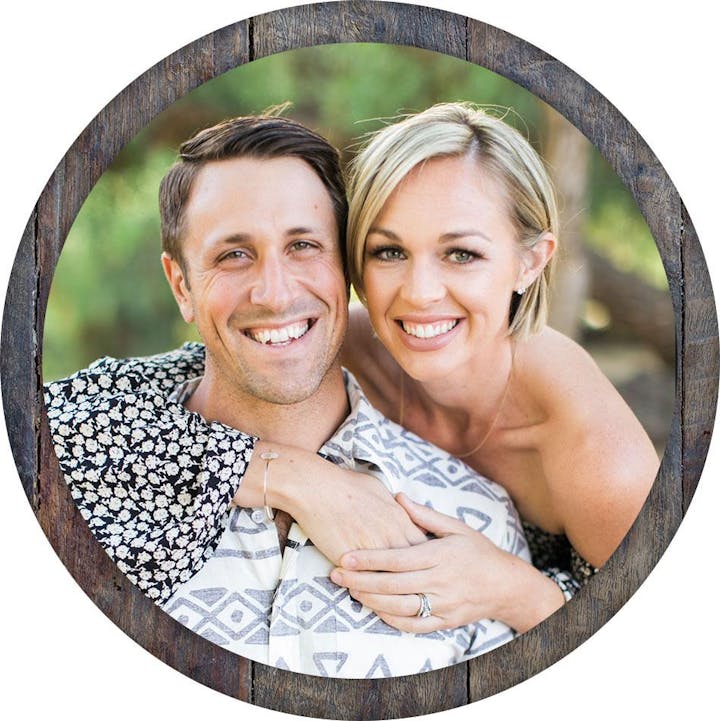 HI! We are Sarah & Chase and we're the owners of I Do Podcast. We are also a couple who face the everyday struggles of maintaining a happy, healthy relationship while raising our daughter, Stella.
We started I Do Podcast three years ago because we knew a happy, long lasting relationship would take work. For us, the podcast was a hobby — a way to learn more about each other and our relationship. Now, three years and over 200 therapist interviews later, I Do Podcast has become our passion. It has given us so many relationship tools and exercises, and has allowed us to share them with you. Each interview we do is now not only for us, but for you.
So as we embark on this adventure, we invite you to come along. We know 5 days in paradise, exciting activities and relationship strengthening classes will make your relationship better than ever!

Day 1 - Arrive at The Vinoy Renaissance. Get settled in and join us for the romantic sunset cocktail hour and welcome dinner picnic at the Vinoy Park.
Day 2 - Enjoy a delicious breakfast, and then join us for our first relationship strengthening group session.
After our session, enjoy some free time by exploring the downtown waterfront or enjoying a little siesta by the pool.
We'll meet up again mid afternoon for our Pedal Pub Mural Tour. Our group will power a big Dutch-made bike while visiting numerous art murals. Learn more about these dynamic murals and the power of public art in St. Pete!
Day 3 - With a big beach day ahead of us, we'll start with an early breakfast followed by our morning relationship strengthening group session.
After breakfast, we'll make our way to beautiful Fort De Soto Beach. We'll explore the park's wildlife by paddling through the mangroves and waterways on your choice of kayaks or stand up paddle boards. After we're done exploring, we'll enjoy a nice lunch at the beach.
We'll come back to the hotel to refresh before we set off on our sunset cruise. We'll enjoy light appetizers and refreshments as we watch the beautiful sunset. Upon our return, you'll have the evening to explore Downtown St. Petersburg's restaurants and nightlife.
Day 4 - Enjoy a light breakfast, and we'll all head to a private yoga class on the waterfront. This class will be full of breath work and plenty of relaxation while soaking up the fresh ocean air.
We'll head back to the hotel to refresh before we have our last relationship strengthening group session. The rest of the morning and afternoon will be yours to explore or schedule your couple's massage.
We'll meet up later that evening for a fun semi-professional Rowdies soccer game.
Day 5 - Enjoy brunch and bottomless mimosas, and we'll say our goodbyes. Until next time… 🙂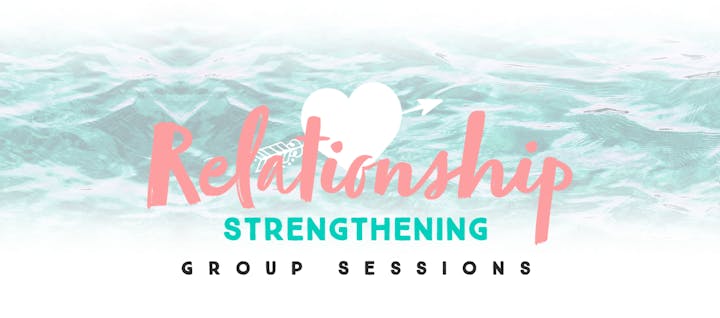 No relationship can thrive without some intentional work on it. The St. Petersburg Couples Retreat features fun and informative daily relationship exercises led by Chase and Sarah. These exercises come straight from the most qualified and popular guests of I Do Podcast. Get ready to follow the path to better communication, greater trust, deeper intimacy and an all-around better relationship!
Our group sessions will be focused on:
Relationship Detox:
Learn which bad habits couples typically have in their relationship that can lead to disaster and learn how to replace these bad habits with strategies for greater happiness, better communication and greater empathy for your partner.
Communication:
How to disagree respectfully, how to solve solvable issues in your relationship easily and how you can cope if you can't find com promise.
Intimacy & Sexuality:
Strategies for turning up the heat and reigniting excitement, lust and passion.
Mindful Loving:
Learn how to celebrate your micro-culture and relationship vision and ways to build and strengthen it.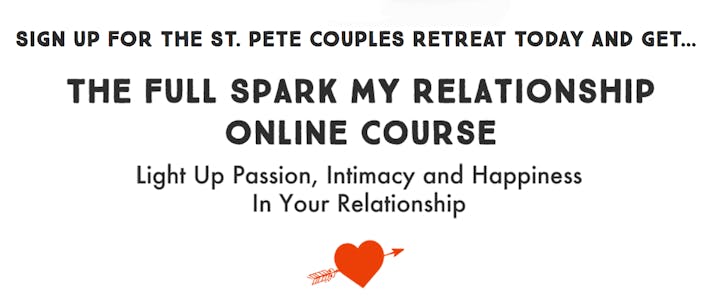 You'll get access to all 5 video modules, cheat sheets, resource guides, relationship exercises, secret facebook support group and so many tools necessary to strengthen, improve and make your relationship even better!
Learn which bad habits couples typically have in their relationship that can lead to disaster and learn how to replace these bad habits with strategies for greater happiness, better communication and greater empathy for your partner.
Learn how to disagree respectfully, how to find compromise and how to forgive.
Learn how to solve solvable issues in your relationship easily, and how you can cope if you can't find compromise.
Learn skills for how to remain more mindful and calm, how to soothe yourself and manage anxiety.
Learn how to labels feelings, and how to talk about feelings together.
Mindfulness exercise where you can focus on deepening your strength and mindfulness Strategies for turning up the heat and reigniting excitement, lust and passion.
Mindfulness for relaxing and handling anxiety, both in the bedroom and rest of life
Learn how to examine your couple micro-culture and build a relationship vision.
Learn ways to focus and celebrate shared dreams and desires. Understand your love languages.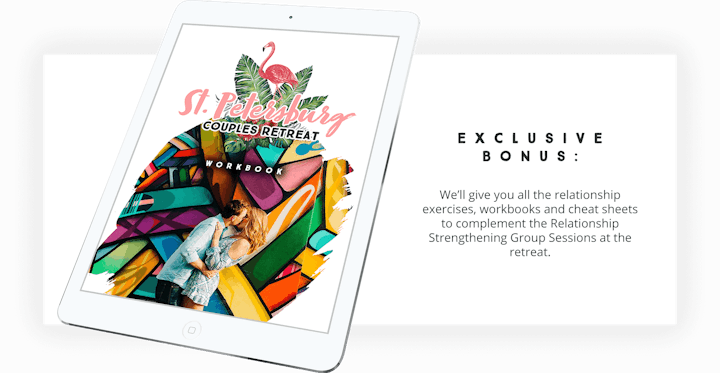 Frequently Asked Questions
How do I sign up?
Sign up here and save $249 when you pay in full. You can also choose our multiple payment option and pay a 50% deposit to reserve you and your partner's spot. Full payment is due September 9, 2019. Deposit becomes non refundable after September 9, 2019.
Can I cancel and get a refund?
If you cancel on or before September 9, 2019, you will receive a 100% refund. After September 9th, all payments will be non refundable. We recommend purchasing travel insurance from Squaremouth.com for unexpected cancellation coverage.
Will I have free time to explore?
Yes, you'll have plenty of free time to explore St. Pete and the local beaches. We are happy to give you any recommendations and help you make any necessary reservations.
Is this retreat only for straight couples?
Absolutely not! This retreat is for any couple looking to improve their relationship, have fun and reignite the spark.
What's NOT included?
Airfare, transportation to and from the airport, 2 lunches, 3 dinners and transportation when you have free time. We can help arrange transportation the Tampa or St. Pete airports, as well as a rental car for the time needed.
What is included?
Your accommodations, Relationship Strengthening Group Sessions, Welcome Sunset Cocktails and Romantic Picnic Dinner, St. Pete Pedal Pub Mural Tour, Sunset Cruise with appetizers and refreshments, Fort Desoto Beach Tour, Semi Professional Soccer Game, Yoga Class, Couples Massage, Brunch and transportation to all group excursions.
I live in the Tampa Bay area. Do you have a commuter rate?
If you live in the Tampa Bay area and would like to attend our Relationship Strengthening Group Sessions or any other retreat activities, but don't need accommodations, please contact us for special local pricing!
Should we rent a car?
No. Downtown St. Pete is a pedestrian friendly city, and your hotel is located within a 5-10 minute walk to most restaurants, bars, stores, waterfront and museums. We can arrange your transport from the airport and UBER is available for any longer distances where you're not on group excursion.