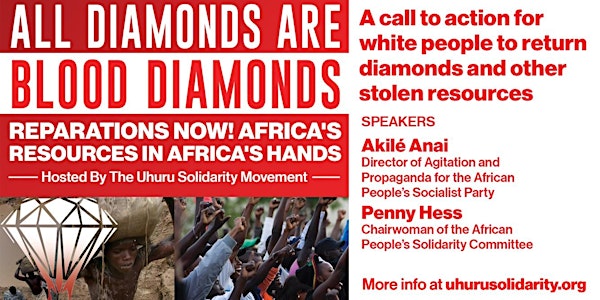 St Pete - All Diamonds Are Blood Diamonds
When and where
Location
Akwaaba Hall, Uhuru House 1245 18th Avenue South Saint Petersburg, FL 33705
Description
All Diamonds Are Blood Diamonds
Reparations Now! Africa's Resources in Africa's Hands!
This event is a call to action for white people to return diamonds and other stolen resources back to African people as a form of reparations. All Diamonds are Blood Diamonds is a national speaking tour by the Uhuru Solidarity Movement, under the leadership of the African People's Socialist Party.
Long revered as rare, benign gems symbolizing the ideals of beauty and everlasting love, diamonds are the desired gift for engagements, anniversaries, graduations, or simply as an expression of love. Diamonds are thought to be the makings of heirlooms, something to pass down from generation to generation with ever appreciating value.

These myths about the diamond trade, however, couldn't be further from the truth. This is a look into the reality of diamonds and the real price of this seemingly innocent stone for millions of African people and others who live on the other end of the equation.
Speakers:
Keynote: Akilé Anai, Director of Agitation and Propaganda for the African People's Socialist Party
Featured: Penny Hess, Chair of the African People's Solidarity Committee
Contact information:
728-326-5714
stpete@uhurusolidarity.org
facebook.com/usmstpete
uhurusolidarity.org
Purchase the All Diamonds are Blood Diamonds pamphlet ($5) at planetuhuru.com