Description
***IMPORTANT UPDATE***
This event will be occurring as planned. Although the City of Chicago has postponed the dyeing of the river and the St. Patrick's Day parade, our event will continue as planned. As stated in our event details below, the event ticket is not connected with any city events. Our event will go on regardless if any city event is cancelled, rescheduled, or postponed. We are closely monitoring the Centers for Disease Control and Prevention (CDC) and World Health Organization's (WHO) statements regarding the Coronavirus Disease 2019 (COVID-19) cases and following the guidelines from these agencies and the local health departments. If there are any unexpected changes, we will send an email to all ticket buyers. There is no need to call/email asking if the event is still on. Tickets are transferable and you can give the ticket to any guest. We only scan the individual bar code on the ticket. If your cruise is cancelled because public health authorities' cease operations of Chicago chartered cruises, we will fully refund your purchase. It is very unlikely this will happen. There are no refunds if you miss or decide not to attend.
Due to high influx of calls and emails, we are not able to respond to every email. This message board will have our latest announcements. Thank you for your understanding.
---
Celebrate St. Patrick's Day On the Water!
Amazing Skyline Views | Live DJs | Cocktails Available For Purchase
---


***Customer Service Info & Important Reminders***
These events are PRIVATE EVENTS hosted by ChicagoCruiseEvents.com. Please do NOT call the Summer of George for any questions because they will NOT have any of our event information.


All cruises are 21+ to board. Proper ID required. Cruises are on rain/shine. We will be sailing even if St Paddy's Day parade or dyeing of the river gets postponed. There are NO refunds if you miss the boarding time.



BOARDING TIME:
Boarding: 9:00am - 9:20am
Departs: 9:30am*
Returns: 11:30am

*Important: Ticketed Passengers MUST be boarded 10 min before departure time! Standby boarding starts 10 min before the departure time. Late ticketed passengers will be placed at the end of the standby line. There are no refunds or if you miss the boarding time indicated above.

*River Dyeing & Parade: The dyeing of the Chicago River & Parade is hosted by the City of Chicago. This event ticket is not connected to the dyeing of the river or the St. Patrick's Day Parade. In the event, the City of Chicago decides to cancel, postpone, or change their plans, our event will still occur. All sales are final and guests will not receive refunds if they miss the event.



For Detailed Directions & Parking Info: Click Here to view and print directions.


Got Other Questions? Please read our Frequently Asked Questions (FAQs) section below. If you have any other questions, please e-mail: info@ChicagoCruiseEvents.com or Call: 312-500-0389.
---
St. Patty's River Booze Cruise
Aboard the Summer of George
21+ To Enter
ID will be checked at door.
Proper identification required.
For more information regarding the event, please visit our website: www.ChicagoCruiseEvents.com
Docked at River City Marina, the "Summer of George" was designed and built as a party cruise boat. Groups can enjoy our 100 foot vessel that has vast seating, an enclosed main deck, a full service bar and a dance floor to entertain your guests while they view the beautiful Chicago skyline. The interior is elegantly understated offering a 360 degree view from mahogany trimmed windows. The open-air upper deck is expansive with bench seating along both sides.
---
Frequently Asked Questions (FAQ):
What is the address? 900 S. Wells, Chicago, IL 60607. Click Here for more information.
The registration takes place in the parking lot.
What is the dress code? There is no dress code.
Is there food on the boat? Yes, there are light snacks available for purchase.
Is there a bar on the boat? Yes, there is a full bar on the boat. Alcoholic beverage starts at $5.
Can I bring my own food and drinks? Absolutely no outside food or beverage is allowed. Bags will be checked.
How much is parking? Where do I park? There is a parking lot at the Marina. Parking is roughly $10. Registration takes place in the parking lot so it is super

convenient

.
How do I redeem my voucher (ex. Groupon) for a date? Please download your voucher and follow the step by step redemption instructions or Click Here. Please contact the daily deal site for any assistance on getting your voucher # if you can't locate it.
What kind of music will be played? The DJ will play a variety of music including, but not limited to Top 40, Pop, Mainstream, Hip Hop, EDM, etc.
Event is sold out. How does Standby work? In order to do Standby, you can purchase a standby ticket. Standby tickets will only get enabled after the event is sold out. Standby terms will be on the standby ticket.
Can I get a refund? Unfortunately, all tickets are non-refundable after purchase.
Can I reschedule (including emergencies)? Unfortunately, all tickets are final as soon as you reserve a date. A spot is automatically reserved for you and can't be rescheduled.
Can I give my ticket to someone else even if my name is on it? Yes! If you have an Eventbrite ticket, you can give that to anyone regardless of the name on the ticket. We need an unused ticket with a barcode to scan.
It's raining outside. Can I reschedule? Cruises are on rain / shine and cannot be rescheduled. Please bring a poncho or an umbrella. There is also an interior deck on the boat. In case of

cancellations

, you will receive an email.
Does the boat have a bathroom? Yes, the boat has a bathroom.
Is the boat handicap accessible?

Unfortunately

, the boat is not handicap accessible. There are about 15-20 steps you'll have to climb up / down from registration to the boat.
Can I book the entire boat? Yes, please e-mail us for more info.
I lost my ID. What do I do? All guests need a

government

issued ID to board.
Where are my Eventbrite tickets? I can't find them. Please click here
---
Map & Directions:
The dock is located at 900 South Wells Street at River City Marina. Guests need to head South on Wells Street and enter through the parking lot behind the River City condominium building. The parking lot is located across from the soccer field on 9th Street and Wells. You do NOT need to go in the building (see map below).
Click Here for a bigger map.
---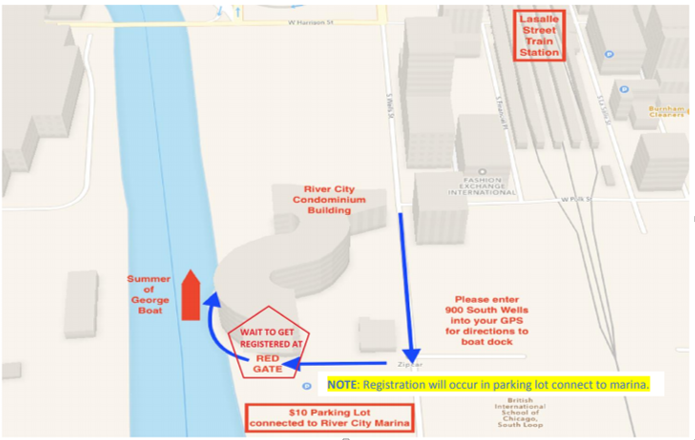 ---
Ticketing Technical Issues:
​For any ticketing / technical issues​, please see the Eventbrite Help Center and/or contact Eventbrite through​ https://www.eventbrite.com/support/contact-us​.

Please note the parking lot may fill up early and we are not responsible if you cannot find a spot. Please plan on arriving early to find alternate parking if need be.
---
Terms and Conditions:
Important: ALL TICKETS ARE NON-REFUNDABLE.
Do NOT buy tickets from Craigslist, Scalpers, etc. Unfortunately, many of these are either already used or are counterfeits. We recommend purchasing tickets from www.ChicagoCruiseEvents.com.

Please note that you will have to take a print out of the ticket (or show electronically on your phone) that you will receive from Eventbrite.com and show it at the venue to gain access.
All guests must be 21+ with a valid government issued ID that will be checked by security prior to boarding the boat. A valid ticket with scan-able QR code is required by all guests to board. It is recommended to print a paper ticket to prevent any technology complications which would prevent your ticket from displaying on your phone. We are not responsible if you can not pull up your ticket on your phone due to technical issues (ex. cell phone reception issues). Any failure to provide proper identification / ticket may result in the denial of admission with no refund. There is no guest list at the boat, each ticket must be scanned. Security reserves the right to inspect all bags and persons. Absolutely no outside food or beverage may be brought on the boat. Guests who are deemed intoxicated (or otherwise unfit) upon arrival, will be denied entry and no refunds will be given. We want all guests to enjoy themselves on the cruise, but please note it's a 2.0 - 2.5 hour cruise and our number one priority is the safety of all guests. The boat will depart the dock as soon as boarding is completed. Once the boat begins its cast off procedure, for the safety of all guests, absolutely no late arrivals will be allowed within the security fence to board. If you are late, you will be left at the harbor without a refund. In the event of dangerous weather conditions, security situations, mechanical issues with the locks, the boat, etc., the boat may not cruise, but the party will still go on at the dock. In the event of rain, or other inclement weather, the party will continue on the enclosed portion of the boat. Sorry – no refunds or price adjustments. The Eventbrite system does not allow us to restrict people who are underage from buying tickets. If you are not 21 and purchase a ticket, you will not be allowed on board. Cruise length will vary based upon multiple factors, including, but not limited to: boarding time, lock operations, boat traffic, weather, special events such as fireworks, etc. The DJ's aboard the boat will play a variety of music, at their discretion, with the goal of making a fun cruise for the entire crowd. The music's volume level will be set to an acceptable level intended to please all guests and may be regulated/limited by safety regulations set forth by the captain.
We will be sailing even if St Paddy's Day parade gets postponed.