Description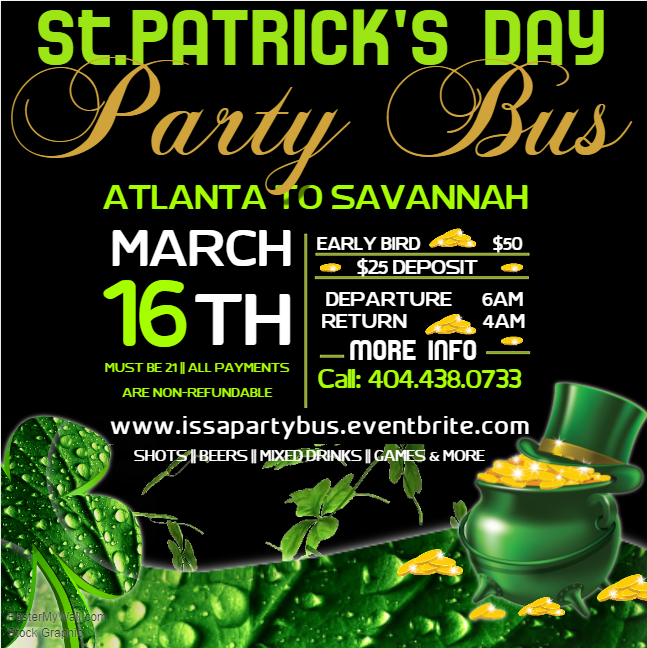 ---
---
THE BEST St. Patrick's Day celebrations in Georgia takes place down in Savannah and this year you can be there!!!! JOIN OUR PARTY BUS TO SAVANNAH!! Watch as the city turns green. River St will have plenty fun and excitement for you to enjoy the entire day!
---
---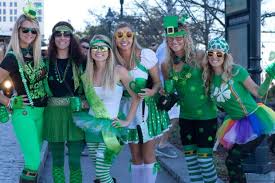 ****DON'T FORGET TO WEAR GREEN****
---
---
Stewie & Shella's Shenanigans are back again for our 5th annual bus trip....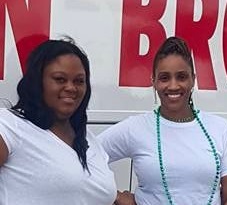 If you missed it in the past, make sure you secure a spot because this year will be bigger and better!
---
---
$10 Outdoor Consumption wristband not included, but can be purchased at 24 hour locations upon arrival in Savannah.
Turn Around Bus Trip Includes:
Roundtrip Motorcoach Transportation
Full Day in Savannah
Music/Movies on the Bus
St. Pattys Day Beads on the Bus
Drinks & Snacks
SPECIAL SURPRISES!!!!
**A complete list of events taking place in Savannah will be emailed to all paid guests once available**
---
---
Trip Cost & Payment Details: $65 per person
**prices will increase the longer you wait to purchase**


---
---
SUGGESTIONS ON THINGS TO DO:
Come, join and enjoy the Nation's 2nd largest St. Patrick's Day celebration! On March 16th, the 194th Savannah St. Patrick's Day parade will commence, drawing over 1 million attendees. Bar hop, see the green River, party on River Street, go to Wet Willies, check out Paula Dean's restaurant, take pictures of the different costumes, and enjoy the southern cuisine.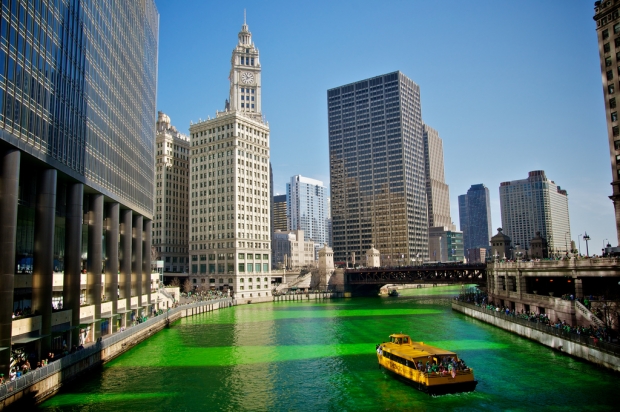 ---
---
Travel Information:
**WE WILL TRAVEL RAIN OR SHINE** Pick up/Departure will be announced once payment is confirmed. We plan to depart on time and refunds will not be given if you are late and miss departure. This trip is for those 21 and over. You may be asked to show ID before boarding the bus. If you are not over 21 you will not be allowed to board and no refund will be given. You are welcome to bring a small cooler with your favorite drinks and snacks. NO STYROFOAM COOLERS and COOLER MUST FIT IN THE OVER HEAD BIN or BE PLACED UNDER YOUR SEAT. When departing Savannah, boarding will be in the exact location as we are dropped off on arrival.

Travel Policy:
Parking at the pickup locations is at your own risk. we will not be held responsible for any vehicles left at either pickup location. We are not responsible for mechanical issues with the bus. We have contracted a reputable company to drive us to and from Savannah and expect to have a fun and safe trip without any problems. No weapons or illegal drugs are allowed on the bus. Our staff reserves the right in inspect all persons and belongings. If you are found in possession of illegal drugs and/or weapons you will be escorted off the bus and will be responsible for getting to your next destination. No refunds will be given. You will be spending the entire day in Savannah, GA with no access to the motorcoach. Please plan accordingly. You will be free to tour and enjoy Savannah at your own risk. We will not be held liable for any negative experiences you may encounter with any person, businesses or the like while in Savannah or the surrounding areas. Please be cautious of your surroundings as this city will be full or visitors and locals. Finally, we reserve the right to deny boarding to any persons displaying rude or disrespectful behavior to staff or other patrons. Persons who have been denied boarding due to their own actions will not be refunded. Please know your limit when drinking. We are not liable for any misconduct, complications, or negative activity including arrest or criminal charges associated with an individuals choice to consume alcoholic beverages. If we are billed for any damage or cleaning fees by the charter company those fees will be passed to the responsible party plus a $50 fee. Your ticket purchase is acknowledgement and agreement of all policies.
Payment Policy:
All payments are non-refundable BUT THEY ARE TRANSFERABLE. If you cannot go, you may change the name of the reservation. You must contact us to approve name changes.


---
---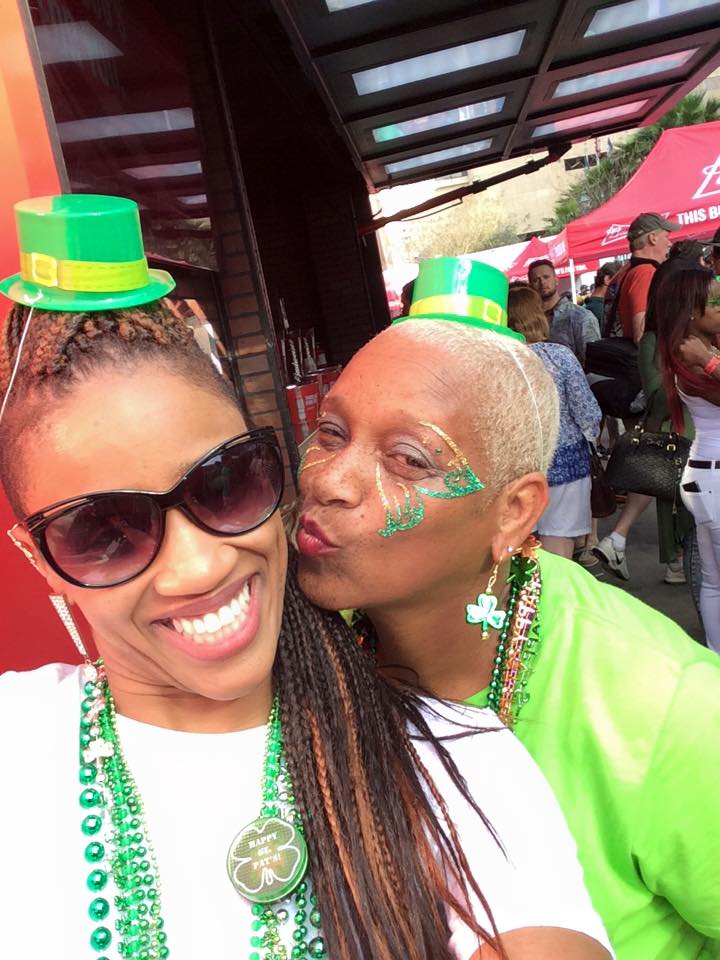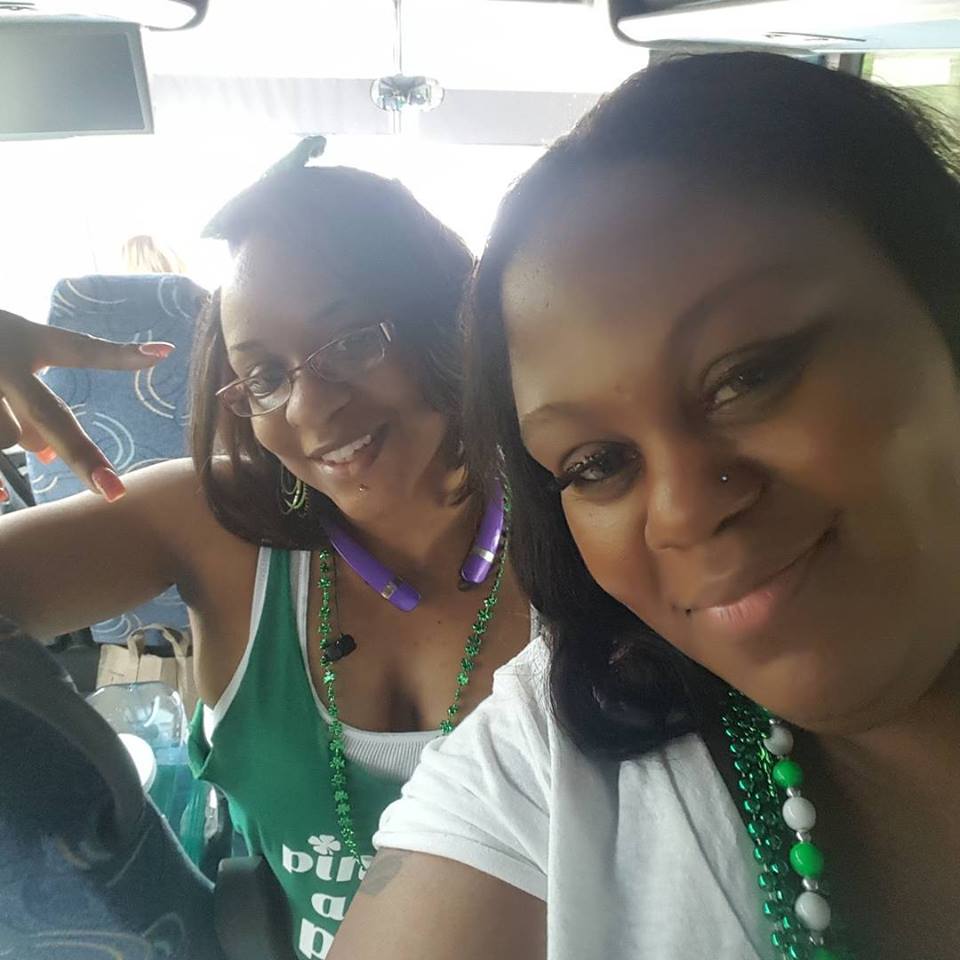 If you have any further questions, please contact Marchella 404-438-0733
---
---
PAYPAL & CASHAPP OPTIONS ARE AVAILABLE TO AVOID EVENTBRITE FEES.