St. Patrick's Day Party Bus - Savannah

Saturday, March 16, 2013 from 4:00 AM to 10:00 PM (EDT)
Event Details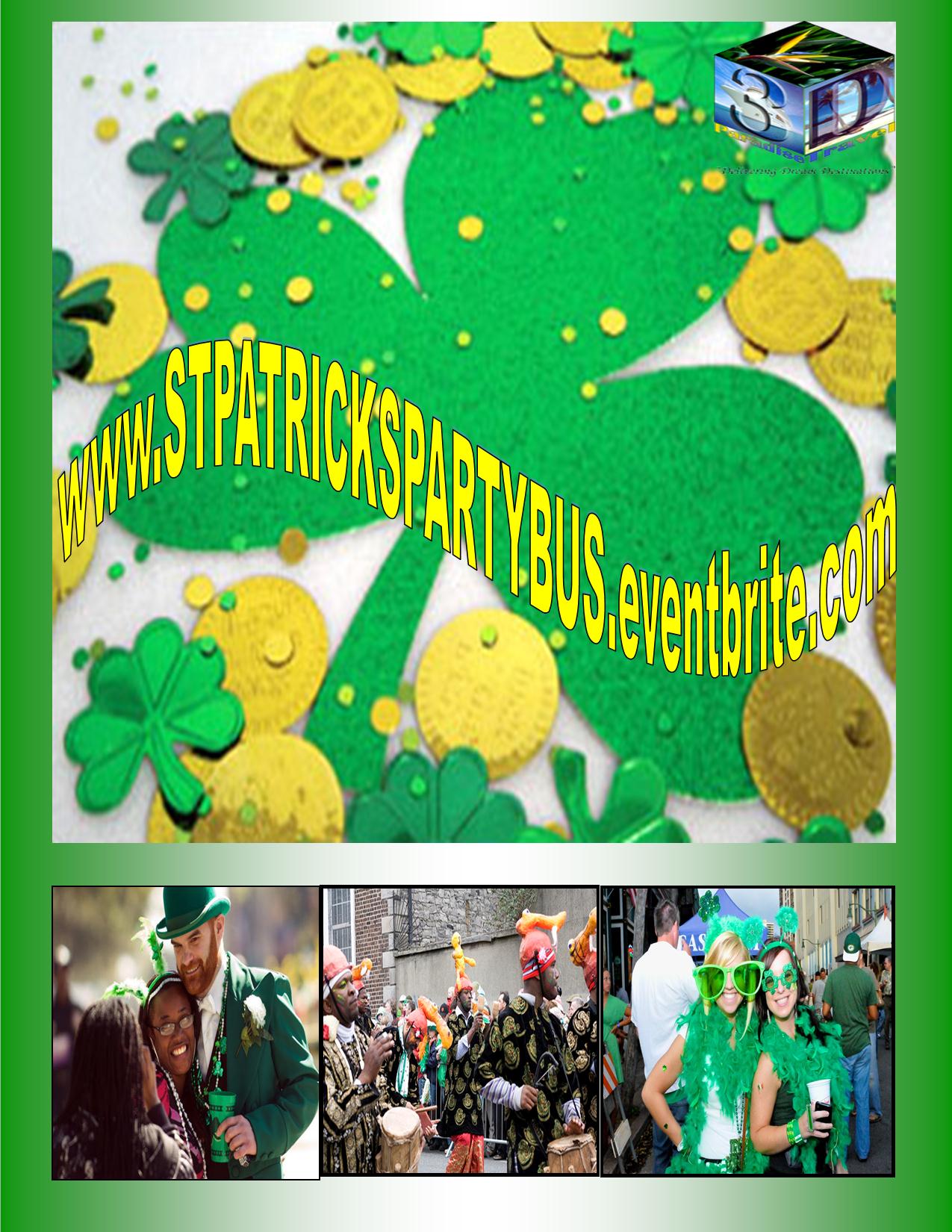 JOIN 3D PARADISE TRAVEL
St. Patrick's Day
Party Bus
Savannah, GA
March 16, 2013
(1 Day Trip)
$75 per person
DON"T FORGET TO WEAR GREEN!
Savannah will be hosting their 189th Saint Patrick's Day Parade - the second largest in the world to Ireland. Watch as the city turn the river green, party in the bars/clubs, enjoy the incredible cuisines that the restaurants take pride in.
Stepping off at 10:15 a.m. sharp, the three-hour parade consists of over 350 units, including several U.S. military divisions, many award-winning bands, and the world-famous Budweiser Clydesdales. Some of the bands include the 282nd U.S. Army Band (Fort Jackson, S.C.), The Old Guard Fife and Drum Corps (Fort Myers, VA), U.S. Coast Guard Pipes and Drums (Norfolk, VA), Irish Air Corps Pipes and Drums (Dublin, Ireland), and many more outstanding marching units.
Price Includes
- Roundtrip motorcoach transportation from Atlanta to Savannah
- Full Day in Savannah
- Beer and Mixed Cocktails on bus
- Games, Prizes, Movies, and Music on bus
- St. Patrick Day Beads
- See the city, watch the parade, catch beads, great food
Pick-Up Location
4:00AM Bass Pro Shop-Sugarloaf Mills(Discover Mills)
5900 Sugarloaf Pkwy Lawrenceville, GA 30043
4:45AM Kroger 2626 Rainbow Way, Decatur, GA 30334
Please be at the pickup location before the bus arrives. The bus will pick up everyone at the scheduled time and will not wait for anyone not at the location. We are not responsible for cars left in the parking lot. It is highly encouraged that you have someone drop you off and pick you up if your pickup location is at the Kroger. Parking is at your own risk.
Drinks on the Bus
If you do not drink or like to be around it this may not be the trip for you. This is a party bus! Remember to eat before boarding the bus. Definitely KNOW YOUR LIMIT. If you become out of hand we will pull you to the side and tell you to get a grip. Please do not get offended. We all want to have fun. You may bring a small cooler containing your favorite beverages.
Arrival Back in Atlanta
Our buses will leave Savannah at 10pm and arrive in Atlanta around 2am.
Payment - Due Now 
Full Payment - $75
Policy
-Please adhere to the payment guideline above.
-All payments are nonrefundable and nontransferable due to contractual agreements with the motorcoach company.
-Must be 21 years of age or older.
-We are not responsible for vehicles left at parking locations in metro-Atlanta.
-In addition, we are not responsible nor held liable for motorcoach malfunctions during the trip.
-We are going to party and have a good time on the bus but please remember safety first and be respectful to other passengers.
-No illegal drugs will be tolerated if you violate the rule you will be removed from the bus with no refund.
Like us on Facebook
www.facebook.com/3dparadisetravel
Twitter
@3paradisetravel
For More Information
Visit our Website: www.3Dparadisetravel.com
Email Us: info@3dparadisetravel.com
Call Us: (404) 610-8149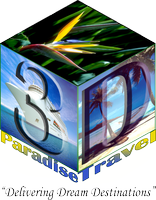 Organizer
3D Paradise Travel, LLC
3D Paradise Travel, LLC is a licensed full-service Atlanta-based travel and events agency, "delivering dream destinations" in paradise worldwide. We specialize in leisure, individual, group, organization and corporate travel and event services.
Services offered include, but not limited to" cruises, all-inclusive resorts, getaways, events, festivals, reunions, youth teams, fundraisers, custom packages, etc. Select from our pre-packaged travel or allow us to customize your experience for you or your group with convenient budget and affordable payment plans (when available).
3D Paradise Travel would like to take you to paradise, contact us today to coordinate your next exciting travel destination or event plans.
Contact:
Phone: (404) 610-8149
St. Patrick's Day Party Bus - Savannah