Irish Drink & Food Specials
About this event
UPDATE AS OF 3/11
The health and safety of our staff and guests will always be our highest priority at ROOF on theWit and in light of the city of Chicago postponing this year's St. Patrick's Day parade and river dyeing, we too are postponing our St. Patrick's Event.
If you are interested in coming to ROOF this Saturday, doors will open at noon on March 14, and we will have Irish food and drink specials. As with any large group setting, the CDC recommends taking precautionary measures and if you are sick or not feeling well, you are advised to stay home. We are focused on doing all we can to ensure your health and well-being, and safety is our number one priority. As always, we appreciate your understanding and look forward to seeing you soon.
-The ROOF on theWit Team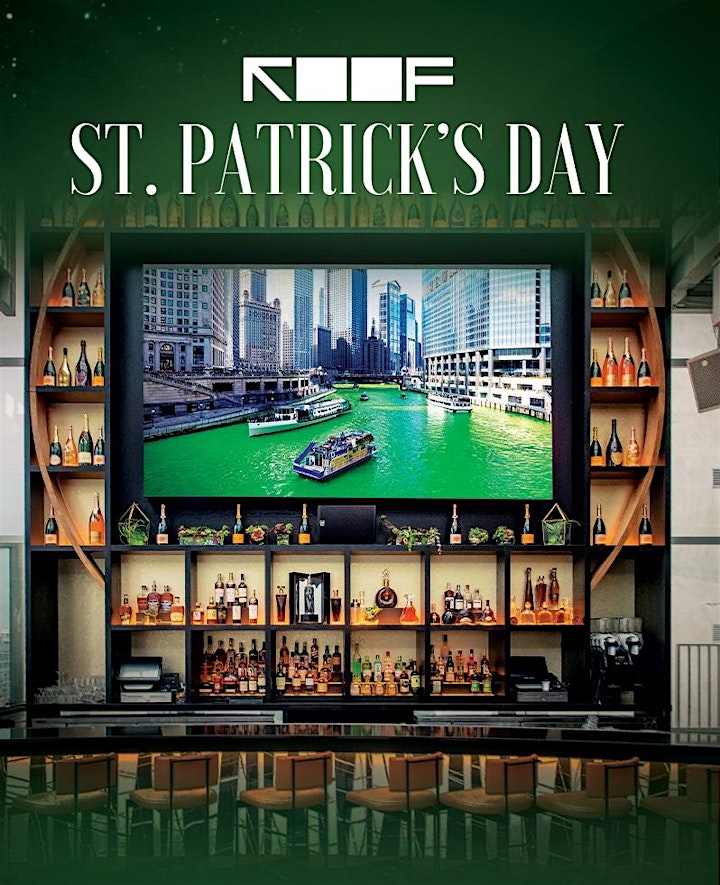 ST. PATRICK'S DAY
Get Lucky on ROOF!
Saturday, March 14
General Admission entry is from Noon – 8pm.
Soak up St. Patrick's Day 27 stories above it all.
Indulge in Irish fare, themed cocktails, and bottle service.
EVENTBRITE TICKET INCLUDES:
General Admission to ROOF on theWit from Noon to 8pm
One Bud Light Beer
RESERVE A TABLE
Reserve a table for St. Patrick's Day and you do not need to purchase an Eventbrite General Admission Ticket. Table prices vary based on the number of people at a table and size of the table. Tables are sold on a first come, first served basis. Reserve a table via this form: https://roofonthewit.com/reservations/nightlife/.
HOUSE RULES
We expect large crowds on St. Patrick's Day, and admission will be based on availability. Must be 21 to enter. Please have valid I.D. with you. Tickets are non-refundable. Tickets are non-transferable. Please bring a printed copy of your ticket or have it ready on your phone in order to be scanned. ROOF is not responsible for any lost or stolen items.
DRESS TO IMPRESS
Tis' the wearing of the green. Everyone is Irish on St. Patrick's Day. ROOF is an upscale establishment, located within a contemporary 4-star hotel, and we love when our guests dress for the occasion and appear in fashionable attire to reinforce the upscale environment. Green festive attire is welcome for St. Patrick's Day. ROOF Management has final approval on any guest entry into the venue, and reserves the right to turn away guests who are determined to be inappropriately dressed regardless of the reservation status. Safety is the foundation of our dress code. Therefore, ROOF Management also reserves the right to refuse entry to any guest who appears to be impaired by alcohol or drugs, or is acting in a manner determined by ROOF Management to be threatening, combative, aggressive or disrespectful toward other guests, or any ROOF, Hotel, Security employees or other personnel. Any exercise of discretion under this presentation code shall be applied in a gender-neutral, nondiscriminatory manner, in accordance with all applicable laws.
VENUE INFO
ROOF on theWit - 201 North State Street, Chicago, IL
Email rreservations@thewithotel.com
Visit www.GetLuckyonROOF.com for more details.