Description
*We are the only large bar crawl that crawls TOGETHER. Other organizers just ramdonly tells you to go to a list of bars. Don't get lost going to a bar alone when you can crawl with HUNDREDS TOGETHER. That's a real bar crawl!*
*IMPORTANT CRAWL INFO:
*Bar schedule with details will be emailed to ticketholders the night before the crawl. If you buy a ticket the day of the crawl, we'll send email out soon after.

*We will crawl to 4 bars in 4 - 5 hours together
*You must wear a wristband to be part of the crawl. Wristbands will be picked up at the first bar (registration bar). If you are late, you can pick up your wristband with our host at later bars
It's this time of the year again. You know where no matter where you come from or who you are, we are all IRISH for one day. That's right Chicagoans, wear your favorite St Paddy's shirt, pants, hats, ties, and join the rest of the city as we party it up.
This March 16th, Lincoln Park will be a sea of green. And you will be in the thick of it. Join us as we hit four of Lincoln Park's best bars. The crawls begins at 3 PM and will "officially" end at 8 PM. But seriously, we all know we're still going to be out way after that! We will start north by the neighbohood that started it all, Lincoln Park! Besides taking part in the St Patrick's Day festivities, get to party with 100+ people, explore the area with us, and enjoy drink specials at each bar!
But WAIT! This is St Patrick's Day. All 100s of us are all going to converge into one HUGE St Patrick's Day after-party at the end of the night! But you are only invited to this amazing green sea of a party if you attend St Patrick's Day Lincoln Park Bar Crawl.
So cross over the green river, explore Lincoln Park Chicago with your friends like never before and have some fun on St. Pats Day as we party it up! Grab your tickets before they get more expensive or sell out!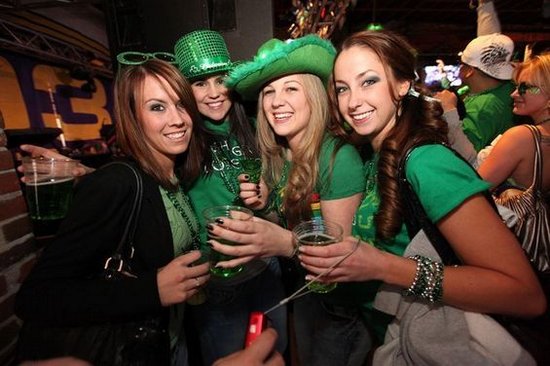 Lincoln Park Participating Bars: The best bars of Lincoln Park will be listed as St Patrick's Day nears
St Patrick's Day Lincoln Park Bar Crawl Ticket Includes:
Entry to one neighborhood bar crawl
Invitation to The Five Saints Crawl after-party
1 drink ticket at The Five Saints Crawl after-party
1 Cool green sunglasses (while supplies last)
Drink specials at participating bars
Participate in the "most sober" and the "most spirited Irishman or woman" contest
*Participating bars are Barcocina, the River, Old Grounds Social, Matilda*
*ADDITIONAL IMPORTANT DETAILS*
*All guests must be 21 and older with State ID*
*Bar schedule will be emailed to ticketholders the night before the event*
*All ticket sales are final and non-refundable*
*Entry into venues immediately is not guaranteed, there may be a wait*