Description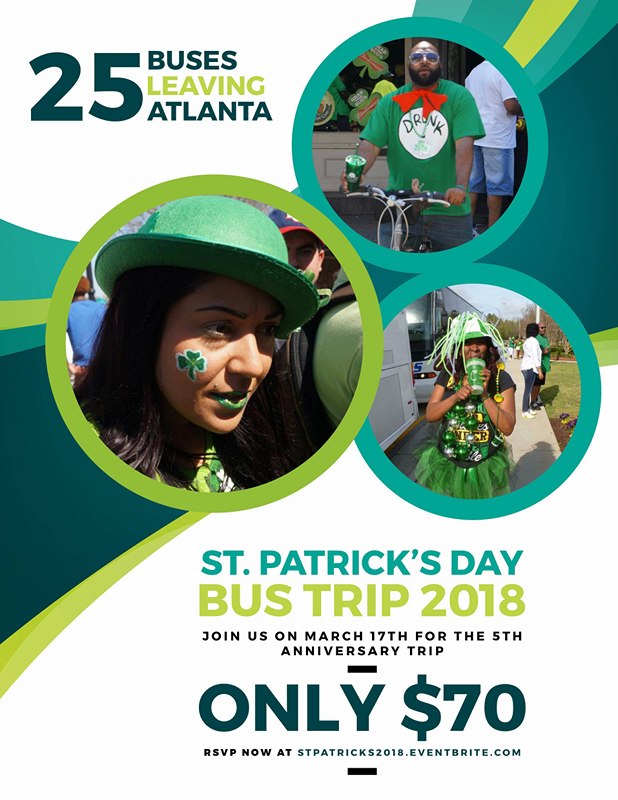 March 17th 2018 The LARGEST group of buses leaving Atlanta. 25 Buses in total. RESERVE your seat today!
The Bus will be Leaving at 7am SHARP from 2940 Anvilblock Rd, Ellenwood, GA 30294 4047986878
So Be there by 6:30 am LEAVING Savannah at 10pm
I'm SURE you have heard about party bus rides to Savannah... . Join In on the FUN
Standard Shuttle Bus (BYOB) - $70.00 THIS is OUR 5th Year Anniversary

NON REFUNDABLE OR TRANFERSABLE
Must be 21 years of age or older.
We are not responsible for vehicles left at any parking locations.
In addition, we are not responsible nor held liable for motorcoach malfunctions during the trip.
We are going to party and have a good time on the bus but please remember safety first and be respectful to other passengers.
No illegal drugs will be tolerated if you violate the rule you will be removed from the bus with no refund.
$10 Outdoor Consumption wristband not included.
We will start off with a Meet and Greet (Location to be Annouced), Party Games, Shot Contest, and Much More.. SHARE WITH YOUR FRIENDS IF YOU LIKE TO HAVE A GOOD TIME! Bring Them ALONG!

Book your space because seats will go FAST.