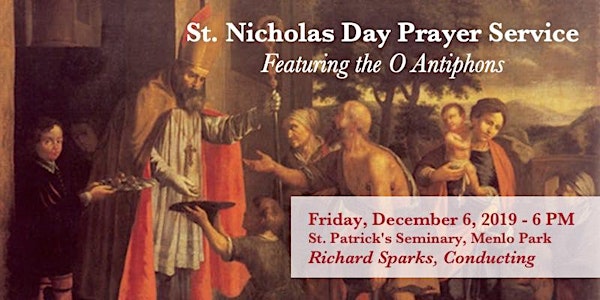 St. Nicholas Day Prayer Service -- the O Antiphons
When and where
Location
St. Patrick's Seminary & University Chapel 320 Middlefield Road Menlo Park, CA 94025
Description
Join us to pray and prepare for the joyful coming of our Lord Jesus at the gorgeous St. Patrick's Seminary Chapel.
Archbishop Cordileone will lead us in prayer and reflection. Richard Sparks will conduct The Benedict Sixteen Choir.
The O Antiphons are an ancient Christian prayer used at Vespers on the last seven days of Advent. Each verse begins with the o, invoking the name of Christ under different titles:
O Sapientia (O Wisdom)
O Adonai (O Lord)
O Clavis David (O Key of David)
O Oriens (O Dayspring)
O Rex Gentium (O King of the Nations)
O Emmanuel (O With Us is God)

According to Fr. William P. Saunders, "The exact origin of the O Antiphons is not known. Boethius (480–524) made a slight reference to them, thereby suggesting their presence at that time [the sixth century]. At the Benedictine Fleury Abbey, these antiphons were recited by the abbot and other abbey leaders in descending rank, and then a gift was given to each member of the community. By the eighth century, they are in use in the liturgical celebrations in Rome."
The first letter of the titles form a Latin acrostic which translates to "Tomorrow, I will come."
Conductor Richard Sparks explains the plan for the music:
"Since we are doing this in one Advent service (with all seven of the O Antiphons) we will do only one setting of the Magnificat, a wonderful 8-voice setting by Palestrina.
As we go through the Antiphons, we will always sing the Gregorian Chant for that Antiphon, followed in all but one case by a setting of that antiphon by various composers, most contemporary, since composers in recent years have been fascinated by these beautiful texts.
Some examples: O Adonai will be sung in a setting by Arvo Pärt the Estonian Orthodox composer (who set all seven of the Antiphons in German), for men's voices alone. It's a slow, mystical setting, and utilizes the wonderful low basses in Benedict 16. The setting of O Radix Jesse is by Rihards Dubra, a Latvian composer born in 1964, who was raised as Catholic by his grandparents, and whose music is almost entirely sacred. And O Oriens is set in English by one of today's preeminent Catholic composers, the Scottish James MacMillan as O Radiant Dawn."
This prayer service is free of charge, but please register for planning purposes. The BenedictInstitute.org recieves no archdiocesan funds and depends on generous supporters like you to help Archbishop Cordileone evangelize through sacred beauty.