Location
St. Martin de Porres High School
6202 St. Clair Avenue
Independence, OH 44103
Description
Join IFMA as we tour the brand-new, redesigned and renovated space of St. Martin de Porres School in Cleveland. Learn how this renovation was conducted and the design and construction aesthetics of this new facility from the lead architect, Kelly Stinson, Senior Associate of studioTECHNE. We will learn from those managing the project, tour the building and learn about St. Martin de Porres and the amazing work they do educating Cleveland youth. Light dinner and refreshments will be served.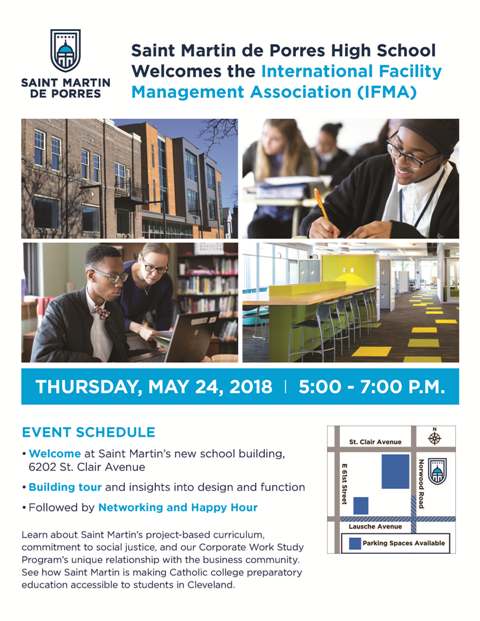 Presenter:
Rich Clark, President
Saint Martin de Porres High School

Rich was born in Boston and raised in Chicago. He is a graduate of Loyola Academy, '69, and Georgetown University, '73, and has a master's degree in Religious Education from Loyola University, Chicago, '77.
He taught theology from 1973-1991 at Loyola Academy. He was part of the founding team of Loyola's Peru trip which took high school students to live and work in Third World Peru for 8 weeks in the summer. This trip has been replicated throughout the Jesuit High School system. In 1991, he became the first lay principal of Saint Ignatius High School in Cleveland. During his tenure as principal enrollment rose from 1190 to 1400 and the campus added an intramural gym, 400 seat chapel, completely remodeled main classroom building, and a state of the art science building.
In 2003, Rich left Saint Ignatius to begin a new high school in Cleveland. The mission of Saint Martin de Porres High School is to provide a first rate college preparatory, Catholic high school experience to those students who in no other way would have access to such an education. In August of 2004, 104 ninth graders began their education at the new high school. The school is building one class at a time to be a four year college prep school. Presently there are 400 students in all four years. Eventually the school will have 475 students. We had our first graduation on June 7, 2008. All 50 seniors graduated and were accepted into college. This year's Class of 2017 marked the tenth straight class with 100% acceptance into college! Presently 92% of the class of 2016 are enrolled in college.
Kelly Stinson, Architect
Senior Associate
studioTECHNE
Her experience on projects with diverse backgrounds provides Ms. Stinson, a strong understanding of client need and spatial experience. Her work has evolved to include a variety of project types, with a focus on master planning and design for religious and educational facilities. Kelly's ability to simplify complex ideas and engage large groups in problem solving exercises is invaluable when working with building committees and civic groups. Utilizing drafting and graphic programs, hand sketching and model building, she is able to lead these groups through complex programming issues, gain consensus, implement the design concept and study its real-world constructability. Her approachable manner allows clients to work easily with her both individually and in groups. As the Senior Associate, Kelly manages the vast majority of the projects in the office, is the point contact for clients, coordinates employee workload and manages coordination with consultants. In addition to her work in the office, Kelly spent seven years at Kent State University working in the College of Architecture and Environmental Design as an adjunct professor. The senior level thesis studios focused on community engagement providing her students with a real-world project while supporting the local community. Each studio was unique in that they never served the same community twice. As part of her time at KSU, Kelly was a key member of the team developing the curriculum for the senior level thesis studio.
Today, when she's not spending day and night in the office, Kelly divides her time between yoga, consulting with her husband on his custom cabinetry/millwork business, renovating their 102-year-old home, and chasing after their pair of basset hounds as they lumber, ears to the wind, after squirrels and other woodland creatures.