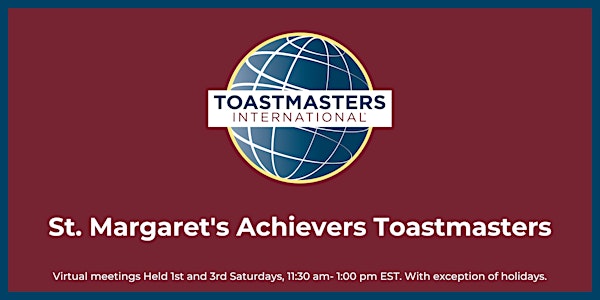 St Margaret's Achievers Toastmasters Club Meeting
"We are cheerleaders encouraging one another to improve both personally and professionally in our communication and leadership skills."
About this event
St. Margaret's Achievers Toastmasters club takes pride in encouraging members to grow. We are a President's Distinguished Club, which is the highest designation given by Toastmasters International World Headquarters. Our focus is fostering a supportive environment to challenge you to become a great communicator and leader. We maintain a professional, warm, fun, and friendly atmosphere as we learn and grow.
As a community club, we are open to anyone 18 and older. We meet virtually on the 1st and 3rd Saturdays of the month from 11:30 AM to 1:00 PM unless it is a Holiday or Holiday weekend.