St Luke's Rehabilitation Conference: Medical Speech Pathology and Dysphagia
About this Event
Sat, March 2, 2019, 8:00AM - 4:30PM
Sun, March 3, 2019, 8:00AM - 11:00AM
Fueled by the health care system's efforts to control hospital-acquired infections such as pneumonia, and mitigate other life-shortening adverse events associated with dysphagia, the demand for experienced, skilled and decisive practitioners of medical speech language pathology continues to grow.
The aerodigestive tract—the upper part of the respiratory and digestive systems—serves physiologic functions first (including swallowing), and communication functions second. Understanding the normal and pathological physiologic function of both "halves" of the aerodigestive system is crucial to the selection of intuitive and appropriate diagnostic procedures and management plans in patients with communication and swallowing disorders caused by pulmonary and digestive diseases, artificial airways, iatrogenic disorders following cardiothoracic and other procedures, and neurological conditions.
This 1.5-day course will explore the structure and function of the respiratory and digestive systems, the effects of pulmonary diseases on breathing and swallowing, and how digestive diseases, particularly esophageal conditions, produce dysphagia symptoms as well as how they are evaluated and what the test results mean. We will review the differential diagnosis of aspiration pneumonia, the effects of healthy on human physiology, and how to identify risk factors for dysphagia-related adverse outcomes (with a focus on pneumonia) in adults in acute and intensive care units, and discuss various common forms of dysphagia treatment, updating longstanding knowledge of their effects with more recent evidence.
James L. Coyle, PhD, CCC-SLP, BCS-S
Dr. Coyle is professor of communication science and disorders at the University of Pittsburgh, where he co-developed the department's clinical doctorate program in medical speech language pathology. He teaches undergraduate, master and doctoral SLP students both in the classrooms and the clinic through his active caseload in the University of Pittsburgh Medical Center, where he also conducts dysphagia research. He is a board certified specialist in swallowing disorders and an ASHA fellow, and lectures nationally and internationally about the medical aspects of our profession.
Course objectives
At the end of this course, participants will be able to:
Describe the ventilatory and respiratory roles of the respiratory system.
Describe respiratory and deglutitive interactions in the aerodigestive tract.
Understand how common pulmonary diseases affect normal breathing.
Understand test-result components of common pulmonary diseases in adults.
Understand the pathogenesis of pneumonia.
Differentiate between aspiration and other etiologies of pneumonia and other common respiratory conditions through medical record evidence.
Identify risk factors for pneumonia.
Describe physiologic effects of aging and how "normal old" function varies from "normal young" function(and how aging is not a disease!).
Understand the meaning of various diagnostic reports in the medical record and utilize that information more effectively in planning for patient care.
Understand what the diagnoses of common esophageal pathologies mean and how they might lead to dysphagia symptoms.
Understand common instrumental tests used to assess esophageal structure and function.
Compare and contrast various compensatory, restorative, behavioral dysphagia treatments and identify when they are appropriate and when they are not.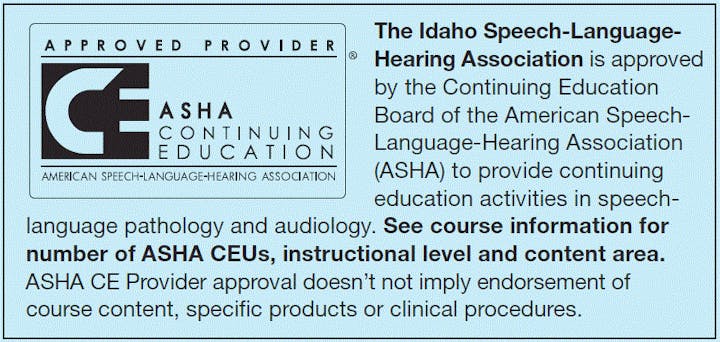 This course is offered for 1.0 ASHA CEUs, Intermediate level, Professional area.